Demonetisation: Rise of Mamata Banerjee and what it means for the mythical third front
After decimating the Left-Congress coalition and getting re-elected with an overwhelming mandate in May this year, Mamata Banerjee moved quickly to scupper all speculation about a bigger national role.
After decimating the Left-Congress coalition and getting re-elected with an overwhelming mandate in May this year, Mamata Banerjee moved quickly to scupper all speculation about a bigger national role. She had a template response to a thousand questions from a hundred reporters on her prime ministerial ambitions, that she was too small a fry and is happy playing the behind-the-scenes kingmaker instead of fronting an alliance against the BJP.
Crisis brings opportunities. As the Prime Minister's dramatic demonetisation drive to ferret out black money hoarders and bust the fake currency industry plunges the country into a financial crisis, the opposition believes that it has an unprecedented opportunity to hammer a crack in the bond that still exists between Narendra Modi and the electorate.
The West Bengal chief minister remains a mass leader who understands the pulse and takes pride in keeping herself grounded among the grassroots. She rarely has let an opportunity slip by — couldn't afford that luxury while uprooting the three-decade old Left Front rule in Bengal. Battling a formidable adversary whose reach and influence went far and wide into the polity, Mamata learnt how to grab chances as they come. That innate ability to seize the moment seems to be at work again as she tries to forge an alliance against the Centre, only this time taking the lead in doing so. This is obviously an important revision from her earlier position of remaining a backroom operator.
The change in Mamata's position seems to have been triggered by two factors.
One, the decline of the Congress as a pan-Indian counterfoil to BJP. The grand old party may have been in decline for long, but until recently it still had the ability to be a conduit of counter forces. It could, through its depleted but still considerable local network, serve as a platform. Rahul Gandhi has put paid to even that ability. Congress's state leaders now make MLAs sign 'Gandhi bonds' to prove their loyalty. As India becomes Congress-mukt, there is a vacuum to be filled.
Two, the nature of the crisis. Money touches us all, cuts through all divides. There is not a shadow of doubt that the Prime Minister's decision has influenced public opinion in a very big way. Has it been a positive influence, coalescing public support further in Modi's favour, or are the people disillusioned with the Prime Minister and frustrated at his handling of the crisis? Mamata believes — as does some other leaders — that his disruptive influence will have a negative effect and it is up to the opposition parties to exploit this fault line.
She must have also been motivated by the fact that in her own backyard, the RSS is steadily gaining ground and slowly but surely, the BJP's shadow is looming larger and larger.
Therefore we find Mamata taking a proactive role in shoring up a united opposition to tap into the public anger and frustration. In the past 24 hours Mamata has cancelled her Monday trip to a Bengal district and is scheduled to land in Delhi instead. The Telegraph reports that "she is said to have got in touch with several Opposition leaders, such as CPM general secretary Sitaram Yechury, AAP chief Arvind Kejriwal and RJD boss Lalu Prasad Yadav, requesting them to unite against the Centre to protest the demonetisation drive and 'jointly take up with the President the difficulties the common people are facing because of the sudden decision'."
The Congress has expectedly responded warmly to the Trinamool Congress Chief's overtures. The TMC will attend a Parliament meeting on demonetization to be chaired by Ghulam Nabi Azad and Mamata, in all likelihood, will join Rahul Gandhi in leading a opposition delegation to Raisina Hill on Wednesday to explain to President Pranab Mukherjee "how common people are suffering because of demonetisation".
But Congress isn't the mitigating factor in the front. It is a force in decline unlike the Aam Admi Party whose leader Arvind Kejriwal has relentlessly tried to bring Modi down from the pedestal and pit himself as a credible rival. Interestingly, even the Delhi chief minister seems to be receding in the background in favour of Mamata taking the lead in the front. Though both leaders have called for a rollback of the demonetization drive and have been vitriolic in their responses, the AAP chief has indicated that he won't mind in letting Didi take the limelight.
Third Front has been a cursed idea in national politics simply because the rivaling forces that come together have little commonality in idea and purpose beyond an ambition to share the spoils of power. The Left, whose Tripura bastion is facing a lot of heat from TMC, has already indicated its reluctance in joining in, perhaps also because it understands that it has nothing to gain from Mamata's rise. But Mamata won't be deterred. The Winter Session may see renewed fireworks from Didi.
India
TMC supremo Mamata Banerjee has to win this by-poll to retain her chief minister's post. The bypolls are on 30 September while votes will be counted on 3 October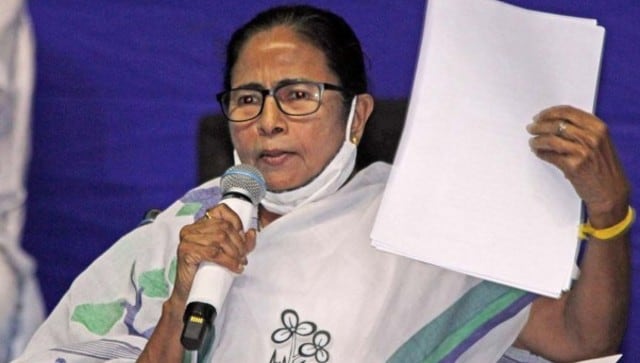 India
The second edition of the Duare Sarkar (government at doorsteps) programme was launched on 16 August and will continue till 15 September
Politics
Tibrewal, a lawyer by profession, is one of the petitioners in the post-poll violence cases against the TMC government in the Calcutta High Court.