Even his supporters would agree, Prime Minister Narendra Modi's monumental task , at this stage, is not defending demonetisation in Parliament or outside, but come with a plan to remonetise the economy and avert an economic crisis should the cash-crunch prolongs beyond this point. The currency shock has hit India's vast middle-class in metros and the poor in the hinterland alike. Modi's promised 50 days wouldn't be enough to offer comfort to them, nor his promise of a transformation to a cashless economy in future. Only a solid plan to end the ongoing economic mess and avert further damage will help.
As this writer pointed out in an earlier Firstpost column, the 50-day promise was anyway weak, given the physical constraints of the government's four mints to churn out new notes. Even if they did so, the logistical delays to take these bills to different locations across a vast geography would have delayed the process further.
An Indiaspend data-based article (read here) elaborates this issue and states that why the promise is set to fail. It says the earliest the government can solve this cash crunch is May-August, 2017. Modi was probably poorly advised and made a mistake by repeating his 50-day promise.
The reformist PM will also have to defend the damage caused to economy on account of his massively disruptive step, notwithstanding the supposed, yet doubtful, long-term gains in the economy.
What has demonetisation done to the economy since 8 November?
There aren't many data points available for the post demonetisation period. But, the few that are out do not sound good to an aspiring economy, third largest in Asia. The Reserve Bank of India (RBI) calls demonetisation impact transient in nature and cautiously expects the growth to rebound. But, except a few, there are not many takers to this argument at this moment.
PMI data: The first set of numbers came when the November PMI data was released. The services sector PMI sharply fell to 46.7 in November from 54.5 in October—that is the biggest monthly drop since November 2008, just two months after the global financial crisis hit the economy following the US investment bank Lehman Brothers going bust in September. The manufacturing PMI shrank to 52.3 in November from October's 22-month high of 54.4. Both signify a major deceleration in economic activity.
GDP slows: In its last policy, the RBI has lowered the GDP growth forecast for this fiscal year to 7.1 percent from 7.6 percent even as it says the full impact of the demonetisation is yet to be visible. Private forecasters have lowered their growth projections 7 percent or even below. Former PM, Manmohan Singh bets on a 2 percent decline. A sharp decline in GDP means widespread impact across economy, including job losses and hit on industrial activity.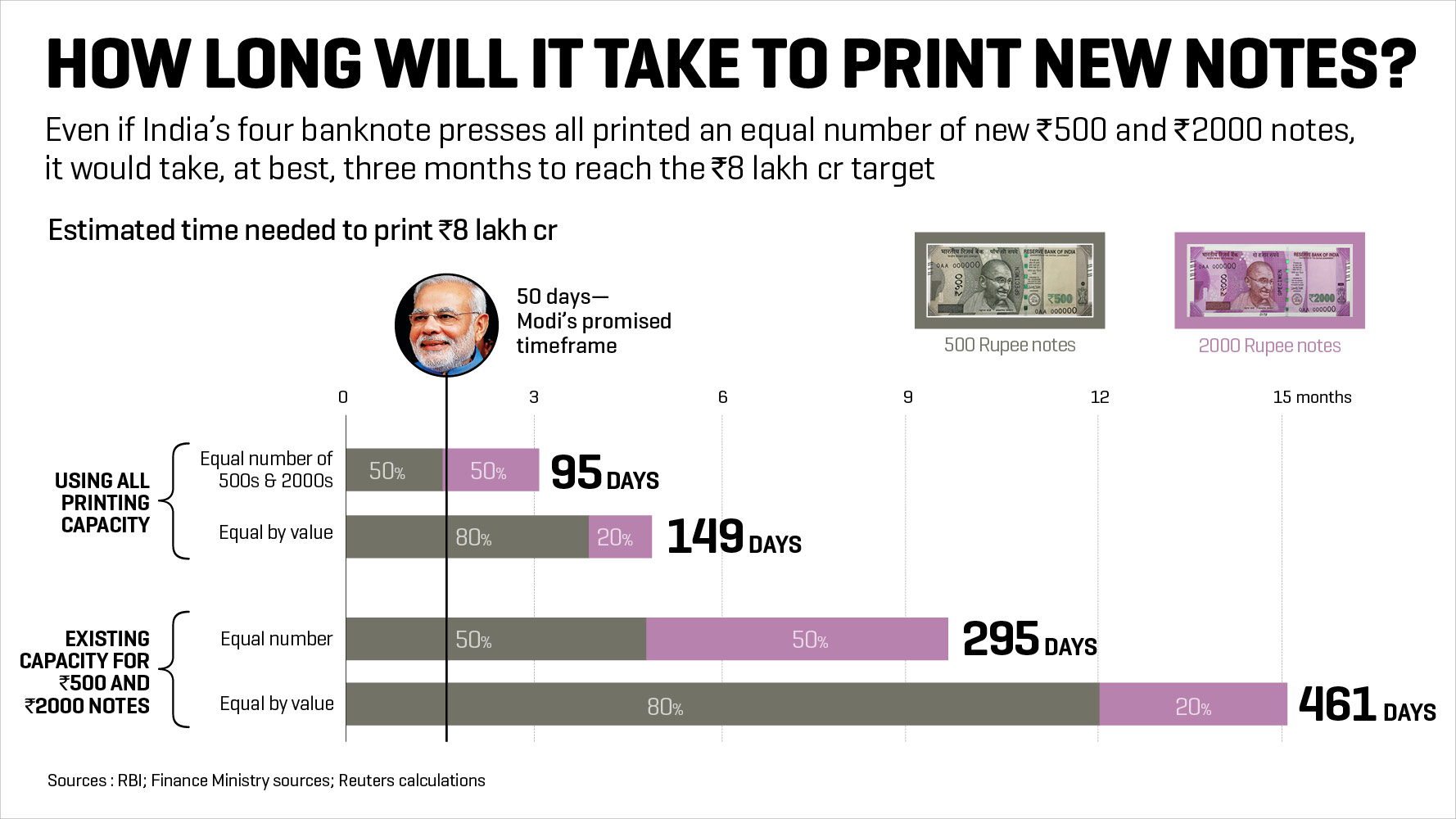 Auto sales decline: Here, the numbers show November has been a forgettable month for automakers with market drivers posting drop in sales. Of this two-wheeler sales dropped close to 6 percent.
Farmers and service sector: Sectorwise reports coming in shows service-oriented industries and small traders have seen major decline in their businesses. Farmers have suffered after cash-crunch upset the genuine price discovery, forcing many of them to destroy their output to avoid carry cost. This came as a double whammy for many since the sector is already hit hard on account of two years of consecutive drought.
Job shock: The hit on employment, especially in cash-intensive labour areas in the informal sector (construction and farm sector), is expected to be hard, though we don't have accurate data to point out. Over 90 percent of Indian workforce is drawing wages in cash, as Manmohan Singh highlighted in his Parliament speech. Job losses in these sectors also mean related economic activities taking a hit. For instance, when construction workers don't get wages and stop work, this will have cascading impacts on construction activities, cement production and electricity consumption.
Farm sector impact: We still don't know what kind of final impact the note ban will have on the rabi season. But, reports suggest there is an adverse impact on rural farmers since prices have crashed on account of cash crunch. One thing is sure. When farmers suffer for want of cash to buy seeds and get products to market that will soon reflect on inflation numbers and interest rate policy of the central bank. Nothing happens in isolation. A report in the Financial Express, which quotes unnamed industry officials, "As many as 4 lakh people, mostly daily wagers, may have either lost their jobs or shunned work temporarily due to the lack of payment so far, and the number is only going to grow if the cash crunch persists."
Spending halt: Even the expected consumption boost in the economy post the 7th Pay Commission wages wouldn't mean much unless there is enough cash to go around. Also, people who manage to get some funds standing in long ATM queues would rather spend it wisely for basic necessities. The withdrawal limits in banks and ATMs would encourage people to hoard Rs 100 notes, yet gain hampering the seamless circulation of cash and makes the government's job even more difficult. The much-highlighted benefit of shift to cashless economy is a distant dream for rural India, where internet penetration is poor and weak literacy levels makes it risky for the villager to use mobile apps for financial transactions. Also, there aren't enough laws to protect likely losses from digital transactions.
Bank lending: Post 8 November, the banking sector is primarily engaged in the business of taking in old notes and giving new ones. The lending activity has slowed down significantly. This too will have rippling effects on the economy. As this Indian Express report highlights, the loan growth plunged by Rs one lakh crore in the fortnight that ended November 25. Such a drop in bank lending doesn't send a good signal because already bank lending to industries, especially small and medium sized firms, are nearly stagnant, on account of high bad loans and poor demand.
Inflation: Typically falling inflation is a good news for all. But, that's not the case with the November CPI (consumer price) data. The CPI showed a fall to a two-year low-- 3.63 percent in November from October's 4.2 percent—indicates weak economic activity.  Wholesale price inflation (WPI) also fell to 5-month low of 3.15 percent in November from 3.39 percent in October. This trend, if persists will move towards RBI's lower band of inflation tolerance and raise deflationary fears in economy. Deflationary trend suggests anemic demand and faltering economic activity on the ground. Within the broader numbers, the food price inflation has fallen to 2.11 percent in November from 3.3 percent in the preceding month, showing how the cash crunch has impacted perishables. Remember the reports of farmers dumping tomatoes on the highway after prices fell to R s0.50 paise per kilogram? When a deflationary scenario arises, government is forced to artificially spike demand by putting more cash into household kitty or controlling supplies.
Impact on GST: The political mess that followed also meant that the hard-won political consensus for the crucial Goods and Services Tax (GST) is at risk now. An embattled opposition wouldn't give up easily, especially given that the GST council may have to rework the broad contours of the grand indirect reform plan if there is considerable damage to certain sections of the economy post demonetisation. This is a possibility one cannot rule out. The constitutional amendment gives time till September for government for GST roll out. In the changed political climate, can Modi-government manage to carry forward the GST dream is a question.
What the government has done already to control the damage?
It has indeed begun efforts to inject more cash in the system. Part of this, the government has cleared Rs 60,000 crore of public spending for this fiscal, "including a 10 percent increase in rural jobs program Modi once mocked," Bloomberg reported.
The government is also pushing its mints to print more notes but is far short of replenishing the system with even half of the money sucked out, indicating that Modi's 50-day promise will fall apart. According to RBI, since demonetisation, banks have garnered Rs Rs 12.44 lakh crore deposits in banned notes till 10 December but has issued only about Rs 4.61 lakh crore. Considering that about Rs 15.4 lakh crore were deemed illegal tender on 8 November, the fresh supply of currency is only a third of the missing stock. The government will have to do much more to ease the cash-crunch pain.
The short point is this: No one doubts the good intention behind the radical reform step, the stated benefits of which is of utmost importance to any economy. Demonetisation would have been a clean-hit for Modi had he executed it with enough preparation. But, the hurried, poorly-thought out action has backfired badly on the economy and the pain is likely to outweigh the likely long-term gains of curbing black money, counterfeit notes and corruption.
At this stage, PM Modi's task is not just defending his demonetisation plan but convincing 125 crore Indians that he indeed has a plan ready to repair the demonetisation-resulted damage to the economy and find a way out of the mess.
(Data support from Kishor Kadam)
Updated Date: Feb 06, 2017 14:46:52 IST