Demonetisation: EAS Sarma's letter to Narendra Modi on enhancing govt credibility
Three days into demonetisation, retired bureacrat EAS Sarma wrote a letter to Prime Minister Narendra Modi about approaches that the Union government could adopt to enhance its own credibility
EAS Sarma is a retired senior bureaucrat who, among his many postings, has notably served as secretary in the Ministry of Finance (between 1999 and 2000) and as the secretary, Ministry of Power (between 1997 and 1998). On 12 November, he wrote a letter to Prime Minister Narendra Modi about approaches that the Union government could adopt to enhance its own credibility. The letter is reproduced below in its entirety:
To
Narendra Modi,
Prime Minister,
Government of India
Dear Mr Modi,
I am happy that you have taken the bold step to demonetise higher denomination currency notes as an important effort to flush out black money. Such a step will yield better results if your government also simultaneously addresses the systems that breed black money and correct those systems. Instead of addressing the symptoms alone, it will be more effective to address the root causes of the disease of corruption.
I understand that you have made a statement from Kobe in Japan that your government would take further action not only to curb black money generation but also step up the campaign against corruption. It is a welcome statement.
In that connection, I suggest that you consider the following approaches that can enhance the credibility of your government:
- In the guise of inviting investors, most state governments have been giving away public land, precious scarce minerals and other public resources of great value to private companies at highly subsidised rates, allowing those companies to profiteer at the cost of the public exchequer, thereby creating scope for generation of black money. You should take the lead in building a national consensus on putting a stop to this regressive approach forthwith. As far as possible, the governments which are merely public trustees of such resources, should conserve those resources and refrain from doling out natural resources at rates less than their market value, as rightly directed by the apex court in the 2G spectrum case.
- The Companies Act permits companies to make political contributions upto 7.5 percent of their profits, whereas the threshold for contributing funds for societal needs (corporate social responsibility) is only two percent of the profits. This is not only a warped provision intended to promote crony capitalism but also a retrograde provision that has resulted in the governments granting quid pro quos to the donor companies, violating the law of the land. If you can abolish political contributions altogether and replace the same by state funding, you will be getting at the root of electoral corruption and cleanse the system once for all. Simultaneously, you should help the Election Commission of India (ECI) in curbing lavish election spending.
- In this context, although the Foreign Contributions Regulation Act (FCRA) prohibits political parties and politicians from accepting donations from foreign companies, many political parties including the BJP have blatantly violated the FCRA. I filed a writ [WP(C) 131/2013] before the Delhi High Court who directed your government, in its Order dated 28 March, 2014, to proceed against all political parties violating the FCRA and prosecute the errant foreign companies. Accepting donations from foreign companies compromises the national interest and I feel distressed that both the major political parties, namely, Congress and BJP, should have committed such a highly distressing offence!
Your government has not only dragged its feet in implementing the court order but has gone one step backwards by introducing an amendment to the FCRA retrospectively through the backdoor of the latest Finance Bill and got it enacted by the Parliament. In other words, your government has no qualms in seeking donations from foreign companies to the detriment of the national interest and has gone to the extreme extent of getting the FCRA amended to accommodate such a highly objectionable provision. Unless you get this regressive amendment revoked forthwith, the people at large may not have confidence in the steps being taken by you to campaign against corruption. I have written about this to the Cabinet Secretary vide my letter dated 3 April, 2016, but I am not sure whether he has acted on my letter at all.
- Black money is stashed away by both political leaders and other public functionaries in the form of benami land and other real estate property in different States. You need a specialised investigating agency to trace those properties and force the culprits to face the law of the land. Demonetising higher currency notes alone may not suffice.
- As far as black money stashed away in offshore (foreign) accounts is concerned, I have alerted your investigation agencies about several state chief ministers and others having such accounts but the investigating agencies under the control of your own government have not responded till date. Inaction on the part of your government in this matter has already eroded public confidence in the earnestness with which your government has conducted itself in fighting corruption in high places. You may have to hasten to correct this public perception, not through sloganeering, but through tangible action.
- One way to curb corruption in government is by enforcing the sanctity of sovereign contracts in letter and spirit. I find that contracts are routinely allowed to be violated by way of political patronage, as it has happened in the case of the Production Sharing Contracts (PSCs) of the Ministry of Petroleum and Natural Gas. Strict contract management is one of the ingredients of good governance and you could send a strong message in that direction.
- One source of corruption that has become rampant these days is the political patronage involved in PSU banks dispensing credit to corporates without exercising due diligence. One glaring example of this was the manner in which State Bank of India had flippantly signed an MoU in your presence in Australia to grant a billion dollar loan to the Adani group, without carrying out any due diligence. Under public pressure, SBI had to withdraw from that MoU but it is public knowledge how these PSUs banks have misused the so-called "Capital Debt Restructuring " scheme and other versions of that scheme to expose public funds to the risk of becoming NPAs. There are conflict-of-interest situations between RBI and the PSU banks, and the finance ministry and the PSU banks which need to be removed and PSU bank reforms undertaken urgently.
I hope that you will act on these suggestions so that your efforts to campaign against corruption and black money may yield the desired outcomes.
I am circulating this letter widely hoping that it will generated the much needed discussion and debate on this important subject.
Regards,
Yours sincerely,
EAS Sarma
Former Secretary to GoI
Visakhapatnam
12 November, 2016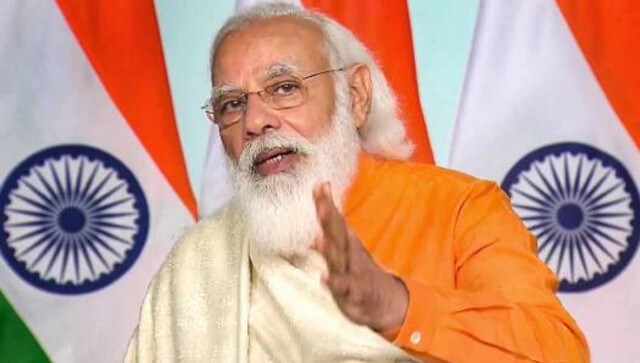 Politics
BJP President JP Nadda extended his congratulations to Modi for completing 20 years in public office, saying that as "a 'Pradhan Sevak', he has made India a global power
India
For more than 70 years now, when it comes to Hindu rights and the administration of Hindu institutions, including temples, laws have been lopsided against Hindus and in violation of the Constitution
Politics
Narendra Modi is a man with a mission and with a single-minded determination to transform India