Demonetisation drive: With this decision, Modi has taken BJP beyond its traders' vote-bank
Modi had delivered on the front of economic reforms that India desperately needed – slashing red tape, cutting the licensing raj and minimising the role of the government in managing the economy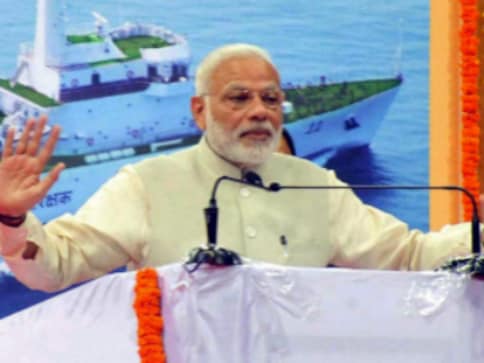 One of the less-discussed aspects of Prime Minister Narendra Modi's sudden demonitisation drive is that this action has reflected once again that the "Modi-vision" is never limited to the long-established outlook of his Bharatiya Janata Party (BJP) or that of its ideological mentor Rastriya Swayam Sevak Sangh (RSS). In fact, Modi has always challenged some of the core principles of the ruling party in more ways than one. He had done that during his long stint as the chief minister of Gujarat and now he is doing the same as the prime minister of the country.
That explains why Modi is not worried that by banning overnight the use of 500 and 1,000 rupee notes, thus rendering 86 percent of currency in circulation worthless, he has badly hurt the urban-centric traders and businessmen, traditionally one of the strongest constituents of the BJP.
As could be seen from the news reports from all parts of the country, traders, particularly the retailers, have been facing difficulties in running their business in the face of the shortage of smaller currencies. And predictably, Modi's opponents like Delhi Chief Minister Arvind Kejriwal, who once had said to be proud of being a "baniya", are exploiting the situation to portray the BJP as an "anti-trader party".
In fact, the latest episode is not the first of its kind by the Modi government that has affected the traders. In March this year, the issue of excise duty on non-silver jewellery had drawn adverse reactions from Gold traders, jewelers and artisans; so much so that there were strikes in various parts of the country. On that occasion too, Arvind Kejriwal had led the protesters in Delhi. Addressing a gathering of jewellers at Jantar Mantar in New Delhi, the Delhi Chief Minister had warned, "The notion was that BJP is a party of traders. Then what has happened now? I want to tell the PM that Jaitleyji will not have to gather votes or contest elections. You need votes so please be a little careful. If jewellers are cheated, then traders will leave BJP's side."
Now the question is: How important have the traders been for the BJP's electoral prospects? This question is all the more relevant when it is the same BJP which had forestalled the then Prime Minister Manmohan Singh's plan in 2011 of bringing 51 per cent foreign direct investments in the retail sector, which would have created, as the government had projected, " at least 10 million jobs," would have helped " farmers secure remunerative prices by eliminating exploitative middlemen," and would have resulted in " a minimum investment of $100 million with at least half the amount to be invested in back-end infrastructure, including cold chains, refrigeration, transportation, packing, sorting and processing".
My answer to the above question is very simple. When the BJP protested against the Manmohan Singh government's move in the Parliament through Sushma Swaraj and Arun Jaitley (then leaders of the Opposition in Lok Sabha and Rajya Sabha respectively), Modi had nothing to do with the top leadership of the BJP as a party. I doubt whether if Modi was the top leader of the BJP then, the party would have stalled the Parliament over the "Retail Tale." In my considered view, as a political ruler (politician in power), Modi has always taken big risks in carrying out anti-populist measures, measures that have adversely affected BJP's traditional vote banks, including the traders.
Let me quote here an article in The Financial Express, Modi was then BJP's Prime Ministerial candidate, the heading of the news item was: "Narendra Modi 'abandons' Indian traders, backbone of Bharatiya Janata Party 'vote bank' with surprise retail remarks." Going against BJP's official position of opposition to foreign direct investment (FDI) in multi-brand retail, Modi said, "There is no need to fear global challenges, try to convert the situation into an opportunity. Make the most of this situation. We are a powerful nation and have taken a lead in information technology. This is the age of online marketing, accept modern science and make use of it."
He then went on to emphasise why small traders must learn to build brands and go online, creating virtual malls to take on large and multinational retailers. "Customers from even small towns are now going for branded stuff. They are going to malls to buy them. Small traders can build a virtual mall by getting into agreements with brands. You can have a virtual mall in small shops at the click of a button", he said.
One can give yet another example. In 2004, when he was seeking fresh mandate as the Chief Minister, Modi had defied the party command to promise in the BJP-manifesto that he would be lenient to the farmers and shop keepers in small towns who were stealing electricity. One diamond merchant had told this writer during the electioneering then, "what is the use in having uninterrupted electricity by Modi if people are forced to pay for its consumption. Earlier we never paid for electricity. We never cleared our bills, but nobody cut our connections. But under Modi, not only are our connections cut, we are also being forced to go to courts to face legal charges against us". This merchant had vowed that he and the entire trading community would campaign for Modi's ouster. And this was threatened at a time when detractors of Modi like the veteran party rebel Keshubhai Patel and the opposition Congress were saying that that there was nothing wrong in stealing electricity and that they would write off the unpaid electricity bills if voted to power, apart from promising to supply free electricity to the farmers in the villages.
However, as events have proved, Modi has always won spectacular electoral victories despite his "ruthless" policies that went against BJP's traditional belief. All told, the BJP in India is not a Conservative Party, even though it talks of the importance of a strong military, robust nationalism and assertive Hindu culture (most of the BJP cadres and supporters are assertive political Hindus, though some of them are also, and that is highly unfortunate, flaming bigots). On the economic front, the BJP, unlike a genuine Conservative party, believes in socialism and populism (it talks of pursuing "Gandhian Socialism"). The party has top leaders who literally hate the liberalisation of the economy and globalisation.
In fact, these elements, whether in the BJP or the RSS, are always opposed to Modi's economic policies. They believe that it is the job of the government to provide everything free or subsidised. They do not talk, like Modi, of less government and more governance. They do not highlight the importance of empowerment of the poor so that they do not remain poor; they will like poor to remain beggars for the government freebies and subsidies. In contrast, Modi usually talks of growth and development and does not glorify poverty.
I have invariably argued that in the last general elections people voted for Modi, not necessarily for the BJP. And that was because Modi promised to be the harbinger of real changes in the Indian polity and economy. As the chief minister of Gujarat, Modi had delivered on the front of economic reforms that India desperately needed – slashing red tape, cutting the licensing raj and minimising the role of the government in managing the economy – all these measures were important for removing corruption that, incidentally, was a dominating feature during the Manmohan Singh regime. In that sense, the demonitisation move by Modi – a strong anti-corruption step, which, in turn, has the potentials of bringing down inflation and turning common man-friendly - was a logical conclusion for him.
All told, Modi, with his "strong-man image", got an absolute majority in Lok Sabha, nearly after 30 years in the country, because in 2014 he won as many as 178 seats from rural constituencies, hitherto considered impossible for a BJP that was traditionally a party of middle class, traders, businessmen and upper castes. Viewed thus, the demonitisation move is also in line with Modi's thinking that if at all the BJP will remain the ruling party in 2019 (or become the ruling party in states like Uttar Pradesh and Uttarakhand next year), then it has to be a party of "all" in both urban and rural areas, not of some sections like the traders only.
India
The ISpA is the premier industry association of space and satellite companies, which will undertake policy advocacy and engage with all stakeholders in the Indian space domain, including the government and its agencies
First Cricket News
The PCB suspended the Northern Cricket Association player under Article 4.7.1 of its Anti-Corruption Code, which means he cannot take part in any cricket-related activity pending investigation.
India
Modi tweeted, "I pray for the good health and speedy recovery of Dr. Manmohan Singh Ji."