Demonetisation: Don't laugh at Manmohan Singh, a 2% GDP fall can get really painful
If spending doesn't happen on the ground, the ripples will be felt in the layers above and reflect in the corporate earnings and, finally, macro-economic numbers
Former prime minister Manmohan Singh, a renowned economist and a former governor at the Reserve Bank of India (RBI), thinks the country's gross domestic product (GDP) could fall by about 2 percent in the aftermath of the demonetisation exercise being implemented by his successor in the office, Narendra Modi.
"The way the scheme has been implemented will hurt agricultural growth in our country, will hurt small industry, will hurt all those people who are in the informal sector of the economy. And my own feeling is that the national income, that is the GDP, can decline by about 2 percent as a result of what has been done," Singh said in Parliament on Thursday.
Did the former PM make a passing remark on the likely impact on GDP on account of demonetisation? It doesn't appear to be so. "This is an underestimate, not an overestimate. Therefore, I feel that the Prime Minister must come up with some constructive proposal on how we can implement this scheme and at the same time prevent this distress that has been caused to the common people," Singh said.
This gives one the impression that the former RBI governor indeed said this after doing his math. The BJP has hit back at Singh for being a 'puppet' and lying with a straight face'.
Forget about the politics in Singh's speech and but the former PM's warning on the massive decline that could happen in economic growth post demonetisation and his appeal to Modi to act to minimise the damage during implementation is no joke.
Let's look a bit closer to his GDP comment. GDP isn't just a number that makes headline for a day or two. It mirrors what happens in the economy and has a bearing on you and me. The GDP slows down when its main drivers lose steam. These are private and government consumption expenditures, gross fixed capital formation, exports less imports agriculture, industry and services.
A 2 percent decline in the GDP, as Singh warned, would mean slow economic activity across sectors including agriculture, manufacturing and services, which are the core areas that contribute to the national income. The problem is when economic activity slows down, it will have a direct impact on millions of jobs, retail consumption, corporate earnings, real estate and construction activity. An economic slowdown would thus impact each one of us, no matter what you do for a living.
And Singh isn't the only one who have warned about the impact of demonetisation on economy. According to Thomas Rookmaaker, director in Fitch's Asia-Pacific Sovereigns Group, "the impact on GDP growth is clearly going to be negative in the short run and depends to a large extent on how long the cash crunch is going to take."
A report by Deutsche Bank predicts the growth will be impacted adversely in the present and next quarters due to the government's temporary demonetisation initiative.
"A sharp slowdown in retail consumption and real estate market activity has begun since early November and could last through March next year. Based on the information available so far, we expect private consumption growth to slow by about 300bps in 2HFY17, which will likely pull down real GDP growth to about 6per cent average in the second half of this fiscal year," it said.
More critically, the report highlights that it is primarily private consumption that has been driving India's growth in the absence of a strong investment-led revival.
"In this backdrop, there is a non-trivial risk that a near-term consumption shock could have a more pronounced second order negative impact in this cycle, even with some countercyclical policy response," the report said.
It is not just the large corporations and big investors, but the spending ability of the common man — vegetable vendors, meat sellers, small food stall owners, taxiwallas — to buy goods and avail services is critical in a consumption-driven economy. When spending doesn't happen on the ground, the resultant shock wave goes up to the layers above and reflect in the corporate earnings and, finally, macro-economic numbers.
The small but significant institutions that cater to the bottom of the pyramid — such as hundreds of cooperative banks across the country and microfinance institutions — are nearly paralysed due to the demonetisation exercise.
Thousands of small and medium enterprises and start-ups are hit badly. These segments too are key contributors to the economy by way of spending and contributing to the production chain. Much of these segments operate in cash economy and the sudden withdrawal of currencies and withdrawal restrictions have hit them hard.
Even the spending by the salaried segment would have come down on account of cash shortage. To add to the problems, even people with cash in their hands will be hesitant or reduce spending thinking of cash shortage ahead. All this suggests that the economy on the ground will suffer if the problem persists.
Besides the above agencies, several other economy watchers, Goldman Sachs, Moody's, Care, Icra and brokerages like Ambit capital too have warned (read here) about the adverse impact of demoentisation on the economy.
Noted development economist Jean Drèze said demonetisation has said "demonetisation in a booming economy is like shooting at the tyres of a racing car".
As mentioned in an earlier Firstpost article , Modi risks the historic move of demonetisation turning into a historic blunder if corrective actions aren't taken fast to support the segments of the economy that have been impacted by the demonetisation exercise.
True, at some point, and gradually, all of India will have to say goodbye to the cash transactions for the greater good of the economy. But, that time is still far away for India. A radical shift cannot happen overnight in a large economy, where consumer behavior and culture too play a critical role. For now, the key is to pump in oil (read cash) to run the rural economic engine, which is still not equipped to run on plastic money.
India
The Opposition is all geared up to corner the government in Parliament, which is scheduled to commence on 29 November
Politics
In a post-truth, Orwellian world where China is seen as a democracy and India an authoritarian state, and where 'progressive doublethink' is a way of life, a strong, decisive government is the need of the hour in India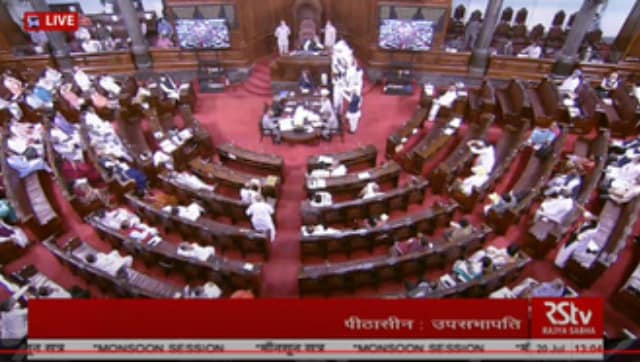 Politics
Previously in 2020, eight MPs were suspended which was the second-highest number.