Demonetisation: Despite transient political setbacks, Modi may emerge stronger post note ban
There are enough indications to suggest that India is on the path of a fast 'V-shaped recovery' & that demonetisation has at least been an economic success.
It has been three months since demonetisation was brought into effect by Prime Minister Narendra Modi and the jury is still out over its true impact. Beyond all the ambient noise, there are only two realistic metrics of judging the effects of demonetisation – political and economic. Though not unrelated, with one frequently influencing the other, these could still be classified as separate terms carrying distinct repercussions.
Since a decision so sweeping and utterly disruptive brings both hidden and perceptible ramifications that unfold over a period of time, we would have to wait till 11 March to understand the true political impact of demonetisation. The BJP has swept nearly all municipal and by-elections that were held post 8 November, but voter sentiment on demonetisation has evolved as rapidly as RBI's changing of rules. The Assembly poll results in five states, however, should give us a fair idea about how the electorate has perceived Modi's notebandi.
But what about the effect of demonetisation on the Indian economy? There certainly won't be any polls to assess whether the move has had a benevolent or a malevolent impact. It was well understood (the government, too, had admitted) that it would have a transitory but sharp consequence. The wheels may come to an abrupt halt before chugging again.
But nobody was sure about the length of time that the economy would take to recover from both the real and outward shock. Part of the problem was that there were simply no reference points. No country – certainly not as large as India – has had 86 percent of its liquidity devalued in a matter of three hours. All critics, pundits and economists were therefore reduced to little more than straw-in-the-wind punters.
Ninety days, however, is not an insignificant period to assess the implications of demonetisation. And right at this stage, there are enough indications to suggest that India is on the path of a fast 'V-shaped recovery' and that demonetisation has at least been an economic success, judging by the way most promises have been met or are moving towards fructification.
There are signals that the tax base is widening, the informal economy is formalising rapidly and we are moving fast towards a more digitised economy. As these conditions are met, India will move to a less-cash paradigm from a primarily cash-dominated one. That would naturally and significantly raise the costs of corruption and black money generation. If one of the objectives of demonetisation was to stymie the future generation of unaccounted cash, this too appears to be working.
Finally, though critics have taken the assumption that "all cash has returned to banks therefore demonetisation is a failure" as an axiomatic truth, it is now becoming clear that the government will indeed have a windfall due to demonetisation. If these goals are met or move closer towards achievement, Modi would be justified in implementing his excruciatingly risky strategy.
Let us take the points one by one. Though politicians and economists have been berating Modi about the "supposed lack of windfall from demonetisation", a closer look at the money-deposit figures throw up interesting conclusions.
Post the note ban, Union Finance Minister Arun Jaitley said during his budget speech, that preliminary analysis of data "in respect to deposits made by people in old currency" reveals that "during the period 8 November to 30 December, 2016, deposits between Rs two lakh and Rs 80 lakh were made in about 1.09 crore accounts with an average deposit size of Rs 5.03 lakh. Deposits of more than Rs 80 lakh were made in 1.48 lakh accounts with average deposit size of Rs 3.31 crores."
A little more data mining by Roshan Kishore in Livemint indicates that "around 31 percent of total value of demonetised currency has come back in individual deposits of Rs 80 lakh or more. These figures show that a large chunk of the demonetised currency which has come back into banks is from the super-rich."
The report also indicates that most of the super-rich chose to park their significant amounts of unaccounted cash in banks instead of ripping it into shreds or slugging it out with taxmen.
What exactly does this mean?
In his column for Business Standard, TN Ninan sifts through the finance minister's data to conclude that around Rs six lakh crore could be the total amount of black cash ferreted out by demonetisation. Ninan adds the Jaitley-disclosed amount of Rs 4.9 lakh crore (1.48 lakh bank accounts, with an average deposit size of Rs 3.31 crore) – which he says "represents cash stashed away or used in black economy" – to another Rs 1.1 lakh crore which is 20 percent of the sum of Rs 5.48 lakh crore deposited by 10.9 million accounts with an average size of Rs 5.03 lakh.
The estimated figure of Rs six lakh crore, says the columnist, is "39 percent of the Rs 15.4 lakh crore of total high-value notes demonetised. If anything remotely near this order of black cash has indeed been unearthed, most observers would say that it validates the idea of notebandi."
Writing for Swarajyamag, R Jagannathan arrives at a similar figure. From a "potential windfall disclosure of Rs 10.38 lakh crore," he says, "assuming only half the amounts are truly suspect, we are talking of black money of over Rs five lakh crore."
Simply put, critics excited at the prospect of nailing the prime minister for "failing to justify demonetisation" in terms of unearthing black money should take a relook at their figures.
One of the stated objectives of the note ban was to move to a more digitised economy, a less-cash paradigm that would reduce the cash-to-GDP ratio. The liquidity and untraceability of cash makes it the preferred fuel of a corrupted system.
On Wednesday, the RBI announced that it will completely remove the cash withdrawal limits in two phases. From the current Rs 24000-a-week in savings accounts, the limit will be doubled to Rs 50000 from 20 February and on 13 March, all limits will be lifted. Interestingly, the RBI revealed that so far it has remonetised only 50 percent of the devalued currency (Rs 7.5 lakh crore of the Rs 15.44 lakh crore.
If that is the case, what gave central bank the confidence to remove all curbs by 13 March?
This clearly indicates the pace at which the Indian economy is getting digitised. By the RBI-stipulated deadline, 100 percent remonetisation wouldn't be possible. Yet, governor Urjit Patel is confident of removing curbs because the economy will be functioning normally with significantly less amounts of cash (maybe around 70 percent of the total demonetised figure).
Another measure of the confidence that the economy is getting back to health is that the central bank appeared more concerned about inflation during its monetary policy review on Wednesday than the effects of demonetisation.
Faraz Syed, an associate economist at Moody's Analytics, told CNBC that, "Because of demonetisation, lending rates have come down. As well, bank deposits have increased… If those lower lending rates can be translated into higher investment, then there's certainly going to be less risk from demonetisation."
RBI's estimate is in line with Chief Economic Adviser Arvind Subramanian's assessment, who had put forward 'one to two months' as a ballpark figure for full remonetisation.
The point to be noted here is this: Despite the quite significant pain, demonetisation seems to be working. It is showing signs of meeting the promises and this significantly strengthens the prime minister's hands. Modi has been at pains to point out, through twin recent addresses in the Parliament, how demonetisation will result in quite significant benefits for the economy.
If he can withstand the political setbacks of demonetisation – which seems very likely at this stage – then the PM would be in a much better position for another shot at mandate in the General Elections in 2019. Economists would do well not to ignore the fine print in his speeches.
India
As part of the celebrations, Union Health Minister Mansukh Mandaviya requested people to get themselves vaccinated and also help others to receive their jab
India
Modi has been deemed to be one of the biggest supporters and proponents of Yoga.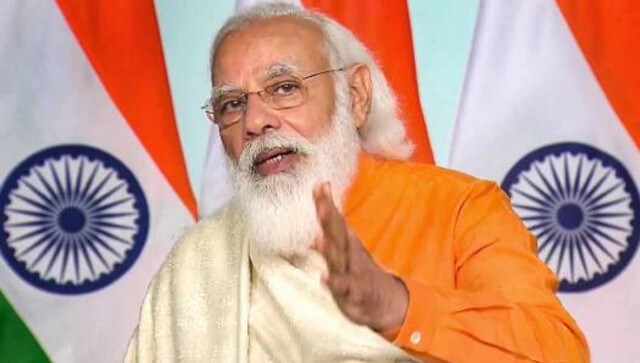 India
Huge celebrations have been planned for the occasion, with over 71,000 diyas to be lit at Varanasi's Bharat Mata temple