Demonetisation: Combative Narendra Modi rubs more salt in Opposition wounds
As long as the people believe he's doing his job, Modi will get the allowance to usher in benevolent disruption.
The Uri attack prompted the Indian army to warn Pakistan that the inevitable retaliation will come at a time and place of their choosing. The attempt was to set the terms of engagement and leave the opponents guessing.
Prime Minister Narendra Modi adopts a similar attitude while taking on his detractors. The Opposition has accused him of "running away from a debate" but the truth is the prime minister does not want to be seen reacting to external pressure. He seizes the narrative by setting the rules and terms of engagement, and his rivals are forced to follow a reactive instead of a proactive model.
We are seeing this game of one-upmanship being elaborately played out during the Winter Session logjam over demonetisation. While a united Opposition wants to put Modi on the mat on the floor of the House, the fleet-footed prime minister has been repeatedly ducking the upper cuts and the jabs and then responding with a barrage of punches of his own, but at a time and place of his choosing.
So while Congress fielded the reticent former prime minister Manmohan Singh, in the Rajya Sabha on Thursday, who tried to puncture holes in Modi's demonetisation policy with an unusually sharp attack, Modi returned the favour on Friday.
During a book launch event at the Parliament House Annexe on the occasion of Constitution Day (26 November), the prime minister tore into his Opposition by suggesting that all charges of unpreparedness against his government are in reality the result of deep heartburn caused by the suddenness of the move. In effect, he was redrawing the moral boundaries around demonetisation, and pushing his entire spectrum of political rivals outside it. This takes the debate over black money eradication on a higher plane where shortfalls over implementation — a point the Opposition is relentlessly focussed on — are overridden by the intent of the action — a greater, common good.
The message to his political rivals was clear.
"There are times when we need to rise above politics and work for the people, that is what the Constitution tells us," said Modi during the function. The appeal to his Opposition's collective conscience came after he ripped it apart for being on the wrong side of the fence.
"This move by the government has faced a lot of opposition in the Parliament. Most of the criticism is that the government was not prepared to implement the decision."
"But the issue isn't that the government wasn't prepared. The real problem for some is that the government did not give them enough time to prepare. That is what is hurting them. Even if I had allowed a 72-hour window, they would have said: 'wah, wah, Modi jaisa koi nahin'."
#WATCH: PM on demonetisation: Those criticising don't have problem with Govt's unpreparedness but that Govt didn't give them time to prepare pic.twitter.com/mvgdsKu1O9

— ANI (@ANI_news) November 25, 2016
On Thursday, Trinamool Congress MP Derek O'Brien had hit out at being pushed outside the moral boundary of the black money debate. Speaking in the presence of Modi during the Rajya Sabha debate, he said: "Anyone who opposes your policy is not for black money; anyone who opposes your policy is not anti-national. Why are you giving us these lectures on corruption and black money? We are opposing you because the people are suffering; we are opposing you because we believe that the economy will be killed. But why are you making this an issue? Are you some messiah and all of us devils?"
It is this wound that Modi was trying to pour more salt into by suggesting on Friday that the Opposition is criticising the move due to deep personal setbacks borne by the move to eradicate corruption. He also called for a greater push towards a more digitized economy and pointed out that demonetisation has democratized the economy, as a growing number of municipalities are receiving more money that can be spent towards improving public infrastructure.
A report published in The Times of India on Wednesday had revealed that the Centre's demonetisation decision has led to a windfall for 47 municipalities, pushing up their total tax revenue for this month to over two and a half times the sum collected in November last year. Quoting Union urban development ministry's estimates, the report finds that municipal tax collection for the 47 civic bodies had reached Rs 13,192 crore. Last November, the municipalities had collected just Rs 3,607 crore.
Appearing to respond to Manmohan's charge that government has no authority to stop people from using their own money, Modi said those caught in a time warp fail to realise that money is not just printed on paper, it is also being increasingly digitised.
Everyone has right to use their money bt today World is changing,money is nt just available physically;must move towards cashless economy-PM

— ANI (@ANI_news) November 25, 2016
Calling for a greater effort towards cashless economy, Modi said it is foolish to assume that the poor are not interested in technology. A rapid increase in mobile phone penetration gives us the perfect chance to use the platform and usher in digital money. He urged the youth to do their bit in educating those who need help for a better future.
Modi had risen to power by selling a dream and promising a cleaner system. As long as the people believe he's doing his job, the prime minister will get the allowance to usher in benevolent disruption.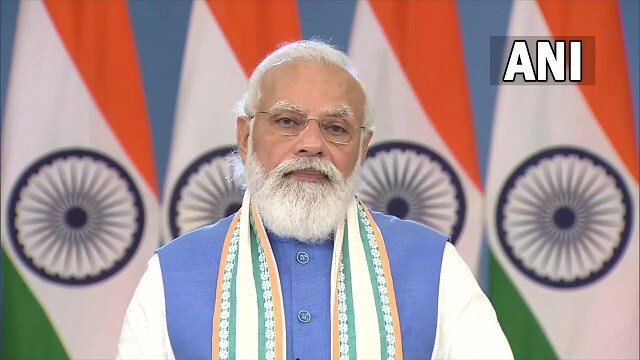 India
Prime Minister Narendra Modi said no matter how powerful a person may be, stern action should be taken against those who work against the interest of the nation
India
Sources said the 89-year-old had a fever on Monday and had recovered from it, but turned weak and is currently on fluids.
India
Death by selfie is a thing, a fatal national passion. The latest instance comes from Lakhimpur Kheri, where a man had gone to check out a party of elephants on the move