Demonetisation: Arun Jaitley attacks critics, says no exception can be given
If MNREGA workers can be given wages in banks, other daily wage earners should also follow this, says finance minister Arun Jaitley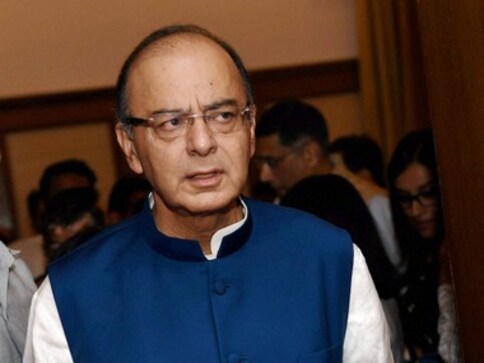 Finance Minister Arun Jaitley said around Rs 2 lakh crore has been deposited till 12.15 pm on Saturday in banks across the country, following demonetisation of Rs 500 and Rs 1,000 notes.
"The largest banker in the country State Bank of India (SBI) saw deposits of Rs 47,868 crore till Saturday afternoon," Jaitley said while briefing the media.
He said SBI's deposit is around 20 percent of the total deposits in all the banks in the country.
Jaitley also said that despite allegations by opposition parties that there was spike in bank deposits leading up to the demonetisation announcement, no such spike has been seen in any month, except September 2016.
"That month the increase was because of money released on account of the Seventh Pay Commission payments," he added.
Therefore, there is no substance in the allegations that information about demonetisation was leaked.
Jaitley also said that it will take two-three weeks to recalibrate the ATMs across the country for the new notes. "It will be a slow process," he said.
Here are the highlights:
Numbers: There are five kinds of transactions taking place now: cash deposits, withdrawals, cash for cash exchange, cash for ATM and cash deposit machines are being used. In these 5 transaction points, in the last 2.5 days, there has has Rs 2.28 lakh crore worth transactions in SBI. The State Bank of India is the largest bank in the country in terms of operation and constitutes 20-25 percent of total banking operations in the country. So you can extrapolate this figure for other banks. Monetary transaction in SBI in the past 2.5 days was Rs 54,370 crore. Of this cash deposits alone was Rs 47,868 crore.
SBI has had in this two-and-half days 58 lakh people coming for exchange of notes, 22 lakh for ATM operation and 33 lakh for withdrawals.
That people would come for exchange of notes, deposits and withdrawals was expected as this is a massive operation to replace currency and it will take time.
The Reserve Bank of India and banks have 4000 currency chests and have sufficient cash in them.
The difficulty that some people are experiencing is because they want currency in certain denominations and that is not available in the banks.
The huge numbers of people that are coming to banks will continue in the next few days. I would like to appeal to people that currency can be exchanged till December 30 and withdrawals can be done later too. People can come 4-5 days later too and then they wont face the crowds like now.
Recalibration of ATMs: About 2 lakh ATMs have to recalibrated. If the government had done it earlier -- which requires thousands of people on the job -- then there would be no secrecy of this operation. So the recalibration could be done only after 8 November. To put money in the ATM, it has to be recalibrated as it can give Rs 100 and the now annulled Rs 500 and Rs 1000 notes. It will two to three weeks to recalibrate the machines as the size of the new notes are different. As of now, you will get only Rs 100 in currencies. The bigger denominations are available in banks.
Irresponsible charges: Political parties are making irresponsible statement. If you haven't paid tax on your money, then the government has the right to do so. Even on your own money, you have to pay tax and ensure that is legitimate.
One politician said deposits in banks went up in the July-September quarter which indicated that some people knew about the scheme. I have seen the RBI data on deposits. For the whole year, except for one month -- September 2016, there was no increase in deposits. The increase was because the Pay Commission arrears were released on August 31 and so this came into the accounts and these were disbursed by September 15.
People are spreading rumours in this situation. One thing is clear. The goal of the scheme is clean transactions and clean money and hence people have to follow it.
The rumour that the Revenue department is doing a search is false. Wherever Intelligence has received information, then Enforcement Directorate will investigate. Whenever intelligence has found annulled currency was exchanged for gold, then details of gold stocks were asked.
As regards fake currency, the government machinery is vigilant and fake currency and money used for crime will be squeezed by this operation
The government will be vigilant about currency or bullion that is non-legal transaction.
Daily wage earners: Replying to a question on how will the daily wage earners like tea garden workers in Assam who are paid in cash will adjust, he said even MNREGA is now paid in bank deposits. So others must also do that. "No exception can be give. Every exception will be an opportunity to create black money," he said.
He evaded a question whether the government was doing this coinciding with the Uttar Pradesh elections, where the BJP is lagging.