Demonetisation and Modinomics: Burning down a forest for a few black sheep is flawed
Convoluted catharsis, that's the phrase that comes to mind as the narrative on demonetisation unfold.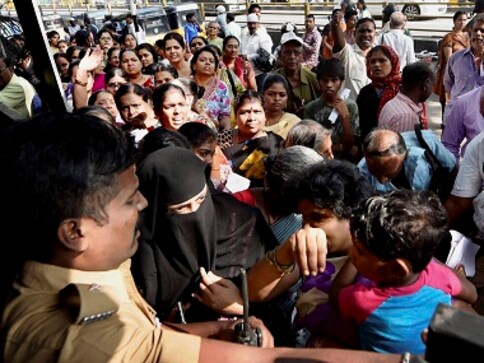 If you can't trace money parked in Panama,
Target those who keep it in folds of pyjama,
If you can't scare a Mallya or a Lalit Modi,
Ensure every trader wets his vest and dhoti,
Can't stop owner of KF airlines from flying?
Haul up drivers of autos, ricks and Bluelines,
If you can't identify and catch a thief,
Scan everyone right down to the briefs,
If you can't win polls with a surgical strike,
Let everyone experience financial strife.
This essentially is new Modinomics for you, defined by his monetary policy of demonetisation and victimisation — of almost every Indian.
Its defining moment came two days ago in Tokyo, where ecstatic NRIs chuckled at the misery of "corrupt" Indians.
"Kal ghar main shaadi hai, par ghar main paise nahin hai," Prime Minister Narendra Modi said, slapping his palm with the other. On cue, those earning presumably in Yen began chanting 'Bharat Mata Ki Jai.' The thought of poor Indians running out of money on the eve of their daughter's marriage must have been really cathartic.
Convoluted catharsis, that's the phrase that comes to mind as the narrative on demonetisation unfolds. It seems everyone unhappy about financial restrictions is happy that everybody is in agony, especially those who use notes as mattresses and pillows.
Like the prime minister said, those who made money in 2G scam are queuing up for Rs 4000. Yes, look around. See that rickshaw puller, see that woman in her 70s. See that mother running around for cash to buy medicines for her hospitalised child.
No, no, no. Don't get me wrong. All of us are completely in favour of curbing corruption, strict action against tax evaders and weeding out counterfeit currency and kaala dhan. Being part for the past 20 years of the one percent Indians who actually file their income tax returns, I am all for widening the network, lightening the burden of those who shoulder it.
But, to burn down a whole forest to find a few black sheep is not the way to do it. To make everyone miserable, turn an entire country upside down could be dramatics and Modinomics, not economics. How much currency is currently floating around in the market? Some estimates suggest we have currency notes worth around Rs 17, 000 billion in circulation at the moment. Out of this around 85 percent are of Rs 500 and Rs 1,000 denominations. Let's presume half of this is kaala.
What is India's GDP? Around $1.9 trillion (2013). So, this means Rs 500 and Rs 1,000 notes are 12 percent of the GDP and the black component in cash around six percent of it.
So, are we to believe India's parallel economy is just 5-6 percent of the GDP? Certainly not. It is much bigger and has been so for several decades.
But, the real problem is that most of the unaccounted wealth is either parked in real estate or bullion in India or has been stashed away in offshore accounts. So, it is the poor and the middle class that would be harassed more because of the demonetisation instead of the rich.
Look around. See those queues again.
There is another practical problem with the directive to deposit the old currency notes in banks. What if the currency was kept at home, saved for years, after paying tax on it? How will the tax authorities distinguish genuine income kept at home since several years from black money, especially by housewives and farmers, whose income has always been tax free?
Obviously, the poor would pay for the rich, who either have just a small proportion of their unaccounted wealth in currency notes or have enough resources to launder them.
In the end, the new instrument of Modinomics will hit everyone — rich, poor, middleclass; evaders and payers. Ultimately, except for loose change, nothing would come out of it. So, those seeking solace in the presumed misery of the corrupt are actually laughing at themselves.
The government's intention is right. But its execution, as many economists have pointed out, is faulty.
Real corruption lies in the processes that are entrenched in the system: Electoral funding (parties do not open it up for public scrutiny), real estate transactions, the loot by private schools and hospitals, corrupt bureaucracy, crony capitalism and lack of action against loan defaulters and financial crooks.
Instead of acting against them in a systemic manner, the government's sudden move has worked against poor, farmers, traders, housewives and unorganised labour in this country.
Instead of going to Panama, he has picked pockets of those in pyjamas and dhotis. And everybody is laughing because it is funny to see a man become a pauper on his daughter's wedding.
also read
Explainers
The inauguration of the new Parliament building has snowballed into a political slugfest between the government and the opposition. But this is now the first row over it. From construction during the COVID-19 pandemic to the national emblem sitting atop, the Sansad has triggered many debates
Explainers
Raigad Fort is the place where Shivaji Maharaj took the title Chhatrapati on his coronation day in June 1674. Referred to as the Gibraltar of the East by the early Europeans, it served as the capital of the Maratha Empire until his death in 1680
World
In a televised address, Sanchez said he had informed King Felipe VI of his decision to dissolve parliament and "call a general election"