Congress ill advised to raise communal pitch ahead of Gujarat polls; seeking Modi apology wrong strategy
A fascinating contest of narratives is under way in Gujarat. In response to Narendra Modi's charge that Congress is letting Pakistan interfere with India's electoral process, Rahul Gandhi on Monday sought to reset the parameters of the debate. He told voters in a rally that this election is all about Gujarat—nothing else—and the prime minister's attempt to distract the voters betrays his nervousness.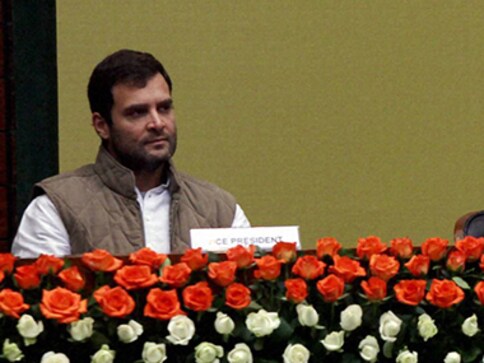 A fascinating contest of narratives is under way in Gujarat. In response to Narendra Modi's charge that Congress is letting Pakistan interfere with India's electoral process, Rahul Gandhi on Monday sought to reset the parameters of the debate. He told voters in a rally that this election is all about Gujarat — nothing else — and the prime minister's attempt to distract the voters betrays his nervousness.
The Congress president-elect has insisted that he "respects" the prime minister's chair (Manmohan Singh might privately disagree), and inspired perhaps by Michelle Obama's Democratic Convention speech the Gandhi dynast claimed he would rather answer the prime minister's 'venomous barbs' with 'love'. Bitten once too often, it seems to have finally dawned on Congress that abusing Modi may be counterproductive. Hence it wants to restrict the debate on local issues, farmers' plight and economic woes: Topics that it believes will resonate with Gujarati voters.
This is a prudent approach. The problem with Congress is that its messaging is inconsistent and it remains prone to frequent self-goals. For instance, it wants the voters to believe that a desperate prime minister is trying to "polarise voters" because he knows BJP has 'lost the elections'. This implies Congress is confident of returning to power in Gujarat and sees no reason why it should, unlike the BJP, 'polarise voters'.
PM has said Congress is conspiring with Pakistan for Gujarat elections.Its outrageous. This is just an attempt to polarize ahead of second phase of voting.This also shows his desperation and that BJP's loss is now guaranteed: Anand Sharma,Congress pic.twitter.com/1Ax2qxDzvN

— ANI (@ANI) December 11, 2017
If it is Congress' electoral strategy to "stay away" from polarising issues, personal attacks and occupy a moral position in the cut and thrust of electoral politics, what explains its spokesperson's recent demand that Modi should "apologise" for communal riots by visiting the Jama Masjid?
At a debate organised by News18 on Sunday evening, Congress leader from Punjab Charan Singh Sapra said Modi should take a leaf out of Sonia Gandhi's book and say 'sorry'.
"Neither my party nor do I support the 1984 (anti-Sikh) riots. Sonia visited Golden Temple and apologised in front of the media. Manmohan Singh also apologised in Parliament. In the last 33 years, the BJP has been adding insult to our injury. Can Narendra Modi visit the Jama Masjid and apologise for 1992 riots?"
This comment could be the fourth self-goal that Congress has scored since the onset of campaigning in Gujarat. It may rank alongside blunders such as party's claims that Rahul is a 'janeu-dhari' Hindu (one who wears the sacred thread)", Kapil Sibal's submission in Supreme Court on delaying Ayodhya verdict till after 2019 elections and Mani Shankar Aiyar's 'neech' insult against Modi.
Expectedly, the BJP wasted no time in flagging the demand as 'outrageous' and framing it within the parameters of 'vote bank politics'.
Several BJP leaders condemned the statement, with party president Amit Shah telling journalists on Sunday in Gandhinagar that "entire nation knows the allegations levelled on the prime minister by the Congress backed NGO were all false. Yet for vote bank consolidation, 2002 is being raised in 2017."
It is tough to believe that Congress is unaware of the repercussions of raising the issue of communal riots or attacking Modi personally in his home state bang in the middle of elections. It is either Congress' attempt at dog-whistling to corner Muslim votes, or another example of its incoherent electoral strategy: Possibly both.
What the grand old party doesn't seem to realise is that any mobilisation of Muslim votes through dog-whistling strategies is a game two can play, and BJP is on a much stronger wicket here because it can counter-mobilise the majority sentiment.
This dissonance sends out mixed signals about Congress' intent and confuses voters. It is also becoming a defining feature of the party under the new boss. Early signals indicate Rahul's leadership will be little more than a continuation of Congress' policy of pandering to all impulses — be it majoritarian or minoritarian — in a 'horses for courses' strategy. While that is hardly a radical departure from the way Sonia handled electoral strategies, Rahul's job is made difficult by the fact that he lacks the finesse to dress rank opportunism as savoir faire.
Consequently, the new president-elect swings between extremes: Overcompensating while trying to restore balance in positions. In this respect, Rahul is closer to his father who tried to compensate for his Shah Bano blunder by laying the ground for Babri Masjid demolition.
As Shekhar Gupta writes in Print, Rajiv Gandhi "allowed the unlocking of the Babri Masjid-Ram Janmabhoomi site, pretty much endorsed the temple's foundation stone laying (Shilanyas) and then launched his 1989 campaign from there—with a promise of ushering in Ram Rajya."
In the larger context, Rahul's inconsistent positions risk undermining its larger electoral strategies. It has sought to approach the Pakistan debate once again from a high moral ground by demanding Modi's apology for ostensibly making a "social function" look "sinister" through insinuations that it was a "secret meeting".
"The former prime minister and vice-president were merely attending a social function in which high (level) dignitaries were present and it was not a secret meeting… (At the event) former chief of army was present, former Indian high commissioners to Pakistan, distinguished diplomats of this country, eminent journalists they were all present and the prime minister gives it a sinister and sensationalist twist?" said Congress spokesperson Anand Sharma. 
It escaped the Congress that Modi has been building the 'Congress-soft-on-Pakistan' narrative rather diligently for what it's worth, and Congress played into his hands by initially sounding abrasive about the meeting.
In response to Modi's allegations of Pakistan's interference in Gujarat election, and his statement at a rally that a meeting at Aiyar's residence involving Pakistan's former high commissioner and former minister of external affairs did take place, Sharma called Modi a 'liar'.
On Sunday, the senior Congress leader dismissed the accusation as a "lie being sold by the prime minister", and told ANI  "only because he is rattled by the defeat that is staring him and the BJP in the face, he should not say such things. If he had this information, and if it is true, which is not, then it would have been an act of treason and action should have been there under law. Why is he crying there? If there is anything like that, why has he spoken now?" asked Sharma.
On Monday, Congress claimed that there was nothing secretive about the meeting.
This apparent inconsistency in argument allowed BJP the chance to bring out a discussion into the open about an allegation that addresses the deepest concerns of our collective psyche. The fact that it took place at Aiyar's residence, who had, on an earlier occasion, allegedly told a Pakistan TV channel that Modi must be removed for talks to resume only added to the narrative.
In 2015, Aiyar told Pakistan's Duniya TV channel: "Bring us (the Congress) back to power and remove them. There is no other way (to better the relations). We will remove them, but till then you (Pakistan) have to wait."
Modi was playing his cards well. The Congress tried turn the table on BJP by suggesting that it was Modi who made an unscheduled stop at Lahore at Nawaz Sharif's invitation, but these attacks don't affect BJP much since it has secured the 'nationalist' space in polity.
Meeting Pakistani envoys over dinner surely isn't an exceptional event, but doing so during an Assembly election involving a border state, and being initially abrasive about details, gave Modi just the kind of weapon he was looking for. The Congress made similar blunders during Doka La conflict when Rahul met Chinese envoys reportedly to "seek details": An issue that Modi has kept repeating during Gujarat campaign.
To defeat an excellent communicator like Modi at his game, the first requirement is consistency in messaging. It must be based on a coherent strategy. There is no space for self-goals. The new Congress president-elect has his job cut out.
Click here for detailed coverage of Gujarat Assembly Election 2017
India
Nitish Kumar was asked about the debate, especially in academic circles, that has been triggered by the recent statement of Union Home Minister Amit Shah at the launch of a book on history written by a medical professional
India
The PMO said in a statement that Modi will inaugurate the redeveloped temple of Shree Kalika Mata at Pavagadh Hill on 18 June, followed by his visit to Virasat Van
Politics
She also appealed to the youths protesting against the scheme to adopt peaceful and non-violent means to fight for their demands