After months of controversy and bad publicity, the Aam Aadmi Party (AAP) finally offers something which is being silently approved even by its worst critics.
The Rs 41,129-crore budget it presented in the Delhi Assembly on Thursday stays close to the party's agenda for the common man and has enough for others not to cry foul. While it makes entertainment dearer, its emphasis on education and health sectors and skill development is likely to endear it to most sections, particularly its core voters.
"For us spending on education is not an expenditure, it's an investment," said Finance Minister Manish Sisodia who presented the AAP government's budget for 2015-16. There are questions whether the education plan which promises 236 schools, 20,000 new teachers, CCTV cameras in classes, 50 model schools with modern infrastructure among others is too ambitious, but no one seems to have any objection to the intent.
"This is a budget of aam aadmi and country's first Swaraj budget. We have tried to take into account the expectation and aspirations of the people of Delhi. Through this budget, we want to develop Delhi as a world class skill centre," said Finance Minister Masnish Sisodia in his budget speech.
Termed as 'Swaraj Budget' and in line with the party's Delhi Dialogue blueprint, it gives top priority to the social sector – education gets the highest allocation with Rs 9,836 crore, an increase of 106 per cent over the previous budget, and health gets Rs 4,787 crore.
The mohalla clinic idea – the government proposes 500 neighbourhood clinics by the end of this fiscal – is a smart one. It wants to increase the hospital bed capacity by 10,000 in the next couple of years besides augmenting the number of ambulances among other proposals. The question again, however, is does the government have enough funds for this?
But the party seems unfazed. National secretary of AAP, Pankaj Gupta said, "This year's budget is almost double than that of the previous year. Keeping with our party's core principle and goal, top priority has been given to education and primary health care sectors. Due to lack of infrastructure and facilities in these two key areas, the common man, especially the poor, suffers the most. AAP's top leadership ensured that the budget should be prepared keeping the aam aadmi, the poor and the under-privileged groups in mind. Swaraj Nidhi is an important initiative in this budget to connect with the issues of local citizens."
"For the youth and professionals, we've identified hubs with maximum internet usage, and Wi-Fi connection would be provided first in these areas and would be taken ahead. Public transport is another key area, for which Rs 5,085 crore has been earmarked. 1,380 low-floor buses, 500 mini buses and 1,000 cluster buses will be introduced to ensure last mile connectivity. 1,200 new bus shelters will come up in the city – all by the end of 2016. The aim is to reduce pressure on existing traffic and transport system in the national capital. In addition, the thrust will be on optimum utilization of funds allocated for specific sectors and stop wastage, so that maximum work can be delivered as per the goal set by the government," mentioned Gupta, one of the key backroom strategists of AAP.
Emphasizing on the promotion of e-governance and m-governance, the Delhi government wants to do away with the high-handed monopoly of 'inspector raj' in government functioning and tenders. As part of women's safety, the budget announced deployment on marshals in buses, installation of CCTV cameras in government schools' classrooms, DTC buses, in all clusters and women's hostels.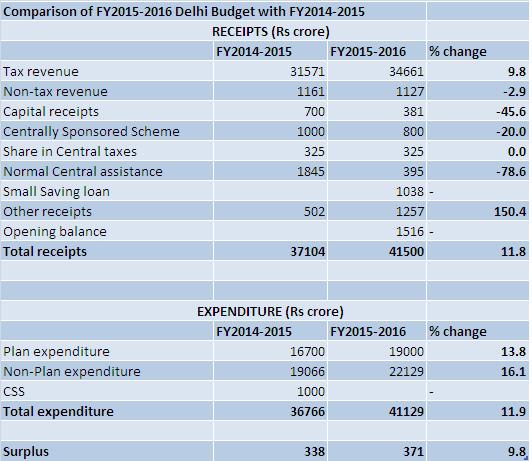 Saurabh Bhardwaj, AAP MLA (Greater Kailash) and Secretary, Delhi State, AAP said, "The best part of this budget is that it reflects the roadmap to fulfill the promises we made in our manifesto. Keeping with our CM's statement to create human capital, allocations have been increased by 106% in education and 45% in health. Through this first budget, we're making an honest attempt to fulfill the promises we made to the people of Delhi. At least, we're moving on that direction, unlike many parties, like the BJP at the Centre, who after forming the government, has virtually given up on its promises."
He added, "Besides education and healthcare, major focus is on women safety and students. We're aiming at providing two sets of certificates to students completing school education – one board certificate and the other on skills, so that one can be employable. The government has decided to provide internship to one lakh students in various companies."
"The steps that Delhi government wants to take through this budget in education and primary healthcare will help in ending the mafia-raj in these two areas, as the common man is badly affected due to this. It's highly challenging to break this unholy nexus in these two sectors. If Delhi government succeeds in this attempt, the entire country will follow it," said a senior AAP volunteer and committee member of CR Park, Anup Tagore.
Ram, an owner of a book shop in south Delhi added, "Emphasis on improving the condition of government schools and providing vocational training to students, will help the poor and under-privileged section a lot. Like, in the past, the government schools will now be able to compete with private institutions, if funds are effectively utilized as per the plans mentioned in the budget. Delhi District Urban Development Agency for micro-management of issues in every district is a welcome step."
Fighting over the issue of getting the Delhi Police under its wings (presently, it's under Central government), the Delhi government in the budget has proposed Rs 927 crore allocation for social welfare schemes – promising Rs 1 crore to the families of police, home guard, civil defence personnel, who die while performing duty.
Faced with controversies, allegations, growing discontent among the MCD sanitation workers that led to piling up garbage in the City, its duel with the Lieutenant Governor of Delhi and finally with an eye on 2017 polls of the civic bodies, Rs 5,908 crore has been set aside for municipal corporations. "This will help in the functioning of the municipal corporations and sorting out of the problems that AAP government has been facing since it came to power," added an east Delhi-based AAP volunteer.
The budget announced creation of a new fund, Swaraj Nidhi (Rs 253 crore), which will be kept at the disposal of the aam aadmi. "It's a fund for residents to implement schemes and projects within their colonies and each constituency will be allotted Rs 20 crore. Money will be allotted to 11 of the 70 constituencies to start with," said Sisodia.
However, with Luxury tax increased to 15% and Entertainment tax doubled from 20% to 40% will dampen the spirit of all those visiting gymnasiums, spas, buying cinema tickets, staying in hotels, etc.
"Luxury and Entertainment taxes have been hiked for generation of state revenue, but we hope it won't pinch the common man's pocket," added Gupta.
Your guide to the latest cricket World Cup stories, analysis, reports, opinions, live updates and scores on https://www.firstpost.com/firstcricket/series/icc-cricket-world-cup-2019.html. Follow us on Twitter and Instagram or like our Facebook page for updates throughout the ongoing event in England and Wales.
Updated Date: Jun 26, 2015 17:20:12 IST