Delhi rains: Not the time for blame game, says Arvind Kejriwal after BJP slams AAP govt over water-logging
Heavy rains caused water-logging in parts of Delhi, including at Minto Bridge, where a 56-year-old truck driver drowned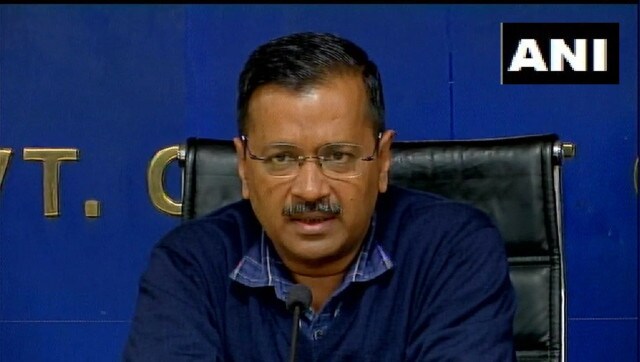 New Delhi: This is not the time to play the blame game over water-logging in parts of Delhi as all agencies have been busy combating the coronavirus, Chief Minister Arvind Kejriwal said on Sunday as the BJP took a dig at his promise of building roads similar to that in London and Paris.
Delhi BJP president Adesh Gupta said that Kejriwal had promised to build roads similar to that in London and Paris, but in reality people cannot even step out due to water-logging.
Heavy rains caused water-logging in parts of Delhi, including at Minto Bridge, where a 56-year-old pick-up truck driver drowned while trying to manoeuvre his vehicle through the waterlogged underpass. Also, several houses were swept away at Anna Nagar slum by a swelling drain.
Sharing pictures of water-logging, East Delhi BJP MP Gautam Gambhir tweet in Hindi, "Heard that the Delhi government is running rain water harvesting scheme on London-Paris-like roads. When will its advertisements be seen, Kejriwal ji."
During the Assembly poll campaign, Kejriwal had promised to make Delhi as clean as London and Paris if his Aam Aadmi Party (AAP) was voted to power.
As the BJP and the Congress sharply attacked the AAP government, the ruling party leaders, including Kejriwal and his Deputy Manish Sisodia, called for avoiding blame game over the issue.
In a tweet in Hindi, Kejriwal said, "This year, all agencies, be it Delhi government or MCD (civic body), were busy in prevention of COVID-19. They faced many difficulties due to corona. This is not the time to blame each other. All have to fulfil their responsibilities together. Wherever there is water-logging, we will try to pump out water immediately."
Later, in another tweet, the chief minister said water had been drained from the Minto Bridge. Kejriwal said he had been in touch with the agencies and monitoring the process of removing water from there.
Slamming the chief minister, Delhi BJP president Adesh Gupta in a tweet said that it is just the beginning of monsoon and asked the AAP dispensation to take concrete steps as soon as possible to prevent water-logging.
Gupta also condoled the death at Minto Bridge which comes under the Delhi PWD.
He said that if steps were taken in time, the death due to water-logging could have been prevented.
"Minto Bridge area comes under the PWD of Delhi government. There is a pump which was not started in time and the DJB line which carries water was also choked. We have been raising this issue for long," he said.
Former Delhi BJP president and MP Manoj Tiwari tweeted, "...Arvind Kejriwal ji your preparations are exposed by the first rains of Monsoon. A solid plan should be prepared to deal with the rains so that Delhi could be prevented from submerging and people saved from difficulties."
Mayor of the BJP-ruled North MCD Jai Prakash, who visited Minto Bridge, claimed that he got North Delhi Municipal Corporation staffers clear water from the area.
Deputy Chief Minister Sisodia said the Delhi government is closely monitoring the situation of water logging in parts of Delhi and appropriate steps will be taken to cover the losses incurred to people due to heavy rains.
He requested the BJP to work together and not play the blame game.
"Instead of pointing out shortcomings or faults of other departments, it is time to work together," he said.
AAP leader and Rajya Sabha member Sanjay Singh said cleaning of drains is the responsibility of three agencies of Municipal Corporation of Delhi (MCD), Public Works Department (PWD) and Delhi Jal Board (DJB).
"Three agencies have the responsibility of cleaning the drains - MCD, PWD and DJB. Different agencies have responsibility for cleaning the drains. Suddenly there would be such heavy rainfall, no one had an idea and it is not the time to accuse each other," he said.
The National Capital received its first spell of heavy rains on Sunday morning which led to water-logging in low-lying areas and brought traffic to a standstill at key stretches in the city.
In a statement, AAP spokesperson and DJB vice-chairperson Raghav Chadha said the water-logging problem has been a huge issue but in the past two or three years, after the Aam Aadmi Party government came to power, the situation has drastically changed.
Chadha said that it is unfortunate that at a time when all agencies are busy in working to combat the COVID-19 pandemic, the BJP is blaming the AAP for the water-logging incidents.
"I want to request all the BJP leaders to stay away from playing politics on this matter. Chief Minister Arvind Kejriwal has immediately taken cognisance of the matter, discussed with the engineers and now there is no water-logging anymore in Minto Bridge area," he said.
Delhi Congress president Anil Chaudhary said that heavy water-logging on the first day of the monsoon rain has "unmasked" the failure of both the AAP-led government and BJP-ruled municipal corporations.
"The swelling drain at Anna Nagar near ITO swept away many houses," he said after visiting the affected families.
The Delhi BJP president also visited Anna Nagar and distributed relief material to the families whose houses were damaged.
also read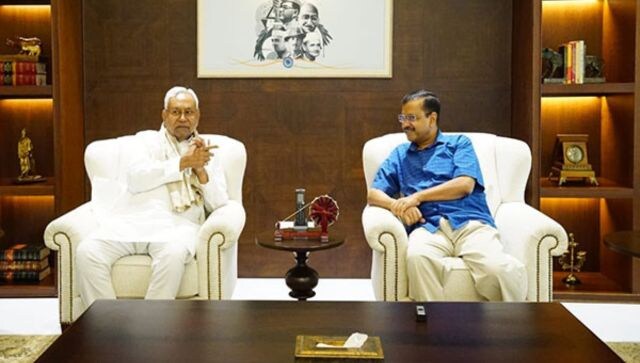 Politics
The Bihar CM discussed the contentious topic of the Delhi vs Centre row on having the capital's sovereignty. He also talked about the Centre's plan to bring about an ordinance to give the control of 'services' back to Delhi's Lieutenant Governor
India
On Friday, the Centre passed an ordinance creating a National Capital Civil Service Authority to deal with service conditions, transfer and posting of officials, seen as a move to wrest back control after the May 11 apex court ruling that gave Delhi government powers over services
Politics
The move comes just a day after BJP brought about an ordinance to create a new authority tasked with the transfers and postings of top bureaucrats in the Government of the National Capital Territory of Delhi