Delhi in sight: A kinder, gentler Modi is coming into view
As election fever peaks and Modi smells the prospect of coming to power on 16 May, his tone and tenor has undergone a subtle shift. Not on election tours, but in TV interviews. He is shifting from challenger to governance mode
Narendra Modi's recent TV interactions, one to India TV and another to ANI and TV9, reveal a subtle shift in his persona from aggressive challenger to mature incumbent of the future.
If, on the stump for votes, Modi adopted a hectoring and belligerent language against his opponents, his tonality has begun changing as he gets closer to power in Delhi.
In his remaining election speeches all the way to 12 May, the last day of polling, he may still talk of Shehzada and his infantile concerns, attack Sonia Gandhi for emasculating Manmohan Singh, and chip away at Mayawati and Mulayam Singh in Uttar Pradesh, but Modi is changing colour in the last few laps.
Thus, even as his opponents spew venom and spread doom and gloom messages about him (Bollywood is the latest to polarise itself over his PM prospects), Modi is spreading sweetness and light.
So will he go after the Gandhis is he wins? Or even Robert Vadra? Modi's reply to the TV channel: "Let the law take its own course. There will be no role for Modi or a Modi government… Our focus will be positive, to fulfill the pledge made to the public. No government should work with a vindictive mindset. Democracy is not meant for that. Modi, in particular, should never do that. I have faced it for the last 12 years." (Read here)
Note the subtle shift to Modi government…
His opponents may not believe him, but these words will enable doubters to make up their minds about him in the remaining part of the polls.
So should one forget the invectives used against his political opponents, including Nitish Kumar? Modi's supporters would be happy to forget them: "Political fever is going on right now, which is why such language is being used. This is temporary (personal attacks)." He adds: "I may also have used  harsh words against Soniaji, Rahulji and Nitishji. This is not permanent."
With two lines, and an indirect mea culpa of sorts, he has changed the discourse from abuse to amity. But there is a calculation here too. While Nitish Kumar may be on the ropes in this election, in the state assembly elections due in 2015, he could be a different proposition. Modi has left space for a rapprochement with Nitish in case he needs him later.
On the BJP manifesto's subdued hint of a more robust nuclear stance, Modi's has shifted position to statesman-like obfuscation. The manifesto's talk of reviewing the nuclear stance has been interpreted as an abandonment of the no-first-use policy. But Modi talked peace, not war, in his interview: "Yeh Buddha ki dharti hai (This is the land of the Buddha). We want the world to be free of conflict. Our requirement is to be powerful but we do not want to suppress anyone with this power and want to use this only for our own defence…The no-first-use policy was an initiative of Vajpayee and there will be no compromise on that at all. This policy is a part of our ancient tradition."
This should cool nerves in Pakistan and China, but does not lock him into the old stance either. For India still has to be "powerful." It's as neat an about-turn as you can get from any politician without being one. Modi has left himself room for manoeuvre in defence policy once he gets to Delhi.
On economics, Modi scored a sharp point against the UPA and for the NDA by talking about the retrospective amendment on taxes, which had Vodafone in its crosshairs.
Calling the Vodafone amendment a "breach of trust", he added: "If I took any such retrospective steps in my state, we would not have got the confidence of anyone. A breach of trust should not happen…If we change the policy overnight, we will not get the confidence of investors. The crisis of today is that of trust. The whole world wants to invest here but there have been so many ups and downs in policy formation by the government that has made things wrong. If we restore this trust, they will be back."
In these sentences he has established the NDA as business-friendly and FDI friendly. Given the economic mess the UPA is leaving behind, Modi needs oodles of foreign investment to restore the sagging investment cycle. The market will rejoice, and so will foreign investors.
In some areas however, Modi was the old Modi. He could not entirely hide some of his bitterness about being targeted by the media and political rivals over 2002 for 12 years.  He said: "For the last 12-14 years, only one person has been targeted with all kinds of allegations. No one missed any opportunity to castigate me. Is it not a sin to target one individual for all kinds of things? Taking such a negative attitude towards one person also manifests into a vyaktiwad. Those who have done it in the last 12 years, practised individual-centric politics. When they have done it, they are paying a price for it."
His revenge is thus through the ballot.
Modi also let his disappointment with the media show through. "Media's role is that of a critic…I pray for a strong media and criticism for the good of the nation. But there are some who are news traders…we need to clarify to the people who these news traders are, who are sponsored. I am open to criticism, is it possible for any man to be perfect? No."
But unlike Arvind Kejriwal, who blasted the media for bias and threatened them with jail, Modi paid a left-handed compliment to the media and indicated he was not for vendetta. He pointed out that "if the media had not worked to malign Modi, then who would have known about Modi today?" As for the fears of some media editors that he will come after them once in power, he pointed to Gujarat: "For 14 years, we (the BJP) have run the government in Gujarat. I ask you, has any editor left or, has any reporter left?"
The ANI interview (view the interview on Youtube here), which brought up all the controversial issues – from 2002 to the skull cap case to Snoopgate – is remarkable for the simple reason that it marks the shift in Modi's position from election mode to governance mode.
Thus, even in the coming election contest in Varanasi, which promises to be bitter, he chose to play the love theme. Even as Rahul has been going around saying Congress wants to bind hearts while BJP wants to divide, Modi turned this one against him and said: "I am not going there (Varanasi) to defeat anyone, but to win hearts. Once I meet them all, they will love me."
About Snoopgate, he didn't come out all guns blazing against Rahul, who has been castigating him saying if Modi could snoop like this on one woman, he can't talk of empowering women. Modi turned the tables again on Rahul: "Crimes against women are a national shame. We should all work as a nation. Rahul (Gandhi) shouldn't politicise it and nor should I."
Clearly, a new Modi is emerging from the woodwork. A kinder, gentler Modi ready for seek new friends and influence people after a possible victory on 16 May.
(Note: Modi's verbatim quotes have been aggregated from versions in The Times of India, The Indian Express, and other sources, including Firstpost Live).
India
Addressing the BJP's national office bearers' meeting in Jaipur via video conferencing, Narendra Modi said that eight years of NDA government have been of fulfilment of the expectations of small farmers, labourers and the middle class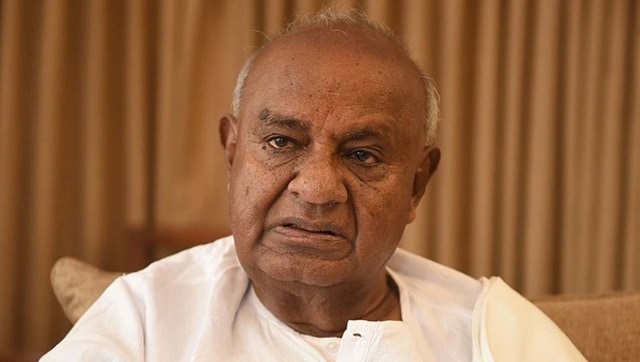 Politics
Gowda had served as the 11th Prime Minister from 1 June 1996 to 21 April 1997, after emerging as the leader of the 13-party United Front
India
The Shivir aims to involve more youth in social service and towards nation building