Delhi's unauthorised colonies: Big poll agenda, but regularisation remains a dream
As as Delhi stares at another assembly election, the issue of regularisation for unauthorised colonies has been revived and replayed for maximum public effect.
New Delhi: It appears that unauthorised colonies and slum clusters will be major areas of focus of the Bharatiya Janata Party (BJP) ahead of the Assembly elections. The party is leaving no stone unturned in capitalising on the Centre's decision on regularisation of unauthorised colonies. 

Projecting it as a "historic decision" of the Narendra Modi-led government, the saffron party is is trying its best to woo voters.
With the slogan 'BJP ne kiya ayelan, jahan jhuggi wahan makan (BJP has announced that where there are jhuggis, there will be homes)', the party is promising people permanent shelter. 

According to the party survey conducted between 30 and 31 December, Narendra Modi government's decision to approve an ordinance to regularise 895 unauthorised colonies will benefit the BJP and it may win 25 to 27 Assembly seats in Delhi.
A total of 895 unauthorised colonies of Delhi, which have come up till 1 June this year and with over 60 lakh people, would be regularised as the Union Cabinet had recently approved an Ordinance in this regard.
However questions are being raised as to whether the government is really serious about regularising these colonies or is this just a political gimmick? 

While opinion is divided on whether regularisation of unauthorised colonies is a right decision, there is no disagreement that the existence of such colonies is due to the government's own failures.
Aam Aadmi Party (AAP) chief and former Delhi Chief Minister Arvind Kejriwal claimed that the changes in the Land Acquisition Act, 2013 that have been effected by way of an ordinance were designed to enable the government to "snatch" the land on which unauthorised colonies have come up in the national capital.
"Over a period of time, unauthorised colonies came up on government land acquired in 1970s and 1980s. But on paper, the land still belongs to the government. Under the new law, most of the land on which the unauthorised colonies have come up can be acquired by the government or people can be asked to pay more money," he said while addressing the Delhi Village Dialogue at Chhatarpur.
"These colonies have not been regularised for a long time due to wrong policies of successive governments. Does it mean that now the government agencies will become the owner of such land according to the provisions of the ordinance? Chhatarpur will suffer the most because of this law," he claimed.
According to former IAS officer and director of NGO Common Cause, KK Jaswal, whose PIL in 1993 opposing the government's regularisation drive led to the 2008 framework of guidelines for regularisation, the government's decision will give a message that you can encroach on government land or uncared for private land and no one is going to bother.
"Unauthorised colonies came into existence because of the systematic failure of the government. First, the administration failed to provide suitable accommodation for people who keep flocking to the city in search of jobs. Second, there was total abdication of responsibility on the part of the civic agencies in ensuring that encroachments do not happen," says Jaswal.
"If we have municipal authorities and government functionaries of local bodies who look the other way for reasons which are not difficult to fathom, then unauthorised structures will come up. And then suddenly you wake up because there are pressing humanitarian problems and basic amenities have to be provided. But the decision will give a message that you can encroach on government land or uncared for private land and no one is going to mind," he said.
But some policy experts argue that the lakhs of residents who live in such colonies cannot be punished for the collective failure of successive governments to meet the massive demand for housing in a growing metropolis like Delhi.
"The reason why these colonies came up was because there was a lack of affordable housing or lack of government housing. But Delhi as a city kept growing which is one of the big reasons why these colonies came up in the first place. Hence, when the guidelines are being framed by the government, it is an opportunity for the state to say that we have failed in providing public housing and hence we are now putting together a process of regularisation," says Shahana Sheikh, a research associate at the Centre for Policy Research (CPR). Sheikh has co-authored a report on Delhi's unauthorised colonies titled The Thin Line between Legitimate and Illegal–Regularising Unauthorised Colonies in Delhi.
Delhi has over 1,600 unauthorised colonies, some of them over two decades old, that are thriving, highly dense living spaces. It is more practical, argues Sheikh, for the government to regularise such colonies than to go on demolition drives.
While there is consensus across party lines on the need to regularise, the handling of the process by successive governments has raised serious doubts about the political and administrative commitment to clean up the mess.
"They have dealt with the issue in a very ham-handed manner. They have not thought through the issue, they have not tied up all the loose ends. These are knee-jerk and motivated actions at the time of elections. There is no policy consistency. There is no administrative or political commitment to see that some order is enforced," said Jaswal.
Sheikh blames the lack of coordination between the multiple urban local bodies for the lack of movement on the ground.
"When you have multiple bodies, in this case, three municipal corporations, the state government and the Delhi Development Authority (DDA), which is the largest land-owning authority in Delhi - these agencies need to coordinate. There was a specific timeline in which the DDA notification was laid out. But it is clear, given what we have seen in the past that nobody stuck to those timelines. While it is important to pass regulations and guidelines, in order to translate it on the ground, agencies have to get activated," she said.
But there is also a more cynical explanation as to why regularisation is always promised but never delivered. In 2008 ahead of the assembly polls, the then Sheila Dikshit-led Congress government handed out provisional regularisation certificates to 1,218 colonies, then again in 2010 the same government issued an order listing 895 colonies as 'eligible for regularisation', But neither regularisation nor development reached a majority of the colonies.
"It seems that by not completing the process properly as per the guidelines set by the government, it is trying to keep these residents in limbo. Most of these residents are holding voter ID cards. They are all voters," said Sheikh.
As the CPR report observes, "Given the significant number of voters that live in these colonies, debate around their status has been Central in at least three consecutive Delhi Government elections, including the most recent in December 2013. Pre-election promises have often included regularisation for UACs (unauthorised colonies)."
And sure enough, as Delhi stares at another assembly election, the issue of regularisation has been revived and replayed for maximum public effect.
Politics
AAP convener and Delhi chief minister Arvind Kejriwal also reacted to the CBI chargesheet which named seven people but did not name Sisodia, calling the excise policy scam case "fake" and alleging that it was nothing but an attempt by the BJP to malign and implicate his deputy
Politics
Delhi Deputy Chief Minister Manish Sisodia has alleged that the BJP, fearing defeat in Gujarat Assembly and Delhi civic polls, was conspiring to kill Kejriwal and demanded a probe into it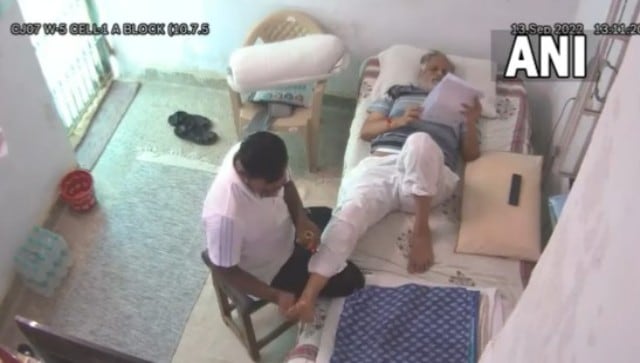 India
During the hearing, the counsel for Jain submitted before the court that the copy of the ED's reply to the application was already leaked to the media earlier this morning, even before the hearing could take place in the court and its copies could be given to the judge as well as the defence