Delhi chief secretary vs AAP MLAs: Arvind Kejriwal must change before his confrontational nature kills the party
The unprecedented stand-off in Delhi between Aam Aadmi Party (AAP) legislators and bureaucrats is yet another reminder of the perils of the Arvind Kejriwal style of confrontational politics
Those who live by anarchy, die by anarchy.
The unprecedented stand-off in Delhi between Aam Aadmi Party (AAP) legislators and bureaucrats is yet another reminder of the perils of the Arvind Kejriwal style of confrontational politics. Such politics, like revolutions, ultimately consume its own children. At the moment, it is ready to devour its self-proclaimed practitioner, Kejriwal, and his men.
Let us first start with a disclaimer. At the moment, allegations leveled by Delhi chief secretary Anshu Prakash against the AAP MLAs are just that. Prakash alleged that he was beaten up by the legislators at a midnight meeting with Chief Minister Arvind Kejriwal and his team. In his FIR filed with the Delhi Police, he has claimed that Kejriwal watched in silence as he was being manhandled by the two legislators. Unless these allegations are established through a fair and independent probe, the charges can't be treated as gospel. Considering the history of Kejriwal's run-ins with the Centre, however, there may be more to what Prakash is alleging.
Yet, this is a crisis of credibility for Kejriwal. With his predilection for conflict, penchant for anarchy and an inability to avoid, and later resolve, confrontation, he has walked into a trap created by his own image. Such is his history and temperament that his critics and rivals would easily believe Kejriwal is guilty as charged.
The reason is simple. Like King Edward said about Winston Churchill in the critically acclaimed The Darkest Hour, nobody knows what may come out of Kejriwal's mouth next. And, like Churchill confesses about himself in the same film, Kejriwal is not blessed with the gift of temperance. During the campaign for the Delhi Vidhan Sabha elections, the Bharatiya Janata Party (BJP) had claimed in a controversial advertisement that Kejriwal is of upadravi gotra (somebody who creates problems). With the latest crisis, Kejriwal has proven the BJP right.
Whatever be the reason, Kejriwal just can't manage conflict. His typical response to a confrontation is a call for arms, a war-cry that signals his foot soldiers to jump headlong into battle. This was evident during his first tenure, when he resigned after the then Lieutenant Governor of Delhi refused to give assent to the Lokpal bill. It was highlighted again when Kejriwal sat on a dharna against Delhi Police. Though he lost his government and suffered a precipitous decline in popularity, Kejriwal refused to learn from his mistake. And now, his pot of bad luck and an even worse temper runneth over.
The conflict with the chief secretary carries the trademark Kejriwal stamp. It has become second nature for him to get into a war with anybody who contradicts him, challenges his authority and, by extension, his ego. And once he launches his war, Kejriwal just can't back off.
It would have been fine if Kejriwal were Attila the Hun in a battlefield, a fierce warrior whom everybody feared. Unfortunately, he is now more of a Don Quixotic figure who incites both comedy and sympathy because of repeatedly tilting at the enemies and also the windmills.
In his few years in public life, Kejriwal has fought with colleagues including Yogendra Yadav, Prashant Bhushan, Mayank Gandhi; brawled with his brothers-in-arms like Kumar Vishwas and Kapil Mishra; fallen out with mentors — Anna Hazare, Swami Agnivesh — and even railed against the prime minister, calling him names that should not have been part of public discourse. Like Midas, everyone he has touched, Kejriwal has turned into his enemy.
It stands to reason, thus, that Kejriwal just can't get along with people, except sycophants and yes-men. He lacks patience, tact, diplomacy and, essentially, the art of managing people. By all indications, he is unfit to lead in peace, he is capable only of rushing where even fools fear to tread — into avoidable battles.
The current crisis is his own folly. Kejriwal should have known that a bye-election is on the horizon in Delhi following the disqualification of his legislators on charges of holding offices of profit. He should have been aware that his political rivals would be keen to focus on his rebellious, cantankerous nature to distract from some of his government's achievements. Yet, instead of defusing a crisis, he allowed it to escalate.
The problem with Kejriwal's conflict-a-day approach is that it is driving voters away. It's true that the Centre has not allowed him a free run. It is also a fact that there has been an element of vendetta in the BJP-led central government's equation with Kejriwal. But, this is not the first time two rival parties have been forced to do business in Delhi. Before him, Sheila Dikshit and Madan Lal Khurana managed to run the government in spite of hostile governments at the Centre. Kejriwal's inability to do so would have been noticed by the voters, who may be tiring of being perpetually caught in the crossfire.
Kejriwal succeeded in politics because there was anarchy all around during the time of his advent. The Congress was in free fall. The BJP was yet to find its feet in Delhi. Kejriwal thrived on the confusion and the chaos.
Unfortunately, he has now become an even bigger symbol of what he promised to fix. Unless he changes track, his death by anarchy is guaranteed.
India
Addressing a press conference in Surat, AAP national convener Kejriwal said his predictions for the Delhi and Punjab Assembly elections came true, and the same will happen in Gujarat as well
Politics
AAP convener and Delhi chief minister Arvind Kejriwal also reacted to the CBI chargesheet which named seven people but did not name Sisodia, calling the excise policy scam case "fake" and alleging that it was nothing but an attempt by the BJP to malign and implicate his deputy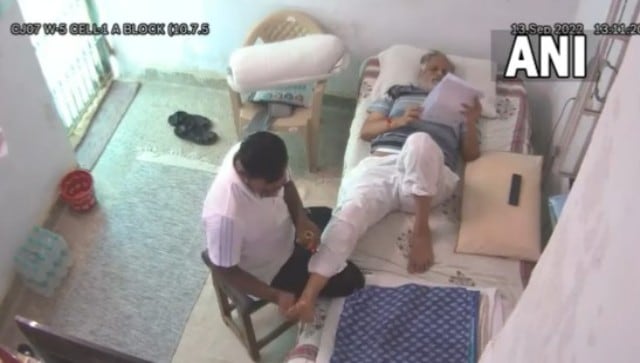 India
During the hearing, the counsel for Jain submitted before the court that the copy of the ED's reply to the application was already leaked to the media earlier this morning, even before the hearing could take place in the court and its copies could be given to the judge as well as the defence