Delhi Assembly Election 2020: EC bans Kapil Mishra from campaigning for 48 hours for posting controversial tweets
Cracking the whip, the Election Commission on Saturday imposed a 48-hour campaigning ban on Kapil Mishra, BJP candidate from Delhi's Model Town constituency, over his controversial tweets
EC imposed a 48-hour campaigning ban on BJP candidate from Delhi's Model Town constituency Kapil Mishra following his controversial tweets

The ban order, signed by the Chief Election Commissioner and two fellow Election Commissioners, came into force from 5 pm on Saturday

While Twitter had taken down one of his controversial tweets on Friday following directions of the EC, an FIR was lodged against Mishra as well
New Delhi: Cracking the whip, the Election Commission on Saturday imposed a 48-hour campaigning ban on BJP candidate from Delhi's Model Town constituency Kapil Mishra over his controversial tweets.
The ban order, approved by the Chief Election Commissioner and two fellow Election Commissioners, came into force from 5 pm on Saturday, EC officials said.
The order, they said, referred to Mishra's tweets of 22 and 23 January. "Delhi mein chote chote Pakistan bane (Number of mini Pakistan has been created in Delhi)", "Shaheen Bagh mein Pakistan ki entry", "India Vs Pakistan 8 February Delhi", and AAP and Congress have created Shaheen Bagh like Pakistan are some of the contents in the tweets the EC order referred to.
While Twitter had taken down one of his controversial tweets on Friday following directions of the EC, an FIR was lodged against him under section 125 of the Representation of the People Act dealing with creating enmity among classes.
The order said the poll panel was not satisfied with Mishra's reply to the show-cause notice issued to him.
It charged Mishra with violating provisions of the model code of Conduct dealing with aggravating existing differences or creating mutual hatred.
The order said the EC "condemns" the statements made by the BJP candidate and bars him from holding public meets, taking out public processions, holding rallies and roadshows giving interviews and making public utterances in electronic, print and social media.
The EC, using its powers under Article 324 of the Constitution, has barred leaders from campaigning in the past either in states or at the national level.
India
AAP MLA Anmol Gagan Mann recently visited Mullapur Garibdas, a town in Mohali district on Punjab, to listen to the problems and grievances of the people when she sat in DSP's chair in his absence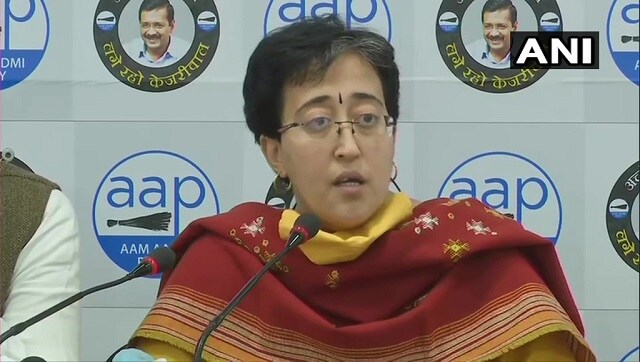 India
The complaint filed by Sanket Gupta said that AAP MLA Atishi held public meetings in the Rajinder Nagar constituency on 22 June at Sindhu Samaj temple, Old Rajinder Nagar, Delhi
India
Jain was arrested by the Enforcement Directorate on 30 May under criminal sections of the Prevention of Money Laundering Act