This morning, many of us woke up with trepidation. Some were worried about the stock market tanking. Some about the collapse of the rupee. Others on the prices of onions. Still others on the safety on Mumbai locals or on deaths on the railway tracks.
That's not all. There are the routine, every day kind of worries to deal with. Millions dread the daily commute to and from their places of work or schools and colleagues, as roads have more potholes than road surface, and urban transportation is woefully inadequate. Fresh graduates worry about the job market, while those in jobs look at a shrinking economy and wonder how long this will last.
And as the markets open, with the rupee crossing Rs 64, importers will hold their heads in their hands, students who were hoping to study abroad give up the notions. The Sensex collapses, down 300 points in the first few minutes of trading, wiping off hundreds of thousands of crores in market capitalization.
And we look, desperately, for signals from the government that all the negatives are temporary and that they'd soon have the situation under control.
What do we get from the Congress government? Many big ads – like this one: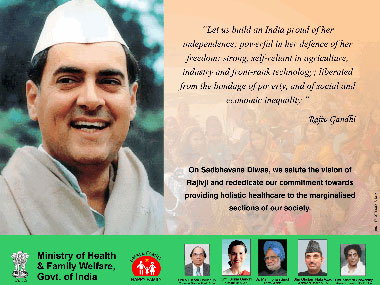 Under normal circumstances, the ads would have been ignored or would have invited a snigger or two.
Not in the current circumstances, though.
Rajiv Gandhi's birthday, celebrated by the Congress through a vulgar media plan, gets hammered on social media, giving birth to a top-of-the-trends hashtag, #RajivLootDiwas.
This is just a sampling of what's been said.
unemployment increasing, ministry of labour & employment pays tribute to Rajiv Gandhi on #RajivLootDiwas pic.twitter.com/svtfRSQ7dV

— नंदीता ठाकुर (@nanditathhakur) August 20, 2013
Todays ads in newspapers & TVs are from our tax paid money. Congress party of Nehru Gandhi family only knows to loot. Happy #RajivLootDiwas

— Ravi Ghiyar (@ravighiyar) August 20, 2013
Well assuming conservative Rs.10-20 cr is wasted on advt for Rajiv Gandhi, think how many family will get 2 square meal widout #FSB charade

— Jemin PANCHAL (@jemin_p) August 19, 2013
The trend will carry on the whole day, because, simply, the BJP has their social media act together and the Congress does not.
And no one in the Congress would have anticipated that, in an environment such as the current one, irresponsible spends like we witness this morning would get severely criticized.
Once more, in an area far removed from the economy, inflation, foreign exchange and the like, the Congress proves that they are clueless even with dealing with something as mundane as an advertising campaign.
Updated Date: Aug 20, 2013 10:07 AM