Days after 'mercy' remark, HD Kumaraswamy thanks Rahul Gandhi for trusting him, bringing him to power
Karnataka Chief Minister H D Kumaraswamy described Congress president Rahul Gandhi as a 'Punyatma'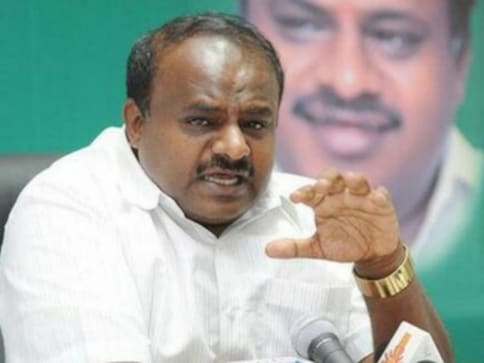 Bengaluru: Days after his remarks that he was at the "mercy" of the Congress and not the people drew flak, Karnataka Chief Minister H D Kumaraswamy on Wednesday described Congress president Rahul Gandhi as a "Punyatma" (good soul).
#WATCH: At meeting with farmer leaders, #Karnataka CM HD Kumaraswamy speaks on farmers' loan waiver, says, 'Without the blessing of people, but only with blessing of Rahul Gandhi, we've come to power. I'll convince Congress party, but I can only take decision once they approve.' pic.twitter.com/VQiNuPA9oN

— ANI (@ANI) May 30, 2018
"Today even though I don't have the blessings of people, Punyatma Rahul Gandhi placing trust in me has given the power. We have got a good opportunity. I will do it. He will not oppose, I will convince him," Kumaraswamy said.
"Taking him (Rahul Gandhi) into confidence, I will have to come to a decision," he said, as he tried to pacify farmers during his meeting with farmers' organisations regarding farm loan waiver.
"You (farmers) have a golden opportunity, utilise it, and stand with us. When election comes vote whomever you want....but utilise this opportunity," he added.
This comment from the Chief Minister comes days after his remarks that he was at the "mercy" of the Congress and not the people drew flak from different quarters, including the opposition Bhartiya Janta Party.
Going into damage control mode on his "mercy" remark, Kumaraswamy said he never meant to show disrespect to the people of the state.
"What I meant was so long as they (Congress) support me I can continue. So, whatever programmes we have to pursue, I will be at the mercy of Congress."
There is good understanding between him and Deputy Chief Minister G Parameshwara of the Congress, Kumaraswamy told farmers, adding, there will not be any difference between them, and the government will be "stable".
"If some one wants to remove (the government), we will not allow it to happen easily. We too understand politics to an extent. We will run this government," he added.
Reiterating his government's commitment for the cause of farmers, the Chief Minister said "all your wishes will be fulfilled, but give us time."
This development has come at a time when there is still no clarity on the cabinet expansion in the state, amid reports about lack of consensus between coalition partners, Congress and JD(S), over key portfolio allocation, especially Finance.
Politics
Rahul Gandhi could benefit from a change in his thinking by focusing on facts and he only needs to remember that his terminator in Amethi happens to be a woman
Politics
Addressing the foundation day of the All India Mahila Congress, Gandhi said that the ideology of the Congress was completely opposite of the BJP-RSS and only one of the two ideologies can rule the country.
India
Fernandes, a former Union minister and Rajya Sabha member, died at a private hospital in Mangaluru on Monday. He was 80, family sources said.