Dayashankar Singh out: BJP, why spare Sakshi Maharaj and Sadhvi Jyoti?
The real reason why the BJP suspended Dayashankar Singh for his remark against Mayawati is very different from what the party would like us to believe.
Just about an hour after the then Uttar Pradesh BJP Vice-President Dayashankar Singh made the now infamous "prostitute" remark against BSP chief Mayawati on Wednesday, the party's UP unit chief Keshav Maurya had already apologised.
Barely minutes after Maurya's apology, Singh himself issued an apology, but the damage was already done. With the Monsoon Session in Parliament currently on, Mayawati was quick to grab the opportunity and raised this issue, Maurya and Singh's apologies notwithstanding. Handed on a platter, the Opposition also reacted with unparalleled alacrity and immediately pushed the government to the wall. Caught unaware by the uncalled-for-insult by a fellow party leader, a beleaguered Arun Jaitley said that the party "shares her (Mayawati's) grief", and assured strict action against Singh.
It was around 4 pm on Wednesday when Jaitley had assured action against the Uttar Pradesh party vice-president. And by around 5 pm, Dayashankar Singh was no longer the vice-president of the BJP's UP unit.
On Thursday, the BJP expelled Singh from the party for six years.
The way the party proactively reacted to the whole situation, saying that it simply acted swiftly, would be an understatement. The party clearly wanted to send out the message that it will not tolerate any cheap remarks against women and Dalits.
But the fact that the BJP has failed to take such lightning fast action against several other leaders — both from within and outside UP — who have made some extremely controversial and communal remarks shows what the party actually cares about.
For example, BJP MP from Unnao, Sakshi Maharaj is known for his controversial remarks, which include advising Hindu women to have four children each to save Hinduism, comparing killing of cows to terror attacks after the Dadri lynching, and calling Nathuram Godse — Mahatma Gandhi's assassin — a "patriot".
Another BJP MP from UP, Yogi Adityanath had, in November 2015, compared Shah Rukh Khan to Pakistani terroirst Hafiz Saeed because the actor had simply said there was a climate of intolerance in the nation.
And who can forget Union Minister Sadhvi Niranjan Jyoti's Ramzadon-Haramzadon remark in 2014? The minister had made a communal statement by asking voters to elect sons of Lord Ram (Ramzadon) and not "illegitimate sons (haramzadon)" at a BJP rally in Dwarka.
Another Union Minister Mahesh Sharma had earlier said that the Dadri lynching should be seen as an "accident" and that it should not be seen as a communal incident because "not a finger was laid on his 17-year-old daughter (of the victim)."
The action against Dayashankar Singh was taken hours after he made the sexist remark against Mayawati. But even several months after these other BJP leaders made provocative, communal and offensive remarks, no serious action has been taken against them yet.
Forget suspending these leaders from the BJP, the Modi government has not even removed people such as Sadhvi Niranjan Jyoti and Mahesh Sharma from the Union Council of Ministers.
Does the BJP only get sensitive and concerned about the remarks made by its leaders when elections are around? If the sexist remark by Dayashankar Singh genuinely offended BJP to such an extent, that the party suspended him for nothing less than six years, what sort of immunity do people like Sakshi Maharaj, Yogi Adityanath, Sadhvi Jyoti and Mahesh Sharma enjoy? Why are they still BJP leaders and union ministers?
Yes, Prime Minister Modi had addressed the Parliament after Jyoti's remark had caused uproar in the country. And yes, Sakshi Maharaj had reportedly been issued a show cause notice by BJP for his 'advice' to Hindu women to have four children, even though he denied having received any such notice later.
But lip service is very different from decisive action like expulsion.
And even the BJP knows this. The party knew that mere apologies from the UP unit's president and vice-president and words of sympathy from Finance Minister Jaitley would not be enough damage control. The party knew that if there was even a slight chance of its victory in the upcoming Uttar Pradesh Assembly Election 2017, it would exist only after Singh was suspended from the party.
And that's the whole point. BJP's actions against Singh are primarily motivated by vote-bank politics, not some new-found sense of morality.
Shah Rukh Khan is not a seasoned politician like Mayawati, who could largely affect the Dalit vote in an upcoming election. Suspending Adityanath for calling Khan a terrorist would have much less advantage than suspending Singh for comparing Mayawati to a prostitute. In fact, suspending Adityanath would have been detrimental for the BJP.
In a way, the ruling party has revealed something critical about itself by taking action against Singh, guilty of sexism and vulgarity, but ignoring the remarks of a person like Jyoti, who basically called everyone who does not consider himself or herself a child of Lord Ram, an illegitimate child.
And the revelation is that everyone is safe within the party as long as they do not harm the number of votes for BJP in an election.
India
This came after Russia's Sputnik V vaccine was cleared for restricted emergency use by the Drugs Controller General of India (DCGI) with certain conditions
Politics
The prolific Bengali Dalit writer has been influenced by the work of Left labour leader Shankar Guha Niyogi and is also a disciple of noted Bengali author Mahashweta Dev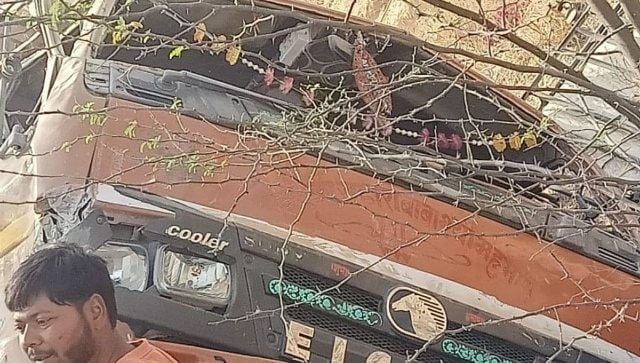 India
Chief minister Yogi Adityanath instructed officials to pay financial assistance of Rs 2 lakh to the kin of each dead, the UP government said in a statement in Lucknow