Dayashankar, Mayawati and the abject politics of abuse and counter-abuse
A defiant Mayawati ruled out taking any action against her party workers and seemed to suggest that Singh's family members were themselves to blame for the abuse hurled against them
BJP leader Dayashankar Singh's misogynist and derogatory attack on Mayawati has unleashed a revolting chain of events that culminated with an FIR being lodged by Singh's wife against the BSP chief.
While protesting against the foul language used by Dayashankar, thousands of BSP workers laid siege to Lucknow, issuing angry slogans against the now-expelled vice-president of BJP's Uttar Pradesh unit. They also targeted their ire against his wife and minor daughter, demanding that they be "handed over".
A despondent Swati Singh, while trying to console her traumatic 12-year-old who broke down frequently, told Times of India: "They (BSP) have lodged an FIR against my husband for what he has said. But now they have been openly demanding that my daughter and myself should be produced before them."
"What crime has my daughter committed that BSP workers are abusing us… If the same words can hurt Mayawatiji, why will they not hurt us, particularly my daughter? She has gone through acute mental trauma after she heard the nasty words inflicted on her," said Swati, a former lecturer at Lucknow University.
"Even in school (she is a Class 7 student), the other kids pointed out to her the controversy. She is so disturbed that she is not leaving the house. Where are the women activists now?" she said.
WATCH: He got expelled,yet Mayawatiji not satisfied. She'll even demand that he be beheaded, says Dayashankar's wifehttps://t.co/5OT4DY9onh

— ANI UP (@ANINewsUP) July 22, 2016
A case has been registered at the Lucknow police station, based on the complaint of Dayashankar's wife and his mother under the sections 120b ( Punishment of criminal conspiracy), 153A (promoting enmity), 506 (criminal intimidation), 509 (insulting the modesty of woman) of IPC. Mayawati and three other BSP leaders have been named in the FIR.
The BSP leader's response has been interesting. Subjected to vile abuse from the BJP leader, Mayawati had taken the moral high ground and had launched a savage attack on the BJP, asking the party to not just expel but also to arrest the leader. The Uttar Pradesh Police have since conducted several raids for the still elusive BJP functionary.
But when questioned about the abusive sloganeering against Singh's wife and minor daughter, a defiant Mayawati ruled out taking any action against her party workers and seemed to suggest that Singh's family members were themselves to blame.
"Why did his wife and daughter stay quiet when he made the statement in the first place? They should have condemned it while they could, maybe then they would not have been in this position," Mayawati told the media on Friday. "It was done so that they could feel the hurt when such comments are made against them," she added.
Meanwhile, BSP MLA Usha Chaudhary called the suspended BJP leader an 'illegitimate child' and that "there's something wrong with his DNA" while the party's councilor Jannat Jahan-Ul-has announced a reward of Rs 50 lakh for "anyone bringing her the tongue of Dayashankar."
Amid the disturbing and violent turn of events that was triggered off by an abuse, it is pertinent to probe why politicians frequently fall back on abuse, expletives, profanities and sometimes even utterly sexist and misogynist comments to attack their rivals. And this malaise affects all.
Though Congress, the Left, BSP, Trinamool Congress and other sundry parties are busy pretending each is holier than the other, none of them have a clean track record. Cutting across the political divide, the discourse of Indian politics is vitiated with violent and abusive language.
In 2011, CPM MP from West Bengal's Arambagh, Anil Basu, had launched a crass attack on TMC chief Mamata Banerjee. Addressing a rally before the Assembly elections, Basu made references to Sonagachi — Kolkata's red-light area. "Where is she getting the money from?" he asked. "From which bhatar (Bengali derogatory slang for a woman's "illicit male partner") did she get Rs 24 crore to fund the Trinamool Congress' poll expenses?"
During the West Bengal Assembly polls this year, TMC leader Anwar Khan was arrested for urging partymen over the phone to "hit the Election Commission officer on his face with shoes".
In 2014, Trinamool Congress MP Tapas Pal threatened to rape women members of the Left. "If CPM tries to kill and intimidate our workers, here I will not spare them. I will ask our boys to go and rape CPM women if necessary. I carry a revolver myself. I shall pull the trigger myself," Pal said.
Senior Congress leader Salman Khurshid was recently found defending the appointment of Imran Masood as the UP state unit vice-president. Masood, had once threatened to chop Narendra Modi into neat little pieces during the 2014 election campaign. Khurshid, however, said he didn't really mean to harm Modi. "Metaphors, these are metaphors and you cannot hold a person down for metaphors they speak and I am sure that he has been given guidance and counseling as far as this is concerned."
Examples are many. The short point is, politicians have, over the years, used abuse, expletives, and profanities as a political tool to galvanise their supporters and also to polarise opponents when they think it will work in their favour at the hustings.
Research on this subject indicates that a candidate's use of swear words, far from being repulsing their target audience, creates a perception of language informality and improves their general impression and approval ratings.
Nasty words, write Nicoletta Cavazza and Margherita Guidetti in their paper Swearing in Political Discourse: Why Vulgarity Works, function as rhetoric tools used by the source in order to intensify the discourse, and to define an informal and friendly relationship with the receiver, thus reinforcing social connections.
Though vulgarity may not directly induce a voter to vote for the candidate, there is evidence of its positive effect in terms of persuasiveness. The researchers write that beyond the expressive function, people curse also because they have learned from experience that swear words may reinforce the effectiveness of a message.
But if media induces one to believe that there is a proliferation of swearing among politicians only now, that is wrong. Offhand remarks that might once not have been reported now get captured on video and posted online. As the viral video of Dalit youth being beaten up has shown, these media tools have the power to completely alter the discourse.
Politics
Bhabanipur will go to the polls on 30 September and the results will be declared on 3 October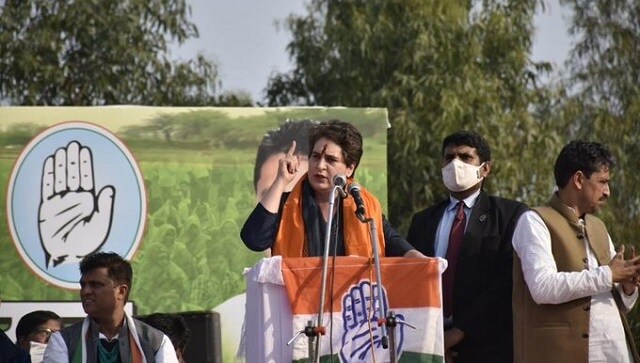 Politics
Her attack on Adityanath came as on this day, last year, the horrific Hathras incident took place in which a young Dalit woman was raped by four men.
India
The BJP attacked Gandhi and alleged that he was trying to fuel propaganda by tweeting an old picture "to claim success of the mahapanchayat".