Crorepatis, members with criminal cases dominate newly elected Kerala Assembly
As many as 61 of the newly elected members of Kerala Assembly are crorepatis and a majority of the new members have criminal background
As many as 61 of the newly elected members of Kerala Assembly are crorepatis and a majority of the new members have criminal background, according to data released by Kerala Election Watch, a non-profit organisation.
Nine members entering the assembly have assets exceeding Rs 10 crores. Thomas Chandy, an NRI re-elected from Kuttanad on Nationalist Congress Party ticket, is the wealthiest of them all with assets exceeding Rs 92.37 crores. His wealth has doubled over the last five years.
VKC Mammed Koya (CPM), who was re-elected from Beypore, is the next in line with assets worth Rs 30.42 crores, followed by actor turned politician KB Ganesh Kumar, who returned from Pathanapuram constituency, with net worth of Rs 22.21 crores.
The assets of Ganesh Kumar, who was a minister in the Oommen Chandy government for nearly two years and continued his acting career, grew 1,700 percent between 2011 and 2016. His current assets total Rs 22.21 crores. The assets of another minister Anoop Jacob of the Kerala Congress (J) party doubled during the period. He now has total assets of Rs 9.75 crore.
At the same time, there are six new legislators with net worth of less than Rs 10 lakhs. Of them, Muhammed Muhassin (CPI), elected from Pattambi, Eldho Abraham (CPI) from Muvattupuzha and Antony Johny (CPM) from Kothamangalam have no immovable assets, as per their election affidavits.
According to an analysis done by Kerala Election Watch in collaboration with Association of Democratic Reforms, 15 (26%) of the 58 members from CPM, 14 (78%) of the 18 members from IUML, 13 (60%) out of 22 members from INC, five (83%) out of six members from Kerala Congress (M), three (50%) out of six independent members, three (16%) out of 19 members from CPI have declared assets valued more than Rs 1 crore. The data is based on sworn affidavits submitted by the candidates to the Election Commission of India.
The average total assets per MLA, who won in the 2016 assembly elections, is Rs 2.82 crores whereas the average assets per candidate who contested in the 2016 assembly elections was Rs 1.29 crores. In 2011, the average assets per 140 MLAs analysed was Rs 1.42 crores.
Among major parties, the average assets per MLA for 58 CPM members analysed is Rs 1.48 crores while 22 Congress members have average assets of Rs 2.14 crores. The 19 CPI members have average assets worth Rs 64.56 lakhs, 18 IUML members have average assets of Rs 3.83 crores, and six independent members have average assets worth Rs 3.18 crores.
Sixty percent of the members (84 of 140) have not declared income tax details. Of them, 19 have assets worth more than Rs 1 crore. The two top crorepati members who have not declared their income tax details are PK Sasi (Shornur CPM member) and C Mammutty (Tirur IUML member).
Criminal background
As many as 87 members in the 140-member assembly have criminal cases against them and their number has increased compared to the previous assembly.
The cases against 27 of them are of serious nature such as those related to murder, attempt to murder and kidnapping.
An analysis by Kerala Election Watch based on sworn affidavits filed by candidates showed that the percentage of candidates with criminal background was 67 in the outgoing assembly. Only nine percent of the 140 members in the 13th Kerala Assembly had serious criminal cases against them. This goes up to 19 percent in the 14th Kerala Assembly.
All the seven incoming members with murder or attempt to murder cases belong to CPM. As many as 53 (91%) of the 58 MLAs from CPM, 12 (63%) out of 19 MLAs from CPI, nine (41%) out of 22 MLAs from Congress, four (22%) out of 18 MLAs from IUML, four (67%) of six IND MLAs, 1 (33%) out of three MLAs of JD(S), one (50%) out of two MLAs from NCP have declared criminal cases against themselves in their affidavits.
The affidavits also show that 29 percent of the elected representatives from CPM, 23 percent of representatives from Congress, 16 percent of the representatives from CPI and six percent of the elected representatives from Muslim League have serious criminal cases against them.
State coordinator of Election Watch, T Ravindran said that the organisation compiled the information so that citizens would have easy access to them. It does not interpret the data.
However, comparative analysis shows that Kerala was better than several other states in the North. In some northern states, money and muscle power was being used by people with criminal backgrounds to win elections. In Kerala, there was hardly any evidence of that.
Though majority of the newly elected members in Kerala Assembly have criminal cases against them, it would be fair to say that they have criminal records against them rather than criminal background. The analysis used the term 'background' because it was done following a national pattern.
Asked whether many of the cases listed were related to their participation in agitations, Ravindran answered in the affirmative and added: "In a democratic country like India, there isn't any need to resort to violence as part of agitations."
Educational qualifications
The majority of the newly elected members have degree or higher educational qualifications. As many as 32 are graduate professionals and 24 are post graduates. While 40 have passed SSLC or plus two, 15 have either passed 5th or 8th standard. Two have doctorates while two other are stated to be literate.
More than one third of the new members — 53 to be exact, are over 60 years of age and 45 of them are below 50 years. Of the 140 MLAs, eight (6%) MLAs are women. In 2011, there were only seven (5%) women in the assembly.
India
The petition filed by CPM MP from Kerala John Brittas said that the the government has neither accepted nor denied whether the spyware was bought and used by its agencies
Politics
In an apparent bid to bury the differences with the chief minister, Sidhu had separately requested Singh to come for the installation ceremony and said he had "no personal agenda".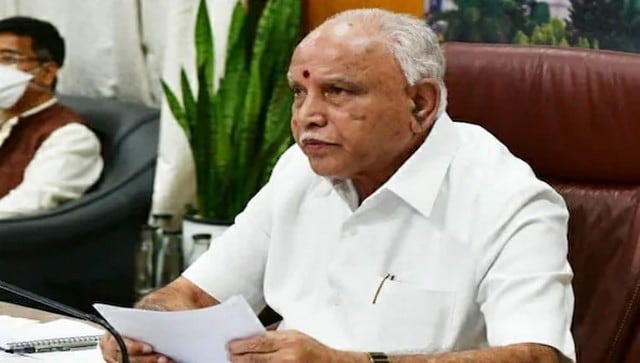 Politics
The 78-year-old Yediyurappa belongs to the older generation of politicians who started their service to the public as a teenager (in his case with the Rashtriya Swayamsevak Sangh) and did not hail from either a political or an affluent family