Courting Hardik, ridiculing GST: Rahul Gandhi's blunders hurting Congress' prospects; party deserves better future
Congress's Gujarat campaign has been a test case of such myopic political behavior. Rahul Gandhi, on whom rests the party's future, has not only shown a marked inability to understand the bigger picture, he has also steadily eroded Congress's strengths.
A certain desperation seems to be guiding Congress action these days that doesn't sit well with its 130-year-old legacy. Be it disowning of tax reforms, making wild scam allegations or issuing quota promises that it knows will be difficult to fulfill, the party appears a tad too anxious to return to power and prove naysayers wrong. The anxiety confirms the crisis.
This is curious, because as the dominant political force in India for over six decades since Independence the Congress should have developed an institutional memory of power. It is well aware of the cyclical nature of electoral politics. The BJP was down to two seats in 1984 when a Congress wave swept Rajiv Gandhi into the hot seat. Non-Congress governments at the Centre have been few, far between and could never last beyond the five-year mark.
In contrast, the Congress had always served as the benchmark against whom political parties have measured their fortunes. The GoP until recently held the majority in Upper House and even in its apparent ill health, continues to govern a clutch of states. Narendra Modi-led BJP may seem invincible right now but as the cliché goes, even a week is a long time in politics, leave alone couple of years when the prime minister must return to seek a mandate.
This makes it difficult to understand the power anxiety that is driving Congress into making a series of blunders. It is hardly prudent to put a tax reform in motion, debate extensively in Parliament to make it "better" and more "suitable for the common man", and then wash hands off it during implementation to tap into the discontent caused by the disruption.
It is tough to believe that Congress mandarins were oblivious to the possibility that GST implementation blues are temporal, and when the disruption eventually settles the BJP will be more than happy to claim the sole credit for it. A few years down the line, the Congress might even be remembered as the party that disowned a major tax reform for electoral gains, for that is the nature of narratives.
Congress' Gujarat campaign has been a test case of such myopic political behavior. Rahul Gandhi, on whom rests the party's future, has not only shown a marked inability to understand the bigger picture, he has also steadily eroded Congress' strengths.
During a recent rally in Sabarkantha, Gujarat, the Congress president-in-waiting was quoted as saying: "The aim of GST is to break the backbone of India and strengthen the backbones of selected few five or six industrialists." He has also used funny monikers to ridicule the reform. Congress' strength lies not just in opposing BJP but in providing an alternative vision.
It is here that the Gandhi scion has been brutally exposed. Rahul has mocked, ridiculed and severely criticised the GST but has been unable to put forward a solution beyond some wishy-washy ideas that are unimplementable in such a complex nation with a robust federal structure.
In effect, Rahul's efforts are robbing Congress of its legacy as the harbinger of India's greatest reforms and redefining its role as 'anti-BJP'. In this role devised unwittingly by the fourth-generation dynast, Congress's identity will be defined in respect to the BJP and its status appropriately diminished.
Rahul is also failing to take advantage of BJP's lapses. For instance, he had a golden chance to take the moral high ground over regressive attacks against the movie Padmavati — in which some BJP leaders have been found complicit — but the Gandhi scion's deafening silence adds to the impression that he is an opportunist who stands for neither this, nor that, precisely nothing.
Congress's role in appropriating the benefits of Patidar quota agitation against the BJP smacks of similar opportunism. The party is well aware of the Constitutional impropriety of its position (and hence has been unable to clarify the terms of the deal with Hardik Patel's Patidar Anamat Andolan Samiti (PAAS) but has nevertheless issued promises just to ensure electoral benefits.
Kapil Sibal, the lawyer-cum-senior Congress leader who brokered the deal with PAAS, reportedly left it to Hardik to break the news to the media.
His comments: "You will get to know everything. These things will be decided. The first goal is to struggle and win the elections and after that we have to implement the promises made…," leave little to imagination in terms of the precarious balancing act the Congress is trying to pull off.
Unless Rahul seriously believes Congress has no chance of winning, he should start devising strategies for an escape hatch when PAAS demands its pound of reservation. Overall, it reinforces the impression that Congress has adopted myopia as the fulcrum of its electoral strategy. A party with such an illustrious past deserves a better future.
Politics
After Rahul Gandhi's statement, Rajasthan CM Ashok Gehlot took a U-turn and said it is good to adopt the 'one man, one post' as the Congress President will have to take care of the entire country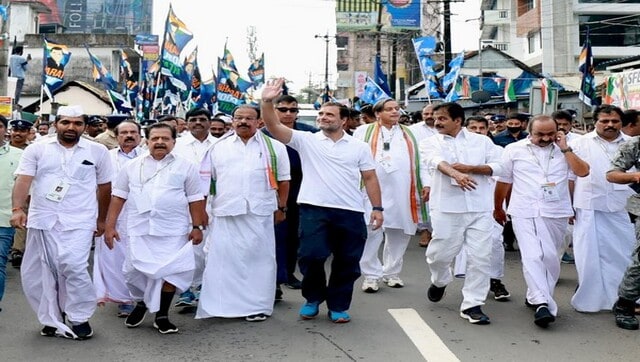 Politics
From Kerala, the yatra will traverse through the state for the next few days and will reach Karnataka on 30 September, and cover a distance of 25 km every day
Explainers
What is in store for the INC in the upcoming party president polls? Tune in to find out