The official Twitter account of Indian National Congress was found to be hacked on Thursday, hours after party vice-president Rahul Gandhi's verified twitter account was hacked.
Gandhi's Twitter account was hacked at around 8.45 pm on Wednesday and some obscene remarks were put out online for around an hour. The tweets posted through the party handle were also laden with expletives and profanities.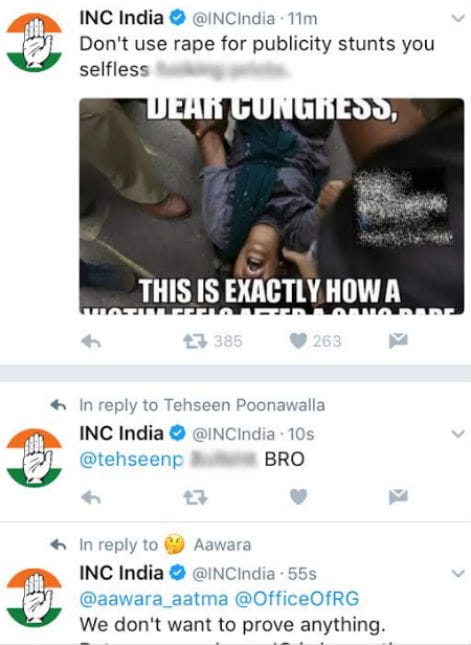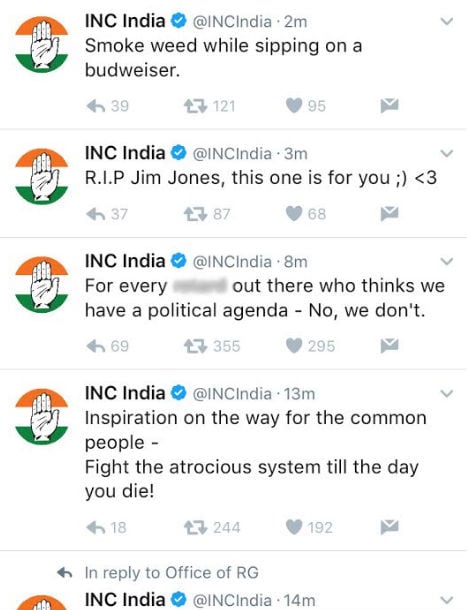 The messages were deleted soon thereafter. And after the hacking, Congress raised questions on the digital safety of all Indians, saying it reflects the disturbing insecurities of the prevalent "fascist culture" in the country.
According to CNN-News18, probes have suggested that Gandhi's official email id was used to access his Twitter account. The probe has also revealed that the server of Congress' email ID, which was also hacked on Thursday, is in Bengaluru.
#EXCLUSIVE Probe suggests Rahul's official email id used to access his Twitter account; Server of Cong's email id's in B'luru
-@SubhajitSG

— News18 (@CNNnews18) December 1, 2016
The Congress has filed a complaint with the cyber cell of Delhi Police on the hacking of its vice-president's twitter account, by the party's chief spokesperson Randeep Surjewala, demanding strict action against those behind the hacking.
According to Times Now, the Delhi Police has emailed Twitter to find out the Internet Protocol address, and all the senior officials, including the commissioner are aware of the developments.
According to CNN-News18, Telecom Minister Ravi Shankar Prasad has sought a report on Rahul's Twitter activity for the last week.
CNN-News18 says that the Congress has accused the BJP for the incident and has further criticised the demonetisation move by the government, questioning the safety of a cashless and digital society where such activites take place. Congress has mentioned that all the unauthorised tweets have been retweeted by BJP 'bhakts' shortly after its posting and thus it could be the work of BJP.
"Such lowly tactics will neither drown the sane voice of reason nor deter Gandhi from raising people's issues," Surjewala had said.
"Such unscrupulous, unethical and roguish conduct of venal trolls to hack Gandhi's Twitter handle reflects disturbing insecurities of prevalent fascist culture," he added.
Hacking of@OfficeofRG proves lack of Digital safety around each one of us. Every digital info can be accessed, altered, morphed & modified.

— Randeep S Surjewala (@rssurjewala) November 30, 2016
Pre-meditated hacking of @OfficeOfRG smacks of a sinister conspiracy to abuse & intimidate.It stregthens our resolve to fight for the Nation

— Randeep S Surjewala (@rssurjewala) November 30, 2016
Cyber attacks on @INCIndia & @OfficeOfRG exposes the vulnerability of cyber security & Digital platforms in India. An eye opener for Modiji!

— Randeep S Surjewala (@rssurjewala) December 1, 2016
Indian National Congress has fought such hatred & animosity with Gandhian compassion & tolerance. सबको सन्मती दे भगवान! 3/n

— Randeep S Surjewala (@rssurjewala) December 1, 2016
Congress President Sonia Gandhi's political secretary Ahmed Patel also tweeted about the incident.
The way @OfficeOfRG a/c got hacked,as cybercrime & Twitter watched helpless raises serious Q's on digital safety, Digital India future

— Ahmed Patel (@ahmedpatel) November 30, 2016
Those forcing country to adopt online payment overnight,have they taken steps to ensure a/c of ordinary ppl will be immune from hacking?

— Ahmed Patel (@ahmedpatel) November 30, 2016
Rahul Gandhi, through his twitter account has responded too.
To every one of you haters out there. I love all of you. You're beautiful. Your hatred just doesn't let you see it yet

— Office of RG (@OfficeOfRG) December 1, 2016
However, according to CNN-News18, BJP spokesperson Zafar Islam has retaliated saying that no one takes Gandhi or the Congress seriously. Subramanian Swamy too was quoted as saying: "Rahul has angered a lot of people. This could have been done from someone on the inside."
The same report goes on to say that the two accounts lacked the additional security features that Twitter provides and it is possible that the accused have access to the email addresses linked with the accounts.
With inputs from PTI
Updated Date: Dec 01, 2016 16:09 PM