Congress rules out national level alliance in next Lok Sabha polls
Congress is part of the Nitish Kumar-led coalition government, which also includes Lalu Prasad's RJD.
New Delhi: Amid Nitish Kumar's strong pitch for largest possible unity among secular parties to defeat BJP, Congress on Monday virtually ruled out an alliance at the national level in the next Lok Sabha polls.
"I am 100 percent (sure) there will be unity. National alliance...I don't think Nitish Kumar has said that....we had an alliance with him in Bihar elections.
"Alliances take place every day...Some party is very strong in a particular state, but is not in existence in the
neighbouring state. Alliances take place according to circumstances in a particular state," party general secretary
Shakeel Ahmed told reporters.
Signaling that there will be no tie-up at the national level by the party, he questioned whether there has been any
(regional) party which is present in Bihar as also in Haryana as also in faraway Kerala and Bengal.
He said the "reality" is that there are state level tie-ups.
Ahmed was replying to a volley of questions on the Bihar chief minister and JD(U) chief's call for a national alliance to take on BJP in the 2019 general elections.
He made light of a question whether Nitish would be the "bridegroom" and Congress Vice President Rahul Gandhi just his "best man" in the 2019 elections, suggesting that it was media which was playing on certain statements.
"By the time 2019 approaches, things will slide so much for the Modi dispensation and BJP that there will be no need for any alliance," he said, adding that people of India will themselves pitch for making 'RSS and BJP mukt bharat'.
Nitish has given a call for a RSS-free India.
To persistent questions on Kumar's statements, Ahmed said Rahul as also he himself have good relations with the Bihar Chief Minister and "everyone should have ambition".
Last week, Congress had dismissed as "too premature" party leader Digvijaya Singh's remark that it is ready to work with Nitish Kumar at the national level to bring about "largest possible unity" among parties to defeat BJP in the 2019 Lok Sabha polls.
Congress, however, said it has always worked in the larger interest of democratic, secular and progressive forces in the country.
Congress is part of the Nitish Kumar-led coalition government, which also includes Lalu Prasad's RJD.
Politics
Addressing the foundation day of the All India Mahila Congress, Gandhi said that the ideology of the Congress was completely opposite of the BJP-RSS and only one of the two ideologies can rule the country.
Politics
The tussle for the state in 2022 will see a quadrangular contest between the Congress, the Shiromani Akali Dal, the BJP and the AAP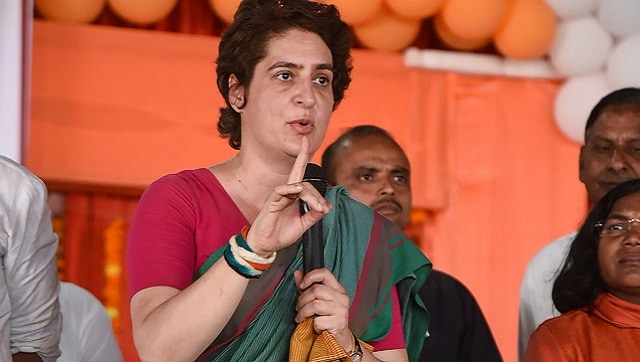 India
Priyanka said last week that people are going to change the government and the chief minister in the upcoming Assembly polls