Will Congress survive after 2019? 10 key factors party insiders feel it needs to turn the tide
The biggest question facing Congress as it lost Assam in the recently concluded Assembly elections is -- will it survive after 2019 elections?
Will the Congress survive after the 2019 General Election?
That's the biggest question facing the grand old party of India, as it lost yet another state—Assam—in the recently concluded Assembly elections.
The signs are imminent. From ruling the Centre and a majority of states, big and small, it has now been pushed into a corner with its governments in only seven states. Of these, Karnataka, Himachal Pradesh and Uttarakhand are the only three that have a bearing on national politics.
As senior leader and general secretary of Congress, Digvijay Singh mentioned in his tweet, has the time come for a surgery in Congress?
Senior leaders, state heads and workers of the Congress party have expressed serious concern over the party's consistent poor performance and have raised a voice for remedial measures before the forthcoming Uttar Pradesh and Punjab Assembly polls. The crux is that the party now needs intensive care to survive.
10 key factors that can help it revive and survive: 
Need and acceptability of fresh ideas to boost electioneering and its campaign strategy.
To bring in new faces with winnability quotient.
Organisational rejuvenation and restructuring with bottom-up approach.
Re-structure and revitalize every state unit.
Instead of arm-chair politics, leaders have to reach out to grass-root voters.
Maintaining balance between the old guard and new generation.
Political re-orientation.
Tendency to nip dissidence should be discouraged.
Dynastic politics need to be discouraged.
Get back to older model where a local leader used to have a strong bond with the voters of his /her constituency.
It was sometime in the beginning of the year, when poll strategist Prashant Kishor had met Assam's three-term Chief Minister Tarun Gogoi and suggested him that Gogoi shouldn't lead Congress after 15 years in power, and instead of individual centric campaign, an alliance with regional parties would prove beneficial. Gogoi didn't agree to Kishor's ideas. The result is for all to see now.
Kishor, who was roped in by Congress vice president Rahul Gandhi to strategize Assembly elections, has started facing resistance from old guards within the Congress party.
"Gogoi refused to pay attention to Kishor's suggestions and the result is before us. The Congress leadership should have stopped Himanta Biswa Sarma from leaving the party and join BJP. Today he has been elected as a BJP MLA, but Congress has lost Assam. The party should accept fresh ideas and stop axing a dissident," said an ex-MLA of Congress from Assam, who has lost this election.
The Assembly election result announced on 19 May has again exposed the decay within the Congress. Besides its senior leaders like Digvijay Singh and Shashi Tharoor, who have openly come out in public by questioning the party's style of functioning and demanding "serious action," other Congress leaders and workers at the state-level are speaking in whispers.
Himanta Biswa Sarma raised the issue of dynastic politics by saying that sons and daughters of senior leaders instead of parachuting should work their way up. "Bhupinder Singh Hooda and Tarun Gogoi promoted their sons, and the Congress lost in Haryana and Assam. This blue-blood politics should stop," said Sarma.
The Congress party has witnessed gradual decay in its state units—be it West Bengal, Madhya Pradesh, Chhattisgarh or any other state. Despite having strong cases of corruption against the ruling parties, the Congress miserably failed to capitalize the opportunity in many of these states.
"Congress ruled Madhya Pradesh for so many years, but today, it doesn't have the strength or leadership to counter the ruling BJP government which is involved in big scams and cases of corruption. Besides MP and Chhattisgarh, the organisational structure of Congress in Bengal too has collapsed. It's with our support that they won seats in West Bengal. The situation is similar almost everywhere. If Congress has to revive, it should focus on its political re-orientation and organizational rejuvenation," said Badal Saroj, CPI (M) central committee member and state secretary, Madhya Pradesh.
The only silver lining in this grim scenario is the emergence of Congress in the recently concluded civic by-polls in Delhi. By winning five seats, it was at par with the Aam Aadmi Party (AAP). These results have acted as a morale booster for the party which was completely wiped out in Delhi in 2015 election.
"Congress won those wards where it had no presence. It's due to the inclusive leadership of our state president Ajay Maken, who restructured the state unit and maintained a balance between the old guard and new generation. You can't make everyone happy, but you can move ahead by taking all members along. Along with responsibility the leader should also get authority to implement decisions. This is required at the national level, if Congress has to survive beyond 2019 general election," a Delhi Congress leader said on condition of anonymity.
"Maken has adopted the old method of Congress and asked workers to establish bond with the voters of the area. It was done during civic polls and gave happy results. At national and state-level, our leaders have to connect with the grass-root voters, from whom they had distanced gradually. Leadership can't be exercised by sitting in air-conditioned chambers and by discussing issues on television," the leader added.
"Congress is open to new ideas, and its alliance with its strongest opponent-- the Left in West Bengal is a classic example. The party in future will look forward to similar alliances based on political ideology with an eye on 2019 General election," said Congress leader Tom Vadakkan.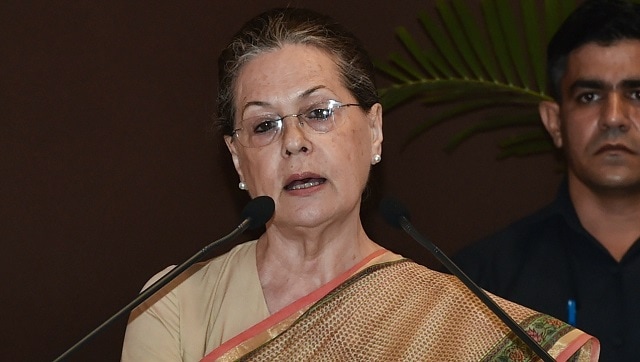 Politics
Adhir Ranjan Chowdhury will be the leader of the Congress in the Lok Sabha, while Mallikarjun Kharge will be lead the party in the Upper House
Politics
Banerjee's visit during the ongoing Parliament's Monsoon Session assumes increased significance with the Opposition cornering the Centre on price rise, increasing cost of fuel and COVID-19 pandemic
Politics
Sidhu's elevation as the president of the Punjab Pradesh Congress Committee (PPCC) may position him as a succeesor to Captain