Congress protest march: Rahul, Sonia, Manmohan detained, released
Congress president Sonia Gandhi, vice-president Rahul Gandhi and former prime minister Manmohan Singh launched a scathing attack on the Modi government.
Facing a lot of flak over the AgustaWestland scam, Congress president Sonia Gandhi, vice-president Rahul Gandhi and former prime minister Manmohan Singh on Friday launched a scathing attack on the Narendra Modi government, alleging that the Centre was making false allegations against Congress leaders to divert attention from their failures in the last two years. They were subsequently detained by the police for violating prohibitory orders, according to reports.
The Congress leaders were addressing a rally at Jantar Mantar in New Delhi. Scores of Congress leaders took to the streets of national capital to protest against the Centre. The 'Save Democracy' protest march was organised amid a face-off between Congress and the Modi government at the Centre over a host of issues, including the AgustaWestland scandal.
"The Modi government said it has have come to save democracy," Rahul Gandhi said.
"When the Modi government came to power, they promised acche din. Today, there is a drought in the entire country. There is a drought in 40 percent of the country's regions. Everyday, 50 farmers are committing suidice. Latur, Vidarbha and Bundelkhand are burning. And Modiji does not have anything to say about this," he said.
"Modiji talked about employment to the youth and 'Make in India' programme. Last year, how many people got employment? Modiji had said he will give employment to 2 crore youth last year. Only 1.3 lakh youth got employment," said the Congress vice-president.
"In Uttarakhand and in Arunachal Pradesh, they tried to bring down the Congress government and they broke the law...Dalits are not being allowed to participate in democracy," he said.
"Today, people are supposed to praise only two people: Mohan Bhagwat and Narendra Modi. False allegations are made against whoever talks against these two," Rahul said.
"I want to tell the BJP: This is a country of democracy. It belongs to everyone, not a single person. We will fight for the farmers and people of this country," he said, as he finished his speech.
Rahul Gandhi's speech was followed by Manmohan Singh's speech, in which he called Congress "India's soul".
"The BJP government has only one objective: To move towards a Congress-mukt India," he said. "I want to tell Modiji and his government that Congress is India's soul. Since 1850, a lot of people have attacked the Congress. But they were unsuccessful," he added.
"Congress is like a flowing Ganga. It cannot be moved. Congress has been providing all the efforts and sacrifices to save the country's democracy," he said.
Manmohan Singh, like Rahul Gandhi, also criticised the Modi government over the political crises in Uttarakhand and Arunachal Pradesh and said that they were trying to attack democracy by bringing down the Congress state governments.
"Now, they are targeting Manipur government, Meghalaya government, Virbhadra Singh's government," he said.
"It is important that Congress workers tell the people how the Modi government is attacking democracy. We will not let this go forward," said the former prime minister.
After Manmohan Singh, it was Sonia Gandhi's turn to attack the government.
"Today, we are here to give a message, a message so strong that it reaches even Nagpur, on whose directions the Modi government is running," said the Congress president, taking a dig at the RSS, whose headquarters is in Nagpur.
"No matter how much you try to destroy democracy, we will not let this happen. No matter how much they try to scare and humilitate us, we will not stop. Life has taught me to struggle," she said.
"If some people think that Congress can be distracted from its path of saving democracy, they don't know what Congress is made of. We are those people who have given their life and blood for the protection of humanity and freedom," she said.
"In the past 60 to 70 years, Congress has created those institutions which protect democracy. We ensured the welfare of farmers, brought about women empowerment. But in just two years, the Modi government has started ruining everything. Whether they are farmers or the youth, everyone is stressed under the Modi government," she said.
"Prices have risen so much that families are finding it diffcult to provide for their children. But what do they (Modi government) think of this? They just wanted to show false dreams and grab power. This greed for power is growing," Sonia Gandhi said.
"They used 'dhan, bal aur bahubal' to try to bring down the Uttarakhand, Arunchal Pradesh governments. Today, the jungles of Uttarakhand are burning and nothing is happening because there is no government," she added.
"They have just one objective: To get everything under their control. Congress strengthened panchayat raj in the country. But they are bringing such changes in the law that women, adivasis, Dalits are not able to fight in the panchayat polls," she said.
"They are using 'dhan, bhasha, khan-pan' to divide the people. Students are being oppressed," she added.
"To divert attention from their failures in the last two years, BJP has started a game of making false allegations against the other leaders. This is a very old game," Sonia said, referring to the allegations made against Congress over the AgustaWestland scam.
"I want to warn them: Do not think that Congress is weak. Congress will never surrender to injustice. We will strongly protest this injustice both inside and outside the Parliament. I appeal to everyone to go to all corners of the nation and expose the true face of the Modi government," she said.
"We will not let anyone destroy the democratic traditions of this nation," Sonia Gandhi added.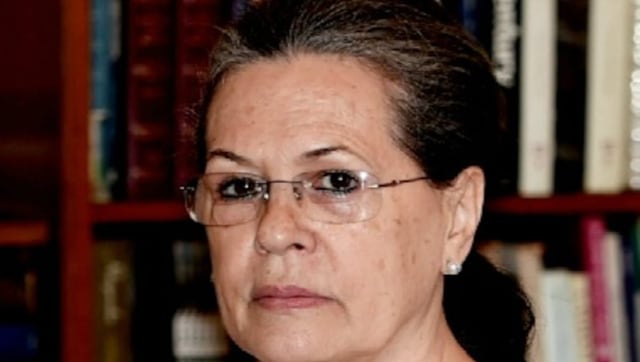 India
The Congress interim chief also called for exemption from Goods and Services Tax for all equipment, instruments, medicines being used in the fight against the COVID-19 pandemic
Politics
Rahul Gandhi will also be campaigning in Kerala on Saturday. He will address three meetings, one rally and a roadshow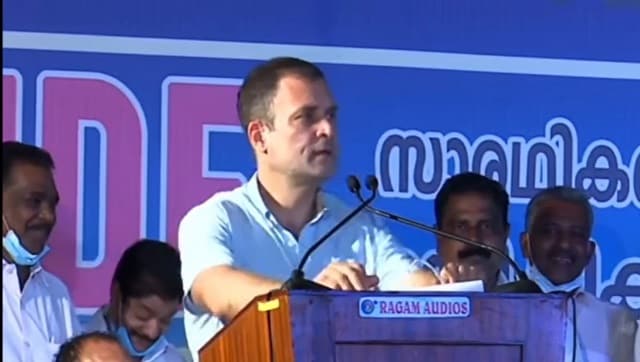 India
In his letter to the prime minister, the Congress leader also demanded an immediate moratorium on COVID-19 vaccine exports