Congress needs no allies in Karnataka, pro-incumbency sentiment prevails: KPCC working president Dinesh Gundu Rao
Dinesh Gundu Rao, working president of the KPCC, says the Congress doesn't need allies in Karnataka ahead of the Assembly elections and is going on its own.
The arrival of both Prime Minister Narendra Modi and Congress president Rahul Gandhi in Karnataka within six days of each other can mean only one thing – the campaign for the Assembly polls to be held in April this year is heating up.
Dinesh Gundu Rao, four-time MLA from Gandhinagar constituency in Bengaluru and working president of the Karnataka Pradesh Congress Committee (KPCC) since July 2016, is a key strategist for the Congress. He has held several key party and government positions over the years, including that of the youth wing chief and more recently the food, civil supplies and consumer affairs portfolio under Chief Minister Siddaramaiah.
Gundu Rao appears to be an playing a crucial role in KPCC's campaigning — whether addressing a hurriedly convened press conference on the Union Budget, or celebrating the party's bypoll victories in Rajasthan with Youth Congress members. On the eve of the Gandhi scion's three-day visit to north Karnataka, where controversies involving the  Mahadayi river and the Lingayat community are unfolding, Ayswarya Murthy interviews Gundu Rao for a primer on his party's election campaign in Karnataka.
Q: What was the outcome of the KPCC's first campaign committee meeting?
The KPCC is already in campaign mode. The meeting was held to get more leaders involved and be on the same page. Various party leaders have been on tour. The chief minister undertook a month-long campaign between 13 December and 13 January, where he visited 120 constituencies. For two weeks in March, there will be a joint campaign by all leaders, including the chief minister and the KPCC president, where we will visit 60-70 constituencies and all districts by bus, covering those missed in the earlier tours. It will be like a roadshow with the whole state unit.
Q: On the campaign trail, what would be the lower-hanging fruit for the KPCC? A pro-Congress sentiment an or anti-Modi one?
The sentiment is pro-development and pro-incumbency. There are no serious allegations against this government. We have a strong and popular leader in Siddaramaiah, who has done an excellent job as the chief minister. (BJP state chief) BS Yeddyurappa and (JDS state chief) HD Kumaraswamy are way behind.
Besides, we have the best crop of young ministers and leaders in Krishna Byre Gowda, UT Khader, Santosh Lad, Priyank Kharge, Sharan Prakash Patil, etc. We want them to go around the state and engage the youth about what has been done for them in the past four years. Today, the state is the best job creator in the country. In bringing in investments too, we are among the top three. Our outreach will highlight all this. We will go to the people with a very positive agenda.
And the government has delivered. Out of the 169 promises made during the last elections, we have implemented 155, and a few more will be implemented in the coming budget. Unlike the Modi government, which is known as a jumla government, ours has done what it had promised. We have given a stable government – no scandals, no dissidence, party infighting or groupism. Those who left the party did so for personal reasons.
Q: While you plan to ride high on the Anna Bhagya Scheme (which promises subsidised foodgrains to BPL families), what about the controversies surrounding it, including the mystery around IAS officer Anurag Tiwari's death?
Anurag Tiwari has no connection with Anna Bhagya. He was only in the department for a short time, for about 15 days or so, after which he took leave to go home. His death is being investigated in Uttar Pradesh, not here.
We are giving 7 kilograms of rice per person in addition to dal. This doesn't happen anywhere in India. In such a huge scheme, there are bound to be some issues and we have been continuously addressing them. Perhaps there could be a problem to the extent of 5 percent, and I do not deny this. But by and large, it is reaching the people.
Q: But the corruption allegations don't stop there. (Energy minister) DK Shivakumar, (Bengaluru development minister) KJ George and more have corruption cases against them.
All the allegations have fallen flat and none of them have any substantial evidence. For four-and-a-half years, they (BJP) haven't been able to show anything. Now that elections are here, they have been making wild allegations every day – scam in sand procurement, scam in laptop procurement, but where are the documents? Where is the proof? Where are the formal complaints? These are pre-election gimmicks, which people will see through. They won't buy it.
Q: Congress is launching this campaign still in the glow of the "moral victory" in Gujarat. Any formula from there that you hope to replicate?
In Karnataka, the scenario is entirely different. There the Congress party has not won in the last 25 years. Here we are strong, in government, and have organised ourselves till the booth level. We also have powerful local leaders in every district, and popular state leaders. Rahul ji will definitely be playing a key role, and we are eager for him to come and campaign here as much as possible. But the campaign is not going to be totally dependent on one person. Instead it is going to be a galaxy of powerful state leaders working in tandem with Rahul Gandhi. It's going to be a different sort of campaign, which will fetch good results for the Congress.
Q: How secure are you about retaining the AHINDA (minorities, backward classes and Dalits) vote?
Dalits know that no government has given them the kind of funds and progress than the Congress has. So far we have allocated 24.7 percent of the budget for the development of SC/ST communities and have spent almost Rs 70,000 crore. Dalit colonies all now have concrete roads, drains and houses. Community halls and hostels are being built. We have passed a landmark legislation that gives Dalits shareholding power in co-operatives – we pay their share capital so they can be members of co-operatives, which are usually controlled by the majority communities.
For government contracts under a certain value, a percentage of the work has to be given to Dalit contractors if they are competing. Many city and ward level contracts of up to Rs 50 lakh have been awarded on this basis.
Dalits, minorities and OBCs, they are all with us because our schemes cover all sections of the society, be it loan waivers for farmers, Anna Bhagya or the Mill Subsidy programme. Sabka saath, sabka vikas is just a slogan for Modi, but the true implementation of the idea, that of social justice, is being done only by the Congress.
Q: At the Centre, Yashwant Sinha is leading the way in forming a grand opposition from across party lines against the current BJP guard. Who do you see as your natural allies in the state? Jignesh Mewani has promised to visit the state for three weeks in April. What will be your equation be with him?
Mewani is not in the Congress and his group has its own agenda. They, the progressive front and other groups like I am Gauri — they are all independent civil society campaigns. They are progressive, liberal, anti-fascist; and while this aligns with the Congress' ideals, we have no truck with them. The Congress doesn't need allies in the state and is going on its own. There is no question of an alliance or coalition as we are strong in all 224 constituencies. The BJP doesn't matter in about 50 constituencies where the Congress and JDS fight each other. JDS has no presence in 130 constituencies and in 50 constituencies it's a triangular fight. That's the way it is going to be.
(Ayswarya Murthy is a Bengaluru-based reporter and a members of 101Reporters.com, a pan-India network of grassroots reporters.)
Politics
After Rahul Gandhi's statement, Rajasthan CM Ashok Gehlot took a U-turn and said it is good to adopt the 'one man, one post' as the Congress President will have to take care of the entire country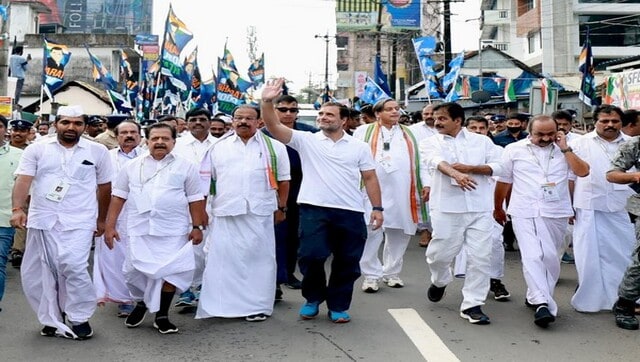 Politics
From Kerala, the yatra will traverse through the state for the next few days and will reach Karnataka on 30 September, and cover a distance of 25 km every day
Explainers
What is in store for the INC in the upcoming party president polls? Tune in to find out