Congress, NCP slam MNS for evicting hawkers from railway bridge, accuse Devendra Fadnavis of conniving
The Congress and the NCP slammed the MNS for forcibly evicting illegal hawkers from a railway bridge
Mumbai: The Congress and the NCP slammed the MNS for forcibly evicting illegal hawkers from a railway bridge and claimed that Chief Minister Devendra Fadnavis is "hand-in-gloves" with the Raj Thackeray-led party.
"The chief minister was well aware of the threats given by Raj Thackeray and given his track record, the chief minister should have ordered the round up of MNS workers
before their given deadline ended.
"But, the CM is hand-in-gloves with the MNS and hence, North Indians are allowed to be tortured," Mumbai Congress chief Sanjay Nirupam told reporters in Mumbai.
He added that the government has failed to enforce the Street Vendors Act, which seeks to protect hawkers.
"Had they enforced it, there would have been a survey done and illegal street vendors would have automatically been evicted by law. However, the chief minister is protecting goondaism," he said.
"The CM should take action against MNS workers or the Congress will hold protests to protect the rights of street vendors," Nirupam added.
Thackeray had on 5 October met railway officials and had submitted a list of issues related to Mumbai locals with a deadline of 15 days.
"If things don't get better, we will see," Thackeray had said.
NCP leader Dhananjay Munde questioned if the "violence" by MNS workers was in connivance with the chief minister.
"What Raj Thackeray's party workers did can be analysed later. The first question is what has the government done after 23 people lost their lives on Elphinstone bridge. Was responsibility fixed on those responsible," the Leader of Opposition in the Legislative Council questioned.
"The chief minister keeping silent despite a threat by Raj Thackeray and now his men indulging in violence raises a doubt and makes us question if there is connivance between both of them," he added.
A group of activists claiming to be affiliated to the MNS on Saturday drove away more than two dozen illegal hawkers from a railway bridge in Thane.
Around 25 activists descended on the Satis bridge this morning and evicted the hawkers, numbering about two dozens, who were selling their wares there.
Politics
Addressing the foundation day of the All India Mahila Congress, Gandhi said that the ideology of the Congress is completely opposite of the BJP-RSS and only one of the two ideologies can rule the country.
India
Fernandes, who had undergone a surgery to remove a blood clot from his brain in July, was admitted to the hospital in Mangalore after suffering a head injury while practising yoga at his home.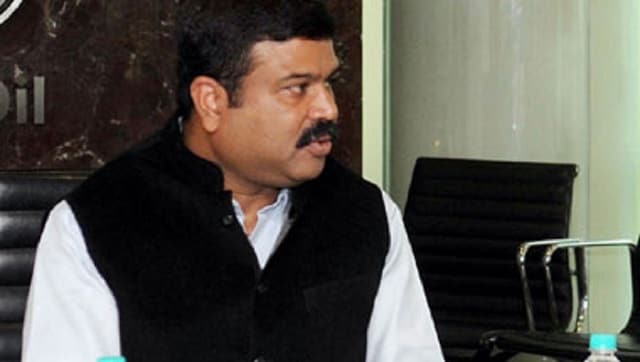 India
The minister's response came after the former Congress president called for the postponement of the NEET examination as many other examinations are scheduled around 12 September