Congress MLC Deepak Singh, others booked for clashing with BJP workers and police during Rahul Gandhi's Amethi visit
Police lodged two cases against Congress MLC Deepak Singh and others for allegedly misbehaving with security personnel on duty on Monday during the visit of party president Rahul Gandhi
Rae Bareli (UP): Police lodged two cases against Congress MLC Deepak Singh and others for allegedly misbehaving with security personnel on duty on Monday during the visit of party president Rahul Gandhi.
"Two cases were registered against Deepak Singh and others at Salon police station here late last night. One case was registered in the complaint filed by a citizen, while the other was lodged by the police," Additional SP Shashi Shekhar Singh said on Tuesday.
"In his complaint, Ramsajeewan Nirmal said that on Monday when the people of Salon were trying to meet their MP Rahul Gandhi to narrate their problems, Congress MLC Deepak Singh, party leader Jamal Anwar and 15-20 others had attacked them. In this Nirmal got injured. Those who tried to save him were also beaten up," the additional SP said.
Based on the complaint of Nirmal, a case under various sections of IPC including, 147 (punishment for rioting), 323 (punishment for voluntarily causing hurt) and 504 (intentional insult with intent to provoke breach of the peace) has been lodged against the Congress MLC, Jamal Anwar and 15-20 others, he said.
The second case has been registered by in-charge of Salon police station Gaudeen Shukla against the Congress MLC Deepak, Anwar and 40-50 others, the additional SP said.
In his complaint, Shukla said that some people with placards reading "Where is the Railway line?" in their hands were standing near a nursing home lane. When asked, they told the police that they are local residents, and have come to peacefully convey their problems to their MP. They also said that they will not indulge in sloganeering or wave black flags. While searching them, nothing objectionable was found from them. The police then resumed its duty with full vigil.
"At that time, the convoy of Rahul Gandhi was seen coming. Before the arrival of the convoy, Congress MLC Deepak Singh, party leader Jamal Anwar and 40-50 others came running towards the protesters and attacked them. When police tried to intervene, they manhandled the police too," Singh said.
A case has been registered under various sections of the IPC, he added.
Politics
The rebellion in Rajasthan has not worked in favour of Ashok Gehlot. He is out of the race for Congress chief and finds himself distanced from the Gandhis. For now, the party is not mulling any action against him and he is likely to continue as Rajasthan chief minister
Politics
'Priyanka Gandhi Vadra should be Congress chief. Rahul Gandhi says, nobody from Gandhi family should become one. Women become a part of that family where they go after marriage. Today, she's Vadra family's daughter-in-law, not a part of Gandhi family,' Congress MP Abdul Khaleque said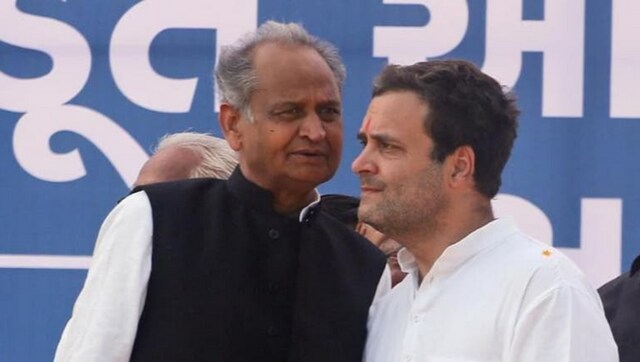 Politics
Ashok Gehlot said that Congress MP Rahul Gandhi has made it clear that no one from the Gandhi family should become the next president of the party