Congress leader Manish Tewari slams BJP over bribery allegations, demands FIR, judicial inquiry
Congress leader Manish Tewari lashed out at the BJP & said it was 'displaying a very unique combination of ignorance, arrogance and downright frustration'.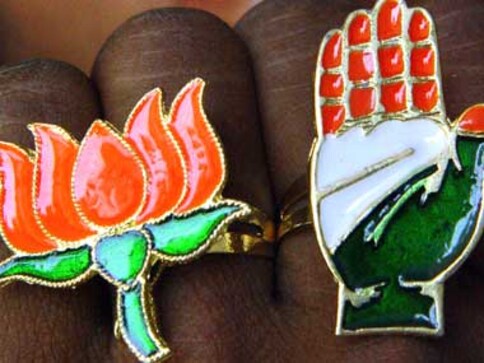 Congress leader Manish Tewari slammed the Bharatiya Janata Party (BJP) over allegations of bribery levelled against the ruling party and urged the Election Commission (EC) to declare the Gujarat Assembly election dates soon.
Reacting to Patidar leader Narendra Patel's allegations on Sunday that the BJP had bribed him with Rs one crore to join the party, Tewari demanded an FIR be filed against the party and those concerned and a high court judge-ordered judicial inquiry to get to the root of the matter.
He lashed out at the BJP and said it was "displaying a unique combination of ignorance, arrogance and downright frustration".
On Sunday, Patel had alleged that Patidar leader Varun Patel, who joined the BJP on Saturday evening, took him to meet Gujarat BJP president Jitubhai Vaghani and other leaders on Sunday.
"Varun took me around in Gandhinagar and then took me to Shree Kamalam office of the BJP and introduced me to Jitubhai Vaghani and some ministers. He then took me to a room and handed over a bag of Rs 10 lakh cash as token and promised to pay me Rs 90 lakh tomorrow (Monday) after a party function which I was required to attend," Patel told a crowded a press conference late on Sunday.
The Congress leader also targeted Prime Minister Narendra Modi and criticised his "Naa main khaaunga, na khaane doonga" rhetoric and said, "Modi is behaving more like the chief minister of Gujarat rather than the prime minister of India."
He claimed the BJP was trying to control people and organisations (such as PAAS) who have no political affiliations. "Rampant allegations of bribery by people affiliated with movements are being levelled against the BJP. Be it the Patidar Andolan or others, they (BJP) just want to control them," he said.
He also accused the BJP of trying to delay Assembly elections in Gujarat. "BJP is trying to postpone elections for they know they are going to lose it. Today, Gujarat is revolting against the BJP. What kind of governance is this? This is not what the Constitution makers had envisioned," he said.
"All you can hear from Amit Shah, and Narendra Modi is a deafening silence. Why is the BJP so apprehensive?" Tewari demanded.
Tewari also urged EC to announce the Gujarat poll dates soon. "It is time the EC comes back from its Diwali holidays," he said.
The Congress leader also criticised Narendra Modi's visit to the state on Sunday and claimed, "Modi insulted the people when he told them that if they didn't vote for BJP, he'll ensure they get no money'."
Tewari's comments come ahead of party vice-president Rahul Gandhi's visit to Gujarat on Monday where he will attend the Navsarjan Janadesh Mahasammelan rally and meet OBC leader Alpesh Thakor and others.
Politics
Several users used images and dialogues from popular television series and films to express their emotions about the situation
Politics
The newly sworn-in cabinet will hold its first meeting at 4.30 pm today with the cheif minister and portfolio distribution is likely to be announced in another couple of days.
India
India vaccinated 2.5 crore people in a single day on Friday to mark Prime Minister Narendra Modi's birthday.