Congress leader Madhu Goud Yaskhi warns party workers against BJP provocation in Karnataka
The BJP will try to 'provoke' Congress workers on communal lines in the poll-bound Karnataka, but they should not fall into the saffron party's 'trap', AICC secretary Madhu Goud Yaskhi has said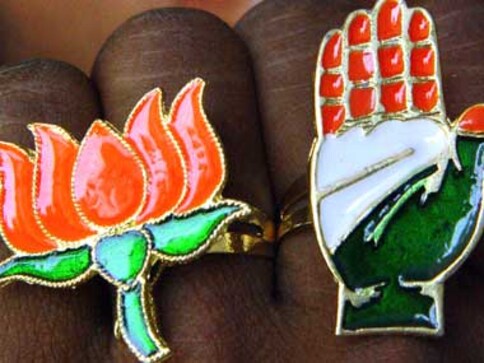 New Delhi: The BJP will try to "provoke" Congress workers on communal lines in the poll-bound Karnataka, but they should not fall into the saffron party's "trap", AICC secretary Madhu Goud Yaskhi has said.
Yaskhi, the All India Congress Committee (AICC) secretary in-charge of party affairs in Karnataka, advised party men to stick to "pro-development" activities carried out by the Siddaramaiah government in the state as they campaign for the assembly polls, to be held later this year.
His advice to the party men came at a time the ruling Congress and the opposition BJP were engaged in a bitter publicity war on social media.
The online dual dripping with sarcasm began with the Congress recently posting a video, titled "recipe for a BJP star campaigner" on Twitter, mocking Uttar Pradesh Chief Minister Yogi Adityanath following his campaign in Karnataka.
The video with a caricature of Adityanath showed the BJP's recipe for a star campaigner had ingredients such as criminal records, saffron dye, crocodile tears, homophobia, misogyny, zero attention to development, simmer on the communal flame and bring to a boil, garnish with ignorance, and serve with hate in Karnataka.
The BJP, which is seeking a return to power in Karnataka, the only big state under the Congress's belt now, hit back with a video attacking the Siddaramaiah-led government of being "anti-Hindu".
The BJP's video, titled "Gundu Rao Military Hotel", carried caricatures of Siddaramaiah as a chef, state party working president Dinesh Gundu Rao and social media in-charge Ramya. It claimed the recipe for "Siddu beef biryani" include stolen rice from 'Anna Bagya' scheme, cow meat from an illegal slaughterhouse and Hindu blood (citing alleged murders of Hindu activists), among others.
Retorting, the Congress poured scorn on the BJP, calling it "Beef Janata Party" and poked fun at its "hypocrisy" on the beef ban issue.
"The BJP will try to polarise people communally, provoke our men by doing such things. Showing the chief minister as a chef (in the video released by the BJP) is derogatory and is a criminality.
"Our workers should not fall into the BJP's trap and stick to the development agenda as guided by the party leadership," Yaskhi said.
He lauded the state government for its performance, listing several of its "pro-people" measures.
"So, the BJP cannot compete with the Congress on developmental issues. Hence, it is resorting to such tactics. People of Karnataka will not fall for such tricks," Yaskhi said as he exuded confidence that his party would retain power in the state.
India
The bypolls to the Azamgarh seat were necessitated by the resignation of Samajwadi Party (SP) chief Akhilesh Yadav, who was elected to the Uttar Pradesh Legislative Assembly as an MLA in the elections earlier this year
India
These new terms are being dropped like birthday toffees by columnists, social media influencers and assorted jihad sympathisers and the anti-India cabal
Politics
Uttar Pradesh's chief minister attended a public meeting in Akbelpur and Baghila villages for the by-elections of Azamgarh parliamentary seat on Sunday