Congress holds 'Sachchai Ka Aaina' while BJP celebrates 2 years of PM Modi
Top Union Ministers joined a gala event, which had a smattering of Bollywood actors, aimed at publicising the 'achievements' of the Narendra Modi government on completion of two years in office.
Top Union Ministers joined a gala event, which had a smattering of Bollywood actors, including megastar Amitabh Bachchan, Vidya Balan and R Madhavan,  aimed at publicising the "achievements" of the Narendra Modi government on completion of two years in office.
While the centrepiece event was held at historic India Gate in New Delhi, which saw Finance Minister Arun Jaitley and many of his ministerial colleagues speak at length about numerous steps taken by the government across sectors, some Cabinet Ministers joined in from different parts of the country, including Mumbai, Nagpur, Ahmedabad, Guwahati and Vijaywada.
The five-hour programme — 'Ek Nayi Subah' — which was telecast live by Doordarshan across the country, also saw Amitabh Bachchan talking about one of the government's flagship programmes Beti Bachao Beti Padhao'. His participation came amid questions being raised by opposition parties in the wake of his name figuring in Panama papers.
Amitabh Bachchan and Beti Bachao Beti Padhao
The government's 'Beti Bachao, Beti Padhao' campaign is a way towards women empowerment, Amitabh Bachchan said as he stressed on the importance of protecting and nurturing the girl child. Speaking about this campaign of the government, Bachchan said, "It's time we realise that half of the country's population can't be left behind by making them feel neglected and helpless. They should be equal partners in the country's development."
Quoting an old Sanskrit mantra, he said that women have been given the foremost place even in our religious beliefs as Saraswati is the symbol of knowledge, Lakshmi of wealth while Durga and Kali represent strength and power. "In the present scenario, this imagination will become a reality only if the position of a man and a woman is equal in the society. Equal number of daughters should be born as sons and they should be raised and educated properly so that they are able to play their rightful role in life," he said.
The 73-year-old actor said the real motive of the new slogan 'Beti Bachao, Beti Padhao' is that there should be no discrimination between a son and a daughter and both should be considered assets of a family and given equal opportunities. "We should encourage the thought that our families should do everything to protect and nurture the girl child... I consider this slogan a way to take forward the whole society and adopt the right perspective towards our women.
"Let's pledge that we encourage the powerful within the so-called helpless to bloom and give them the chance to empower the whole country." Bachchan said Mahatma Gandhi always considered women a superior force as a man could never compete with them when it came to inner strength.
The actor also had an interesting chat with a group of girl students. At one time, when asked by a student how he became 'Big B', Bachchan reacted by sitting on the floor and quipped, "I am no 'Big B'. It's a term given by journalists." Amitabh had faced criticism when his name started doing the rounds as the host of the government's planned cultural gala on its two-year anniversary but Bachchan clarified he was only hosting a small segment for 'Beti Bachao, Beti Padhao', as he is attached to the campaign.
Modi is the most youthful among us: Rathore
The event started with young ministers like Kiren Rijiju, Rajyavardhan Singh Rathore and Babul Supriyo talking about 'new vision, new India' as they heaped praise on the Prime Minister Narendra Modi for his vision and making efforts for effective execution of various programmes.
"He is the most youthful among us," said Rathore. Bollywood actor R Madhavan and achor Neelam Sharma hosted the programme which was also attended by Union Ministers Birender Singh, Maneka Gandhi, Najma Heptulla, Ram Vilas Paswan, Uma Bharti, Harsimrat Kaur Badal and J P Nadda.
Food and Public Distribution System Minister Ram Vilas Paswan lauded the government's electrification programme, saying it has benefited the poor and dalits most.
Union Minister of State for Finance Jayant Sinha said the government is working overtime to strengthen rural infrastructure which will lead to a "revolution".
Maneka Gandhi, Union Women and Child Development Minister, said the government has strengthened anganwadi centres to tackle malnutrition and taken several child reform initiatives to ensure their safety and security.
"There was no check on Anganwadis since they were established, as a result of which malnutrition went on increasing. So, we put the entire system on reform mode.
"We are giving tablet computers to each and every Anganwadi which will enable us to monitor on real time basis the nutrition being given to the children. This will decrease malnutrition within two years. It was happening due to carelessness and nothing else," Gandhi said.
Listing out government's achievements in the past two years, Gandhi said the Women and Child Development Ministry has streamlined adoption and foster care procedures which has helped in cracking down on illegal child care institutions.
Talking about children's immunisation cover, Health Minister J P Nadda said it has increased five to six per cent in the past two years with the government's Mission Indradhanush programme.
"Around 2.70 crore children are born in the country every year out of whom 90 lakh were not immunized. 20 lakh from poor and migrant families which were completely left out and 70 lakh children were partially immunized.
"We launched Mission Indradhanush, which was apart from routine immunization programme, to provide seven types of vaccines to the left out children. In three phases, we covered 497 districts where immunization was below 50 per cent and, within one year, 1.62 crore children were immunized out of whom 45 lakh were fully immunized and rest partially. With this, immunization increased five to seven per cent in one year," Nadda said.
Vidya Balan and Swachch Bharat
Actress Vidya Balan, who fronts the government's sanitation campaign, also joined in the celebrations from Mumbai.
The actress said she never hesitated in signing up for the campaign as she understands the problem women in rural areas feel due to the lack of toilets.
"I never hesitated in signing up for the campaign... I faced this problem while traveling to a village near Varanasi. I can only imagine what women go through everyday," Vidya said.
When asked whether she saw any change post her campaign, Vidya said, "I can see the change and I feel happy and proud to be associated with this campaign. The credit goes to the government for spreading this message through so many mediums and creating a dialogue on the issue."
Actress Raveena Tandon, who has adopted two daughters and is associated with CRY, said the government was promoting the 'Beti Bachao, Beti Padhao' campaign with a lot of energy.
"I have seen women face discrimination and not get the chance to show what they can do. The progress of women is important in taking the country forward."
Slugfest with Congress continues
Congress launched a blistering attack on the Modi government over its celebrations marking two years in office, asking what was there to celebrate when the country is facing a severe agrarian crisis and numerous other problems.
The party came out with a 59-page booklet, titled 'Pragati Ki Tham Gayi Chaal, Do Saal, Desh Ka Bura Hal' (The pace of progress has stopped. Two years and the nation's bad plight) accusing the government of "systematic attack on institutions, icons and inclusiveness".
Claiming the booklet to be "Sachchaai Ka Aaina (Mirror of Reality), AICC trained its guns on the NDA dispensation on a wide range of issues including economy, employment, price rise and foreign policy.
Dismissing the government's claims on performance on completion of two years in office, the party said,"Dull and dark shadow crept over India in the last two years."
"As the second year of the Modi government draws to a close, sadly there is little to celebrate," it said.
"Muscled thugs impose their ideas of morality and lynch mobs kill people on mere suspicion. BJP leaders spew venomous messages of hate and violence to question the patriotism of every Indian who disagrees with them," it said.
Attacking the Centre over its handling of the economy, former Finance Minister P Chidambaram asked it to pluck up courage to go for bold reforms, saying the party will engage with the government if it means business.
"Once the economy stabilised as I believe it had by June 2014, the government should have then given the economy a big push by going for bold structural reforms, taken the difficult the decisions which were pending because UPA did not have absolute majority in the Lok Sabha," he told reporters in Delhi.
In Mumbai, senior Congress leader Kapil Sibal said, "I don't understand what the celebrations are for when the entire country is going through an agrarian crisis."
"There's no reason for this government to celebrate," the former Union minister said, adding they (Modi government) have not done anything for the farmers.
"During 2015, altogether 3,228 farmers in Maharashtra ended their lives due to agrarian crisis and the BJP-led government has ignored plight of farmers", he alleged.
In Indore, Congress general secretary CP Joshi took a potshot at the Narendra Modi-led NDA regime, saying even after completing two years in office, the Prime Minister was in an "electioneering mode".
"Even after coming to power two years back, Modi was still in electioneering mode," Joshi told reporters here.
"When Prime Minister visits non-BJP ruled states, he tries to dwarf the Chief Ministers of such states. The responsibility of Prime Minister is to take the country ahead with the help of Chief Ministers of all the states," the former Union Minister added.
"Modi should realise that he Is the country's PM, not a Prime Ministerial candidate," he said.
The opposition party went hammer and tongs at the Modi dispensation over its role in Congress-ruled Arunachal Pradesh and Uttarakhand and accused it of "murder of democracy and subversion of federalism".
With the Uttar Pradesh Assembly elections due in 2017, the party also tried to paint the Modi government as "anti-Dalit" citing remarks by RSS chief Mohan Bhagwat last year on caste-based reservation.
The party alleged that Modi and his government are "surreptitiously following the RSS agenda" through its actions and policies including "systematic withdrawal of schemes for SCs/STs/BCs and by imposing budgetary cuts".
"The last two years have seen a dull and dark shadow creep over India. People are bewildered and confused. Instead of promised 'achche din', they are witnessing a systematic attack on India's institutions, icons and inclusiveness.
"As the second year of the Modi government draws to a close, sadly there is little to celebrate. Job growth, industrial output and exports are all plunging downward. Inflation, rural distress, drought and low farm incomes are making life miserable for kisan and khet mazdoor," the booklet said.
Sibal said, "Chicken is cheaper than dal now. Is this what the Modi government is celebrating?".
Claiming that inflation has increased under the Modi government, Sibal, who has been nominated by the party for the Rajya Sabha, said, "Prices are increasing all over. There is no employment for youth."
"While in opposition, BJP opposed GST and Modi, then the Gujarat CM, was at the forefront in opposing GST. Now the same Modi wants it (GST)", he said.
Sibal also claimed BJP opposed the Aadhaar card scheme while in opposition but now the Modi government schemes are based on that.
Joshi said the NDA government has failed to bring back the black money stashed in foreign banks as promised by Modi during the 2014 Lok Sabha campaign.
The NDA government is "weakening democracy by not recognising the autonomy of judiciary and constitution institutions".
Hitting back at the BJP for its 'Congress Mukt Bharat' slogan, Joshi expressed confidence that his party will bounce back to power in the 2019 general elections and the country will become "Modi Mukt" (free from Modi).
What analysts say

Analysts termed the gala event as a PR stunt and said it was unprecedented  for any Union government. Speaking to TV channels, many analysts slammed the Modi-led government for holding such an extravagant event.
Despite what his critics say, Modi continues to be the showstopper in his foreign trips and a successful salesman in hardselling the India-story, like no Prime Minister has done before. Even his political opponents would agree — Modi is the best salesman India has ever had.
"At this point of time, it is wiser to be in India," Modi often reminds overseas investors. His attitude is often not that of a statesman but that of a seasoned salesman who knows how to sell his stuff or that of a corporate executive making presentation to potential investors.
But there are critics such as Arun Shourie, who calls the NDA government a 'one man show'. If one were to go by this view, then Modi is spending a large part of his time managing headlines than addressing the actual problems in the economy. By that same logic, India's 7.6 percent GDP growth is a mirage since high frequency macro indicators indicate otherwise.
Two years after Modi took over as the Prime Minister, India has indeed consolidated it's position among emerging economies. The country,as the IMF said, is indeed a bright spot in the global economic landscape.
But this has to be seen in the context of a slowing world and crashing commodity prices, which has immensely benefitted the economy. Also, there is skepticism among the economists about the strength of economic recovery on the ground and the projected 7.6 percent GDP growth on account of a slew of factors such as pile up in stressed asseta in the banking sector, 17-months of exports contraction and no significant reversal on private investments.
But, even Modi's political opponents wouldn't doubt his intent for ambitious reforms.Modi has taken the approach of progressing with several small reforma steps rather than big bang, radical reforms. Most notably, the government has set the juggernaut in motion by kicking off the process in the area of subsidy reforms. It has done so by promoting Aadhaar-bank account linkage for the roll out of Direct Benefit Transfer (DBT). The LPG subsidy roll out through DBT was indeed a great move by this government to curtail leakage and diversion of government funds — something that distorted the system for long.
Modi 's flagship JAM trinity (Jan Dhan, Aadhaar and Mobile) has helped to address the problem of financial exclusion in India's rural lands. The government has also attempted to create a social security net for all citizens by way of offering chep insurance, pension products attached to their Aadhaar-linked bank accounts. But, effectively these measures have been implemented is a matter of larger debate.
Modi's next big challenge in the remaining three years of his term is to push big-ticket reforms to push economic growth, notably the Goods and Services Tax (GST) and averting a crisis in the banking sector addressing the issue of stressed assets. Also, one must note that despite the super fast growth, even beating China,there aren't enough jobs created in the country to accommodate new workers. This too is a concern.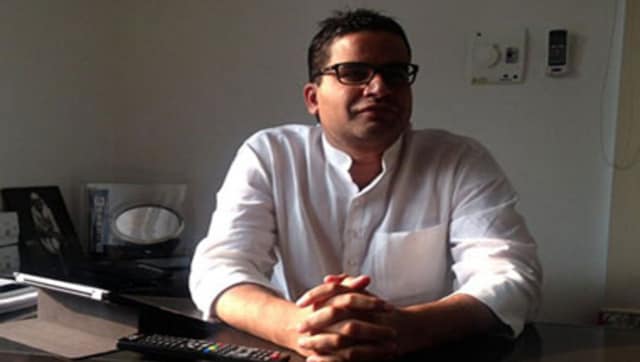 Politics
The newest twist in the tale came on Wednesday when Rahul Gandhi aide Archana Dalmia sent out a tweet giving Kishor a 'warm welcome into the Congress family' only to subsequently delete it
India
New Delhi has been supporting a national peace and reconciliation process which is Afghan-led, Afghan-owned and Afghan-controlled
World
US president Joe Biden has been facing tremendous pressure from lawmakers in both parties to come up with a plan to help evacuate Afghan military helpers before the US troop withdrawal on 31 August