Congress convenes Opposition event seeking joint efforts to defend 'composite culture', lashes out at BJP
Leaders of several opposition parties have called for a united fight to defend the country's composite culture, which they alleged was facing threat under the BJP-led government
Mumbai: Leaders of several opposition parties have called for a united fight to defend the country's composite culture, which they alleged was facing threat under the BJP-led government.
Speaking at a 'Sanjhi Virasat Bachao' (save our composite culture) event, organised by the Congress's Mumbai unit chief Sanjay Nirupam last night, they unleashed a stinging attack on the government and wanted all like-minded parties to join hands to defend the basic tenets and values of the nation.
Rebel JD(U) leader Sharad Yadav presided over the meeting.
CPM general secretary Sitaram Yechury, CPI leader D Raja and Congress leader and former Union minister Anand Sharma were among the leaders present at the event.
RLD leader Jayant Chaudhary, president of Jharkhand Vikas Morcha and former Chief Minister of Jharkhand Babu Lal Marandi, JD(U) leader Ali Anwar, TMC MP Sukhendu Sekhar Roy, state Congress president Ashok Chavan, Samajwadi Party's Maharashtra president Abu Asim Azmi, MP Raju Shetti and RJD leader Jay Prakash Yadav also attended the programme.
"Our Constitution is in danger as the BJP-led government is playing with its very basic tenets," Yadav said.
"If we all fight unitedly, then the BJP can be dumped in the Arabian Sea in the 2019 Lok Sabha elections," he said.
He also called upon the people to observe a 'Black Day' on November 8 to mark the first anniversary of demonetisation.
"First, they brought note-bandi and one year later when we are observing 'Black Day', they (BJP) are going to observe 'anti-black money day'. Are they not admitting that note-bandi has completely failed and this is why they are going to observe 'anti-black money day'?" he asked.
Sanjay Nirupam, the convenor of 'Sanjhi Virasat Bachao' in Mumbai, said the event would set the stage for opposition unity.
Yechury said it was a matter of serious concern that the composite heritage of the country was under threat now.
CPI leader D Raja alleged that the directive principles of the Constitution were "under attack".
Anand Sharma dubbed the GST roll-out as "tax terrorism" and said demonetisation had broken the back of the people.
"GST is nothing but a new tax terrorism. Earlier, demonetisation broke the back of the people, which later proved to be a complete fiasco and failure," the Congress leader said.
Politics
Bhabanipur will go to the polls on 30 September and the results will be declared on 3 October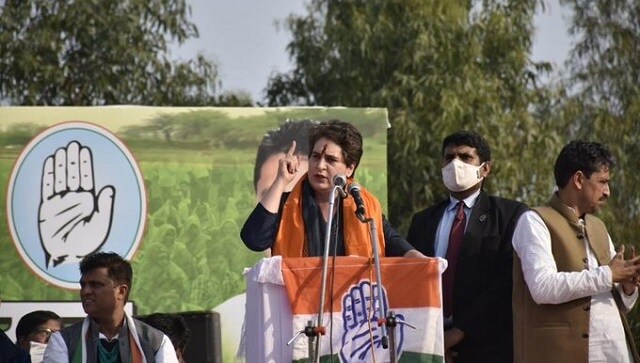 Politics
Her attack on Adityanath came as on this day, last year, the horrific Hathras incident took place in which a young Dalit woman was raped by four men.
Politics
Earlier on Saturday, the home ministry reduced Supriyo's security category from the 'Z' to 'Y' category