Congress challenges BJP to parliamentary debate on Sikkim stand off, mob lynching, Kashmir
Reacting to BJP charge that its documents on cow vigilantes was aimed at dividing the country, Congress challenged the government to a parliamentary debate
New Delhi: Reacting to the BJP charge that its documents on cow vigilantes was aimed at dividing the country, the Congress on Wednesday accused the ruling party of spreading false news and challenged the government to a parliamentary debate on issues of national interest.
The BJP earlier said that the 32-page Congress dossier on cow vigilante lynchings and attacks on Dalits and other issues is a "dossier of disruption" aimed at dividing the country on communal lines and disrupting the ongoing Parliament session.
"The BJP, by sending fake papers to some editors, is busy spreading false news," Congress spokesperson Randeeep Singh Surjewala hit back and said the Congress document was prepared by the Research Department of the All India Congress Committee.
"An internal Congress document has reached the media, about issues facing the nation and it needs to be talked in Parliament to hold the government accountable for its mistakes and misdeeds," AICC Research Department head Rajeev Gowda said.
"If the BJP has the guts, let them come to the floor of the house and debate. Let them come and tell us how they are going to defend their sorry record of incompetence and governance failure," he added.
"We are not here to disrupt; we are here to hold the government accountable," the Congress leader said.
Gowda said issues like inability to roll out the Goods and Services Tax through proper implementation, Mahatma Gandhi National Rural Employment Guarantee Act scheme wages, failures in education sector, farmers' distress and their suicides, border stand-off with China, Kashmir, mob lynchings, communal and caste violence, would be raised in Parliament.
"These are issues that have been burning the nation between the last session and the present one. That is exactly what we are going to hold up. We are going to hold up a mirror to the government and show their incompetence, their hidden hands which are encouraging mobs to go out and attack the Dalits and minorities and others. This is something we are going to expose on the floor of the house," the Congress leader added.
Politics
Rawat, who holds the forest, environment, labour and employment portfolios in the Uttarakhand cabinet, had left Congress to join BJP in 2016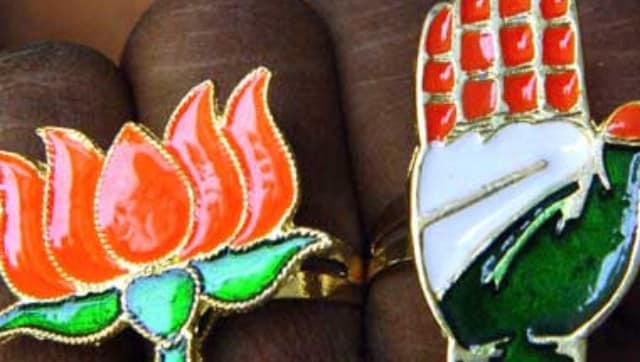 India
Cabinet minister Yashpal Arya and his MLA son Sanjiv Arya quit the BJP to join the Congress. MLA Rajkumar left the Congress to join the saffron party
India
Elections for the 403 Assembly constituencies in Uttar Pradesh will be held in seven phases starting 10 February, the Election Commission said