Congress can't be trusted, says Shahi Imam's brother about Sonia meeting
In an exclusive chat with Firstpost, Yahya Bukhari blasted Sonia Gandhi's appeal to the Imam and was highly critical of his own brother, the Shahi Imam, for having gone to the Congress president's doorsteps offering promises to a party which has only betrayed the trust reposed by Muslims.
Less than 24 hours after Sonia Gandhi had a meeting with Shahi Imam Syed Ahmed Bukhari of Jama Masjid to convince him that the "secular vote" must not split, powerful dissenting voices are coming out of the highly revered Jama Masjid and from within the Bukhari family itself.
Though the Shahi Imam has constituted a 10-member committee to look into the various aspects of the issue, it is widely expected that he will make a statement on Friday (4 April) supporting the ruling Congress party.
But now a spanner in the works has come from his younger brother, Syed Yahya Bukhari, who is the president of the Jama Masjid United Forum. In an exclusive chat with Firstpost, Yahya Bukhari blasted Sonia Gandhi's appeal to the Imam and was highly critical of his own brother, the Shahi Imam, for having gone to the Congress president's doorsteps offering promises to a party which has only betrayed the trust reposed by Muslims.
"Mai iss faisle ki sakht mukhalfat karta hun. Bhai ka faisla hai, bhai hun, pur mai iss faisle ko galat tahrata hun. Yeh sarasar galat hai aur mai iski har tarah se mukhalfat karta hun (The decision to support Congress is highly objectionable. Though it is a decision taken by my brother, my elder brother, but even then I strongly oppose it and will continue to oppose it at all forums)", Yahya Bukhari said.
The younger Bukhari is at a loss to understand how, after one meeting with Sonia Gandhi, his brother could make such an about turn from what has been preached from Jama Masjid over the years. However, what effect the younger Bukhari's challenge of the Shahi Imam's diktat will have for the Muslim community as a whole remains to be seen.
Besides a turf war issue, the issue also concerns the family honour of the Bukharis, whose ancestry is traced directly Prophet Muhammad. Their forefather Syed Abdul Ghafoor Shah Bukhari was sent here by Shah of Bukhari in Samarkand on request of the then Mughal emperor Shahjahan.
Never before, my father Syed Abdulla Bukhari or anyone from my illustrious family or in history of Jama Masjid has had gone to see a political leader at his or her residence when they are calling for votes.
"No body ever walked into doorsteps of a leader, howsoever, mighty that leader might have been. Indira Gandhi, Charan Singh, VP Singh and a host of other leaders they all had come to Jama Masjid to seek support. But my brother suddenly decides to meet Sonia Gandhi on his own, go to her place and pledge his support. I can't imagine what prompted him but by doing so he has certainly not glorified the prestige of Jama Masjid. He has in fact damaged the honour of Jama Masjid", Yahya Bukhari said.
Relations between the Gandhi family and the Bukharis had soured after Sanjay Gandhi's actions towards the community and happenings at Turkman Gate during the Emergency. In 1979, India Gandhi and Sanjay Gandhi had gone to Jama Masjid and apologised to the then Shahi Imam Abdulla Bukhari. Indira Gandhi had also written a letter to the Imam, promising all issues raised by him would be addressed by Congress.
Thirty-five years after that famous meeting between Indira and Abdulla Bukhari, Sonia and Ahmad Bukhari met on Tuesday. Much was expected out of that meeting and it has been the most hotly debated issue among a concerned section of the Muslim community. The Congress desperately needs Muslim votes to contain Modi's juggernaut.
On Sonia Gandhi's reported claim to Ahmad Bukhari that one of the main reasons of her entering into politics was to "safeguard and protect secularism"¸ Yahya Bukhari has serious reservations: "Where is secularism in Congress? Congress and BJP are two sides of same coin. What happened in BJP's or Modi's Gujarat is condemnable but how can one forgive Congress. This party engineered riots and killings of innocent Muslims in Bhagalpur, Maliana, Surat, Moradabad and several other places.
"Sonia is doing pure politics. How could we trust her when her powerful mother-in-law never fulfilled promises made to the community. Same is true for Rahul Gandhi. After all, Indira Gandhi had made those promises in writing to our father and conveniently gone back from that once she returned to power.
"The Congress is creating a fear in name of Modi. A fear that once he come to power more and more Muslim youths would be sent behind bars in fictitious terror charges. The fear could be real also but is not a fact that so many innocent Muslim youths are today languishing in jails without ever having committed a crime," he said.
"What has Sonia Gandhi and Congress done on that count. She may have made a promise to those who met him yesterday. But what worth per promise hold when her mother-in-law never been true to her words and second, how could she influence union government's decision in future that she promises when her government is certain to be thrown out in these elections", Yahya Bukhari candidly told Firstpost.
In its lead story headlined as `Secular votes must not split, Sonia appeals to Muslims', Hindustan Times had quoted Sonia Gandhi as saying "One of the main reasons I entered politics was to safeguard and promote secularism."
The newspaper had Ahmad Bukhari quoting Sonia as having appealed for a united move to stop the so-called "secular vote" from splitting.
She was also quoted as saying by one of Muslim delegates who had gone to see her as saying, "I know Muslims have lot of grievances regarding welfare schemes, but our jurisdiction stops at the states which implement them. We will find new ways to better implement our programmes."
Incidentally, Imam Ahmad Bukhari had created storm in Muslim community by endorsing Atal Bihari Vajpayee in 2004 and 2012 UP assembly elections he had supported Mulayam Singh Yadav's Samajwadi Party. Mulayam had nominated his son-in-law Umar Ali Khan as MLC in UP. But since them Shahi Imam's relations with Samajwadi chief has soured.
His younger brother's no-holds barred attack against his possible endorsement to Congress would further complicate Muslim politics.
Politics
Kharge questioned whether any leader of the Bharatiya Janata Party (BJP) had fought for the freedom of the country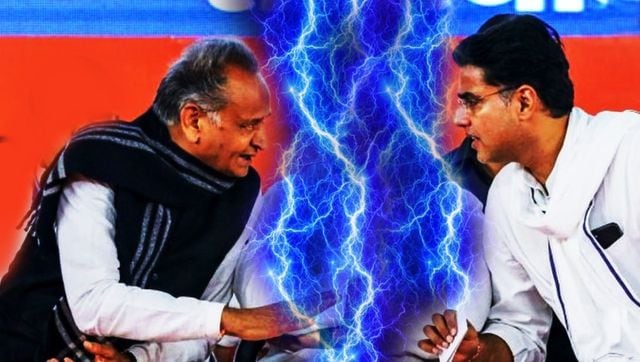 Politics
Rahul Gandhi also said the decision to contest again from Amethi would be taken after one or one-and-a-half years
Politics
Indranil Rajguru, Congress candidate from Rajkot (East) seat, on Saturday told a gathering that in his view Mahadev and Allah are the same and Mahadev resides in Ajmer, and Allah resides in Somnath