Congress and PAAS back on same page: How party's tie-up with Hardik Patel for Gujarat Assembly polls was revived
The Congress on Monday announced a revised list of candidates in an effort to placate members of the Patidar Anamat Andolan Samiti (PAAS), a day after it released names of 77 candidates
The Congress on Monday announced a revised list of candidates in an effort to placate members of the Patidar Anamat Andolan Samiti (PAAS), a day after it released names of 77 candidates for the Gujarat Assembly election to be held in December.
Congress' new list of candidates replaced two names who were mentioned in the first list that released on Sunday, and now contains a total of three PAAS nominees, according to The Times of India. After the release of the initial list, Congress-PAAS talks had hit a roadblock because of the exclusion of Surat businessman and BJP rebel Dhiru Gajera, who was later included in place of Praful Togadia for the constituency of Varchcha, the report said.
Saurastra convener Lalit Vasoya and Ashok Jirawala from Kamrej are the other two PAAS nominees to feature in Congress' latest list of candidates, the latter replacing Nilesh Kumbani for the Kamrej constituency, the report added.
This is our 2nd Candidate list for #GujaratElection2017.

Congratulations & Best wishes to all Candidates! pic.twitter.com/fDPN778QjY

— Bharat Solanki (@BharatSolankee) November 20, 2017
The Congress, however, left out PAAS leader Amit Thummar for the Junagadh seat and replaced him with Bhikhabhai Joshi, The Indian Express reported.
The report quotes PAAS' Surat co-convener Dharmik Malaviya as saying, "For the first time, the Congress has bowed down before PAAS and changed candidates. The PAAS team is happy and will support Congress. The support of PAAS to Congress will be announced by Hardik Patel at a press conference in Ahmedabad on Tuesday afternoon."
Tuesday's expected announcements by Patel were initially scheduled for Monday, but the public rally in Rajkot was cancelled as protests led by PAAS members erupted across Gujarat after the first list of 77 candidates included only two of its members — Thummar and Lalit Vasoya.
In Surat, PAAS members gheraoed the city unit office late on Sunday night and indulged in sloganeering against the Congress. In Ahmedabad, PAAS convenor Dinesh Bhambania and his supporters reached Bharatsinh Solanki's house to represent their case. "Our community members have not been given proper representation in the list that has been declared. We will not allow any Congress office to function in the state," Surat city PAAS convener Dharmik Malaviya said. "The Congress has given tickets to two of our members without taking us into confidence. Other Patel candidates who they have selected are bogus. We will hold a massive protest against the Congress," another PAAS convener, Alpesh Kathiria, said. Police was called at many areas by the Congress party. The security personnel were also deployed in large numbers at the state Congress headquarters in Paldi. Taking to Twitter on Monday, Hardik Patel posted a cryptic tweet asking leaders to leaders to "not drown in politics".
सियासत की रंगत में ना डूबो इतना, कि वीरों की शहादत भी नजर ना आए, जरा सा याद कर लो अपने वायदे जुबान को, गर तुम्हे अपनी जुबां का कहा याद आए. — Hardik Patel (@HardikPatel_) November 20, 2017
Earlier on Sunday, PAAS members led by Bhambania and Kathiria had met Solanki and other Congress leaders. After the meeting, it was declared that they had reached a "compromise formula". Following the meet, Solanki had tweeted that the gathering concluded on a positive note.
Had fruitful discussion with PAAS Convenors in a positive environment. We have clarified all their queries, & Meeting has ended on positive note.

— Bharat Solanki (@BharatSolankee) November 19, 2017
Meanwhile, the Bharatiya Janata Party on Tuesday released its fourth list of candidates for the Gujarat polls.
The state goes to polls on 9 and 14 December and counting of votes will be held on 18 December. BJP had released its third list of 28 candidates the previous day for the Gujarat Assembly polls, fielding former minister Saurabh Patel from Botad and former state party chief RC Faldu from Jamnagar-South seat.
On Monday, a total of 377 candidates filed their nomination papers for the first phase of the Gujarat Assembly polls slated for 9 December.
The deadline for filing the nomination for the first phase covering 89 seats ends on Tuesday.
With inputs from PTI
India
As the Opposition creates ruckus in Parliament, the Centre says the controversy is an attempt to malign Indian democracy and its well-established institutions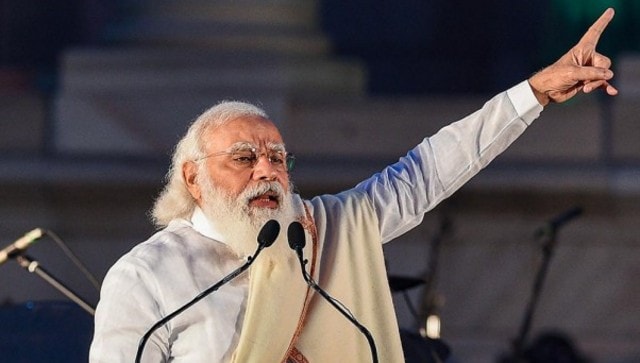 India
This visit comes at a time when the BJP is all set to kickstart its Assembly election campaign as Modi is expected to address a public meeting after the inaugurations of the projects
India
Congratulating the people of Telangana, the prime minister said that the temple showcases the outstanding craftsmanship of great Kakatiya dynasty