Congress accuses BJP of helping 'crony capitalists' in Gujarat, causing losses to state's public sector firms
Congress party on Thursday accused the previous BJP government in Gujarat, led by Narendra Modi, of benefiting crony capitalists
New Delhi: The Congress party on Thursday accused the previous BJP government in Gujarat, led by Narendra Modi, of benefiting crony capitalists while causing losses to public sector entities and dubbed it the "Gujarat model of development".
Congress spokesperson Ajoy Kumar raked up the issue of Gujarat State Petroleum Corporation (GSPC) on KG Basin Gas exploration and alleged that a loss to the tune of Rs 19,576 crore was caused to the state government and prime minister Modi should come clean on it.
"The country is seeking an answer and accountability of the prime minister. Should there not be an independent probe into the entire GSPC scam? Will the prime minister answer the people of Gujarat and the entire country on the losses caused to the state," he asked.
Kumar said investigative journalists were raising questions on the role, responsibility and accountability of prime minister Modi through a big revelation about Rs 20,000 crore GSPC scam.
He alleged that it was clear that crony capitalists were benefited while the government coffers suffered losses in the purchase of domestic and international gas reserves.
"Is 'na khaunga na khane dunga' (won't allow corruption) mere a catch-phrase or the prime minister is ready for an independent (probe) into the scam including himself," he asked.
The Congress leader alleged that huge cost overruns, mismanagement of funds and instances of undue benefits allegedly being passed on by GSPC to various private companies led to losses to the tune of Rs 19,576 crore to the state government.
He also alleged that the Oil and Natural Gas Corporation (ONGC) bought 80 percent shares of GSPL for Rs 7,738 crore in GSPC, when no gas was explored in the KG Basin.
"The question is as to why the ONGC bought these shares although no gas has been found in GSPC's KG Basin block since 2005? Is a company that has suffered huge losses is being hitched onto a PSU," he asked.
Kumar also alleged that almost all officers who were directors in GSPL in the past are now working at top positions in the central government.
That includes Urjit Patel, who was an independent director during the period when losses were caused to GSPC and has been appointed the RBI Governor
India
Congratulating the people of Telangana, the prime minister said that the temple showcases the outstanding craftsmanship of great Kakatiya dynasty
India
Modi noted that on the coming 15 August, India will enter its 75th year of Independence and highlighted that Amrit Mahotsav is being celebrated throughout the country to mark that year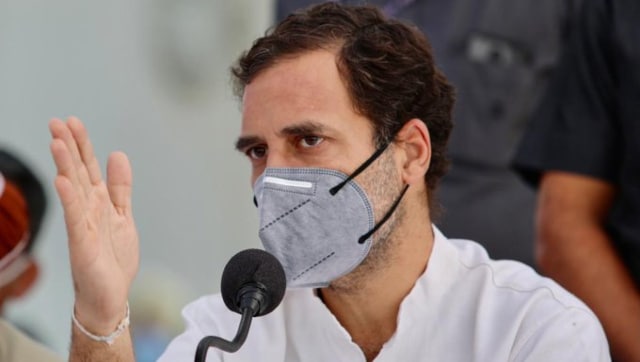 India
The former Congress president also shared a video on Twitter highlighting the alleged slow vaccination rate and media reports where people were not getting vaccines