Cong trying to do a Romney in Gujarat by attacking Modi
Spending most of your time attacking the opposition is a wrong policy. What a politician needs to do is to offer a positive concept first and then point out that his or her opponent lacks this concept.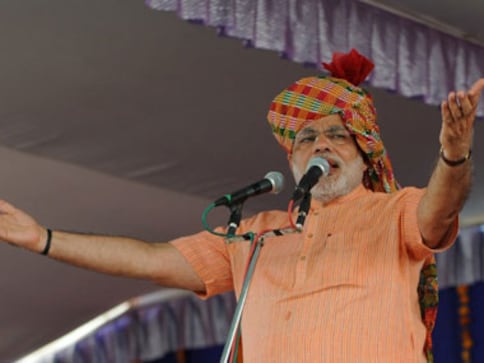 The Congress campaign in Gujarat is getting desperate. Sample this.
"When it comes to GDP growth, Gujarat is lagging behind states like Bihar, Odhisa and Chhattishgarh," the Union Commerce and Industry Minister Anand Sharma said while addressing a public meeting in Gandhinagar.
"Narendra Modi says Gujarat is most progressive, but if you have been to other states, Bihar, Odisha and Chattisgarh are much ahead," he added.
When Indian politicians start using terms like Gross Domestic Product growth with voters you know that they don't have much else to talk about.
Data from the planning commission shows that the state gross domestic product (GDP) at current prices (which does not adjust for inflation) of Bihar, Odisha and Chattisgarh grew at the rates of 20.4%, 16% and 15.3%, respectively in 2011-2012.
In comparison Gujarat grew at 15.8%. So the economic growth (which is what the state GDP measures) of Bihar and Odisha was faster than that of Gujarat. But Gujarat grew faster than Chattisgarh.
But as the old saying goes we should be comparing apples with apples and not apples with oranges. And to add to that as one of my teachers used to say "percentages should be used carefully lest we draw the wrong conclusions".
Let me deviate a little and give an example to explain what I am basically trying to say. Let us say you earn Rs 10,000 a month and your income jumps to Rs 20,000 a month, a gain of 100%. On the other hand let's say you earn Rs 1 lakh a month and your income jumps to Rs 1.3 lakh a month, or a gain of 30%.
So even though the percentage gain in the first case is more, the absolute gain is more in the second case.
Hence, when we are talking percentages it is important to keep the base number in mind. So Bihar did grow faster than Gujarat but it was because of what economists like to call the "base effect".
Gujarat's state GDP in 2010-2011 was Rs 5,13,173 crore. It went up by 15.8% to Rs 5,94,369 crore in 2011-2012. In comparison Bihar's GDP for 2010-2011 was Rs 2,17,814 crore. And it grew by 20.4% to Rs 2,62,230 crore in 2011-2012.
The point being Bihar is growing on a lower base and that's why the percentage growth is higher. The same argument holds for Odisha as well.
The other point that comes here is the population of the state. Bihar's state GDP went up by Rs 44,416 crore to Rs 2,62,230 crore. This gain of Rs 44,416 crore was spread across a population of 10.38 crore people. This implies a gain of Rs 4,279 per individual who lived in Bihar.
Now let's do the same calculation for the state of Gujarat. The GDP of the state went up by Rs 81,196 crore to Rs 5,94,369 crore. This gain of Rs 81,196 crore was spread across a population of Gujarat is 6.04 crore as per the 2011 census. Hence, this implies a gain Rs 13,447 per individual who lives in Gujarat.
This basically means that the growth in Gujarat at an individual level was three times that of Bihar in 2011-2012. Hence, Sharma's argument that Bihar grew faster than Gujarat doesn't really work.
And Sharma is not the only one attacking Modi. Ajay Maken, the youngest minister in the Union Cabinet alleged at a rally that the ruling BJP government was neck-deep in corruption in the name of development. Well that's like the pot calling the kettle black. As has been proven time and over the last few years, India hasn't seen a more corrupt government than the current UPA government ruling the country.
Mani Shankar Aiyer, a former minister in the UPA government, called Modi Ravana and asatya ka saudagar. He also called him a paani purush. Congress Rajya Sabha MP Hussain Dalwai, said "Modi is just a mouse before Sardar Vallabhbhai Patel".
Bharat Solanki, Union Minister for Drinking Water and Sanitation, decided to beat all the abuses being hurled at Modi and termed him as "Nathuram Godse" and alleged that "under the BJP rule in Gandhi's Gujarat not truth but lies carry more currency".
Elections campaigns can get nasty. But the Congress doesn't seem to have learned from its 2007 blunder when Sonia Gandhi called Modi a "maut ka saudagar". While it might have sounded like a brilliant turn of phrase to the Congress speechwriter who wrote Sonia's speech, it clearly backfired on the party.
The issue here is what does the Congress attack Narendra Modi with? Economic development as I showed above is healthy in Gujarat. It is one of the few states in the country which has a power surplus. The roads are 'just' fine and the cities are largely clean. Modi doesn't really have any big corruption charges against him unlike the Congress government as well as the party.
So what do you do in a situation like this? You get personal and attack on Modi's big blip, the 2002 riots in the state, and hope that it creates enough fear in the minds of the voter and he decides to vote for the Congress.
But does the issue really matter to the major portion of the voters in Gujarat? The answer is no. As Aakar Patel, a known Modi baiter, recently wrote in the Open magazine "Gujaratis like to think they are great nationalists. It doesn't occur to them that India suffers every time they triumphantly keep memories of the massacre alive, by backing the man first unwilling or unable to stop it, now too incompetent to prosecute its participants. They are voting Caesar(i.e. Modi) back to power."
Hence, Congress' negative campaign isn't really going to work. In fact, it might work in favour of Modi, who will continue to espouse the cause of Gujarati Asmita and portray himself as a lone gladiator taking on the Congress baddies.
Also negative campaigns do not really work.
Take the case of the recent Presidential elections in the United States. Romney's attacks on Obama got too personal towards the end of the campaign. Donald Trump, a Romney supporter, wanted to see the college records of Obama. The insinuation here was that Obama may have got into college in America as a foreign exchange student from Indonesia. Trump also wanted access to Obama's passport. The insinuation here was that would allow him (i.e Trump) to prove something Muslim about Obama.
As marketing guru Al Ries told me in a recent interview on Firstpost "Mitt Romney spent most of his time attacking Barack Obama. That's the wrong strategy. What a politician needs to do is to offer a positive concept first and then point out that his or her opponent lacks this concept."
Some of the biggest state elections in India have seen winning parties run extremely positive campaigns. Akhilesh Yadav ran the umeed ki cycle campaign in Uttar Pradesh and Mamata Banerjee ran the poriborton campaign in West Bengal. While they are busy making a mess of the states after coming to power, but then that is a different issue all together. In comparison, the Congress party doesn't really have any strategy in place when it comes to taking on Narendra Modi. And what it is doing clearly won't work.
(Vivek Kaul is a writer. He can be reached at vivek.kaul@gmail.com)
Politics
The exit polls indicate that voters want the BJP in power, which is riding high on the popularity of Prime Minister Narendra Modi. His intense campaigning in Gujarat and Himachal Pradesh is one of the major factors contributing to the party's victory in both states
Politics
Big names from the BJP, Congress, Aam Aadmi Party and others will be testing political waters today, as Gujarat votes in the second phase of elections. A total of 833 candidates will be contesting from 93 seats across the central and northern districts of the state
India
The last time Prime Minister Narendra Modi met his mother Heeraben was on 18 June on her 100th birthday. PM Modi will cast his vote in Ahmedabad on Monday in the second and final phase of the Gujarat Assembly polls