Cong stirs communal pot again with Communal Violence Bill
The Communal Violence Bill is likely to worsen communal relations because of the slanted way it seeks to define majority and minority. It is also unconstitutional
The Congress party's electoral insecurities are sending it into legislative overdrive. The party saw no reason to bring in a Communal Violence Bill when its own state government failed to prevent violence between Muslims and Bodos in Kokrajhar. For a whole year it saw no reason to think the Samajwadi Party was stirring the communal cauldron in Uttar Pradesh by turning a blind eye to nearly 100 communal incidents – because the ruling party in the state was an ally at the Centre.
But now, with elections is sight, it wants to pilot the nobly titled Prevention of Communal Violence and Targeted Violence Bill, with Home Minister Sushil Kumar Shinde asking his ministry to dust up the slanted legislation – drafted by Sonia Gandhi's National Advisory Council in a communally insensitive manner - and create a new rallying point for minorities.
It is worth recalling that Shinde's previous efforts to out-manoeuvre the BJP and Narendra Modi with the majority vote completely failed. By hanging Ajmal Kasab and Afzal Guru, Shinde had hoped to halt the Modi juggernaut in Gujarat or stop his rise on the national scene. Now that the majority community is unimpressed, he is going for the other side. He and the Congress party are convinced that the Communal Violence Bill will bring the minorities rushing to the polling booths to vote for Congress.
A Communal Violence Bill that does not have the concurrence of a very large segment of the Indian population is DOA - dead on arrival - even if political opportunism carries the Bill through. It is also downright dangerous to the idea of secularism.
The Bill, if it survives in anything like its 2011 avatar, is unlikely to pass constitutional muster for a very secular reason: it clearly transgresses into the state's domain of maintaining law and order by giving the centre the right to intervene in communal situations. It is also clearly violative of the fundamental rights of people by lumping them into entities called majority and minority – when the constitution says we are all entitled to equal treatment.
The NAC's version of the Bill was built on the assumption that majorities target minorities. Even though the bill seeks to remedy this by using the district for identifying majority and minority, and also identifies linguistic minorities, and SC/STs as worthy of protection, it is difficult to imagine a more polarising way of dealing with communalism. Between them, religious minorities, linguistic minorities, and SC/STs will form 50 percent of the population. How ridiculous is it if 50 percent of the population is to be protected from the other 50 percent by determining local majorities and minorities?
If the purpose of secularism is to unite rather than divide communities, how does the deliberate identification of majorities and minorities help the cause of fostering amity?
In its original avatar, the Bill sought to protect violence by district-level majorites against minorities, hold state officials liable for "dereliction of duty" if they fail to prevent communal riots, and create a huge bureaucracy to prevent communal riots.
That first idea, that communalism is about protecting the minority from the majority, fails an elementary test: it would not, for example, cover the Bodo-Muslim riots in Assam last year, for the simple reason that tribals and minorities are both presumed to be victims. It would not cover a Shia-Sunni riot in Lucknow, for both are presumably minorities. It would not cover a Muslim-Christian communal situation in Kerala – a state where a teacher from one community had his hand chopped off by a militant from another minority community. It would not cover the Kandhamal riots, because both the groups were tribals – even if one grants that they were egged on by Sangh Parivar or church groups.
The second point is that the bill would etch communal identities in stone. Once a district is deemed to be the geography in which minorities and majorities are to be subject to regular headcounts, what is the chance that the two communities will unite rather than divide? What if a district has two communities in equal numbers? Or three communities with none crossing 50 percent?
The third issue is about fixing responsibility for riots on specific civil servants. Prima facie, this may be a good idea, for it is high time babus were held accountable for action and inaction. But this requirement fails to note fundamental differences between places that are relatively insulated against communalism, and places that aren't. According to Ashutosh Varshney, who is no admirer of the Sangh Parivar, "a mere eight cities in India - Mumbai, Ahmedabad, Baroda, Hyderabad, Aligarh, Meerut, Delhi and Kolkata — had nearly 46 per cent of all deaths in Hindu-Muslim riots."
He says the way "social and community life" is organised in a city makes communal rioting more or less likely. He wrote in The Indian Express two years ago: "Riots are jointly produced. They are, in part, an outcome of how the police officials and civil administrators have performed their constitutionally assigned functions. Rioting is also, in part, a result of how social and economic life is organised in a town, whether Hindus and Muslims are segregated or integrated, and what incentives or capacities such local structures have created for politicians, always in search of political gains, to inflame and polarise, or calm and unite, local communities. The same IAS officer who functioned well in Warangal often felt helpless in Hyderabad. The NAC would like to give more powers to the civil servant. But if riots are jointly produced by the state and society, dealing with one side of the equation is surely not enough. "
Put another way, communal riots cannot be addressed by separating majority from minority, but by paying close attention to social and other structures in communally-prone hotbeds. This needs governance, not a Bill to stoke the fire further.
The writers of the Bill also failed to ask themselves a simple thing: how will the Bill's import be diluted by merely defining a communal incident as a clash between two communities, whether religious or linguistic, and protecting the victims from the perpetrators, whoever they are?
The very fact that this simple definition eluded the NAC and the Bill's backers shows the unholy calculations behind its resurrection. That a serious issue like communalism is sought to be addressed by one party's short-term political calculations is itself worrisome. That it is being welcomed by other political opportunists in other parties is even scarier. When the intent of a legislation is in doubt, its outcome cannot but be hazardous.
More importantly, when the Congress knows that the Bill is liable to legal challenge on various grounds of unconstitutionality, clearly the objective is merely to posture as secular before the elections. It is doubtful if anyone is fooled by it.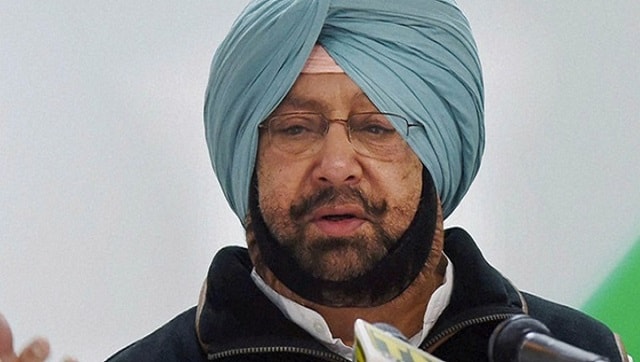 Politics
What appears to be a dispute between Chief Minister Amarinder Singh versus his former Cabinet colleague Navjot Singh Sidhu is turning out to be a conflict within the party with deeper faultlines
Politics
Before his death, Prasada Sr who had contested and lost against Sonia Gandhi for the leadership of Congress was totally disillusioned with the Congress and Gandhis, in particular