Civic polls in Jammu and Kashmir updates: JMC records 61.92% turnout; Khour sees highest polling in district
LIVE NEWS and UPDATES ONLINE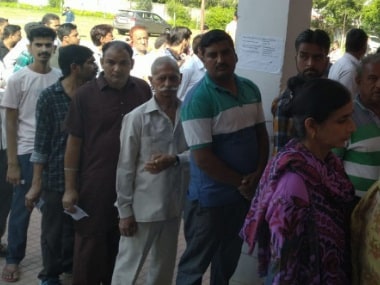 17:56 (IST)

District-wise polling percentage till 4pm

By Aakhash Hassan/101Reporters

17:32 (IST)

JMC records 61.92% polling

As per figures provided by CEO, Jammu Municipal Corporation area recorded 61.92 percent polling, while MC Khour witnessed the highest polling (89 percent) in Jammu district.

By Bivek Mathur/101Reporters

17:21 (IST)

Security personnel take EVMs to strong room in Budgam

16:55 (IST)

Pregnant woman injured in Bandipora clashes, referred to SMHS hospital

Shabeena, aged around 22, is three months pregnant, and has sustained multiple pellet injuries. Her condition, according to a doctor at DH Bandipora, is stable, but she has been referred to the SMHS hospital. Doctors will now examine how deep the pellets are.

A 13-year-old boy was also brought to the hospital with multiple pellet injuries. He was discharged as his condition was stable.

Team 101Reporters

16:48 (IST)

Bandipora records 3.38 percent polling

Bandipora recorded 3.38 percent polling, as per final figures released recently. A total of 573 people, including 369 men and 204 women, cast their votes.

16:41 (IST)

Poll turnout figures expected soon

Exact figures at the culmination of the election are expected soon.

16:29 (IST)

BJP MLC accused of violating poll code

A poll code violation by sitting BJP MLC Vikram Singh Randhawa has been reported. He is said to have entered the polling booths soon after the voting finished in Jammu.

On this, DC Jammu Ramesh Kumar said, "No MLA or MLC can enter the polling station unless he or she is a voter of the same polling station".

Team 101 Reporters


16:18 (IST)

Polling figures till 3 p.m.

Input by Tarun Upadhyay

16:09 (IST)

3.29 percent turnout recorded in Bandipora

As per figures released at 4 pm, Bandipora has recorded a 3.29 percent voter turnout. A total of 558 people cast their votes.

In Budgam, a 16.97 percent turnout was recorded, as 109 out of 642 eligible voters cast their ballot.

15:57 (IST)

Clashes erupt in Bandipora

A lady named Shabeena was injured after being hit by pellets when clashes erupted in Lankreshipora village of Bandipora, after youth attacked a police vehicle with stones. Hospital sources also confirmed that a woman was brought with pellet injuries.

At Lankreshipora, polling for Ward 8 is underway.

Meanwhile, clashes have also erupted in Bandipora near Govt Girls higher secondary school. The government forces are using teargas shells to disperse the stone-throwing youth

15:51 (IST)

High voter turnout in Jammu, Rajouri

Jammu district has seen 61 percent voting till 3 p.m., while 77.4 percent polling was recorded in Rajouri

15:41 (IST)

77.33 percent voter turnout in Kargil

A high turnout was also seen in Kargil, according to figures released at 3 p.m. 77.33 percent voters exercised their franchise.

15:27 (IST)

Kupwara sees 33.65 percent turnout

According to the latest figures, Kupwara has seen a relatively higher voter turnout, with 33.65 percent of the electorate coming out to cast their vote in the civic body polls.

15:17 (IST)

502 people cast ballot in Bandipora, 84 people vote in Budgam

According to the latest figures, there was a total voter turnout of 502 voters (2.96 percent of the electorate) in the Bandipora municipal committee. In Budgam, a total of 84 votes were polled.

15:02 (IST)

Three IAS officers transferred on polling day


Jammu and Kashmir government shuffled three senior bureaucrats. As per a General Administration Department order, Dheeraj Gupta, chief executive officer Shri Mata Vaishno Devi Shrine Board (SMVDSB), who held additional charge of Principal Resident Commissioner in the Jammu and Kashmir government has been recalled and posted as Principal Resident Commissioner, J&K Government on full time basis.


Simrandeep Singh, Deputy Commissioner Doda is transferred and posted as CEO SMVDSB, while the Additional CEO SMVDSB is posted as Deputy Commissioner Doda.

By Bivek Mathur, 101Reporters

14:47 (IST)

Bandipore records abysmal 2.5% voter turnout till 1 pm

Till 1 pm, Budgam recorded a meagre 6.1% turnout and still remained higher than Bandipore and Baramulla which recorded 2.5 percent and 3.7 percent respectively. Kargil witnessed a 73.6 percent with Poonch, Rajouri, Leh and Jammu recorded a decent 63.5 percent, 67.6 percent, 44.2 percent and 43.4 percent respectively.

Bivek Mathur, 101Reporters

14:39 (IST)

FACTBOX

Bandipora MC

Male : 304
Female : 157
Total : 461

14:36 (IST)

Two detained for fake voting in Poonch

Two people were booked and later detained for fake voting in Ward Number 7 of Surankote municipality in Poonch. More details are awaited.

Bivek Mathur, 101Reporters

14:31 (IST)

Bagislam polling station in Baramulla: Only 6 votes cast out of 2,329 till 2 pm

At Bagislam poling station in Old Town of Baramulla, there are three polling stations. Till 2.15 pm on Monday, only 6 votes were cast out of a total of 2,329. This is for Baramulla Municipal Council. Baramullla MC has 21 wards, six have been elected unopposed and 15 have gone to polls.

14:22 (IST)

4,000 of 80,000 votes been polled in Valley till 11 am

An official said 4,000 votes out of 80,000 had been polled in the Kashmir Valley till 11 am, IANS reports. In the three Srinagar municipal corporation wards of Humhama, Bagh-e-Mehtab and Hamdania colony, 1,001 votes were polled till 11.30 am.

14:20 (IST)

In five hours, Srinagar records lowest voter turnout at 3.5%

Till 12 pm, voter turnout was just 18 percent in Kupwara, 2 percent in Bandipora, 3 in Budgam and Baramulla, while 5 percent in Anantnag. Srinagar registered the lowest count of 3.5 percent in five hours since polling began at 7 am.

14:11 (IST)

Peaceful voting in most areas

Voting continued peacefully in Gandhi Nagar, RS Pura, Bishnah, Arnia, Khour, Jurian, Akhnoor, Nowshera, Surankote and Kalakote areas and many other wards.

There was poor turnout in the Kashmir Valley in the first phase of the civic polls that took place amid boycott calls by the two key parties in the state — the National Conference and the People's Democratic Party.

14:10 (IST)

Brisk voting in 'almost' all wards in Jammu region, reports say

Brisk voting was seen in almost all the wards in Jammu region with Rajouri registering the highest votes on Monday while Srinagar in the Valley saw the lowest as a shutdown-call led to subdued polling in the municipal elections that are taking place after 13 years in Jammu and Kashmir.

13:41 (IST)

Voter turnout till 1 pm

Kargil: 73%
Rajouri: 74.47%
Leh: 55%
Kupwara district: 26%

13:38 (IST)

ULB Polls MC Baramulla: From 7:00 am to 1:00 pm

Male: 552
Female 412
Total 964 out of 26,149
Percentage: 3.69%

13:32 (IST)

Sajjad Lone dares NC, PDP to boycott National Elections

Taking a dig at National Conference and PDP for boycotting the ongoing municipal elections in Jammu and Kashmir, the Peoples Conference chairman and Handwara MLA Sajad Gani lone, who is also a former minister, dared NC and PDP to boycott elections the way his party has been boycotting elections for twenty five years. Lone asked Omar Abdullah and Mehbooba Mufti to vacate their seats in state assembly and parliament and surrender government bungalows occupied by their legislators and parliamentarians.

According to local reports. Lone said, "Let NC and PDP boycott elections the way we (Peoples Conference) has for the last 25 years. Let NC and PDP ask its MLAs and MPs to quit their seats in Assembly. They will then learn the real outcome of boycott politics. There are other ways of boycott, what is the fun of asking poor people to boycott elections when there are other ways of boycotting."

13:17 (IST)

It's not an election, it's a farce, says Baramulla resident

"It is a farce, it is not an election. We don't even know who is the candidate. What kind of elections are these when we don't even know who we are supposed to vote? No one campaigned... as if it is decide by the government as to who will win. There are security men who outnumber the locals on streets. If these elections are for local issues why do you need to put so much of security? Why did the candidates not come and speak to their voters? It is all a fixed match. That is the reason no one is coming out to cast their votes. There is fear also that has played a role in stopping people from voting," Ghulam Qadir Khan, a resident of Sangri Colony of Baramulla, which recorded 3 percent voter turnout till 11 am, said.

13:12 (IST)

Sajjad Lone tells PDP, NC to boycott Assembly elections instead of grassroot elections

"Don't boycott grassroot level elections," Kashmiri politician Sajjad Lone told Peoples Democratic Party and National Conference. "If you want to boycott, boycott Parliament Assembly Election," the leader further added.

By Gursimran Singh,101Reporters

12:47 (IST)

Extreme cold weather keeps voters away in Ladakh's Leh

IANS reported that in Leh and Kargil towns of Ladakh region, biting cold kept voters away though the process was expected to pick up as the day progressed and warmed up.

12:45 (IST)

BJP fields Vijay Sharma from Hiranagar, party's ex-state secretary had protested against CBI enquiry into Kathua rape case

Vijay Sharma, who was removed as BJP state secretary six months ago for protesting against CBI inquiry into the Kathua rape case, is now the BJP's face for Hiranagar Municipal Committee elections, The Indian Express reported.

12:35 (IST)

Maximum wards in Baramulla witnessed less than 5 votes being cast

Out of 35 polling stations in Baramulla, only 15 wards were going to the polls today. Maximum wards in old town of Baramulla have witnessed less then five votes being cast. Security personnel have been deployed at every corner of the town which is known to be volatile area of the district.

Some polling was witnessed in the Baramulla town but overall the percentage is very low. The entire muncipality area where polling is happening has turned into a fortress and wore a deserted look.

12:30 (IST)

Four wards Kokernag Muncipality Committee witness low turnout

Four wards in Kokernag Muncipality Committee are going to polls, on other 8 wards candidates have been declared unopposed. The four wards which are being contested have till now witnessed very low voting.

On ward 13 out of 904 votes only 7 have been cast on wards number 9 only 1 vote, on 11 out of 218 votes only 1 and on ward 5 out of 267 16 have been cast till 12. The contest is between Independent and Congress

12:24 (IST)

Bandipora witnesses abysmal 2% voter turnout in 16 wards

With polling in only 4 wards, Anantnag witnessed least voter turnout of 5 percent till 11 am. Bandipora, which has 23 polling stations and 16 wards going to polls, witnessed an abysmal 2 percent turnout followed by Baramulla and Budgam at 3 percent.

Baramulla has 35 polling stations and 15 wards are going to polls.

12:19 (IST)

Voter turnout report till 11 am in 11 districts

According to official records, Rajouri witnessed highest voter turnout in 59 wards with 55% turnout till 11 am. Poonch, Jammu and Kargil followed with 47%, 34% and 33% respectively. Leh was in the fourth position with 26% voter turnout till 11 am.

12:12 (IST)

BJP using official machinery to rig elections, alleges state Congress leader

Congress alleged that BJP was using the official machinery to rig the elections in Kashmir. Party's state vice president G N Monga, said that the non-locals have been forced to cast their vote in the Anantnag district. He said that Congress workers have reported the use of force by BJP.

12:10 (IST)

Vote count, so far...

Srinagar: 1,001
Kargil: 3,470
Leh: 3,164
Baramulla: 618
Bandipora: 330
Handwara: 732
Kupwara: 1,126
Anantnag: 78
Budgam: 42 out of 642

Aakash Hassan, 101Reporters

12:05 (IST)

33.2 percent voter turnout in Jammu district till 11 am

Till 11 am, voter percentage in Jammu district was 33.2 percent. Meanwhile, Muzaffar Ahmed Sheikh, presiding Officer polling station 20 (Segment 13 -Kaloosa) has placed under suspension for allowing a woman to accompany another voter up to voting compartment.

By Gursimran Singh, 101Reporters

12:03 (IST)

FACT BOX

Total Nominations filed in Baramulla: 40

Congress: 21

BJP: 13

Independent: 6

12 ladies among 40 candidates

11:47 (IST)

Stones pelted on BJP candidate in Bandipora


A Bharatiya Janata Party (BJP) candidate was injured in a stone pelting incident in north Kashmir's Bandipora district. Sources said that the candidate, identified as Adil Ali Buhru, is a resident of Plan Bandipora and is contesting from Ward No.15.

Auquib Javeed, 101Reporters

11:39 (IST)

Polling count update from Rajouri's Nowshera municipality

53.6 percent polling had been recorded till 11.00 am in Nowshera municipality of Rajouri district.

Vivek Mathur, 101Reporters

11:36 (IST)

Congress claims presence of proxy candidates of regional parties in Kargil

Congress candidate from Baroo, Khadim Hussain has alleged that there are proxy candidates of both National Conference and the PDP in Kargil.

Gursimran Singh, 101Reporters

11:21 (IST)

Bandipora registers 1.89% polling till 11 am

1.89% polling has been registered in the Bandipora MC. 222 males and 99 females have cast their votes so far.


Gursimran Singh/101Reporters

11:14 (IST)

Union Minister Jitendra Singh cast his vote in Jammu

Union Minister Jitendra Singh and former deputy chief minister Kavinder Gupta cast their votes in Jammu during the first phase of local body elections.

#JammuandKashmir: Union Minister Jitendra Singh and former Deputy CM Kavinder Gupta cast their votes in Jammu during the first phase of local body elections. pic.twitter.com/f12N7xUREq

— ANI (@ANI) October 8, 2018

11:10 (IST)

Polling count for Bemina district of Srinagar

Polling booth for Bemina in Srinagar has been set up in Hamdania Colony of Budgam.

Updates from Ward No. 17:

Polling booth 5c- 88 votes out of 688
Polling booth 7 in Bemina E- 0 votes out of 835
Polling booth 10 in Bemina H- 245 votes out of 940
Polling booth 9 in Bemina G: 11 votes out of 982
Polling booth 8 in Bemina F: 0 votes out of 691

Total no. of votes polled at Ward No. 17: 344 out of 4136

Zubair Sofi/101Reporters

11:03 (IST)

Polling updates till 10.30 am


The number of votes polled in various constituencies during the ULB polls in Jammu and Kashmir:

Baramulla- 489
Srinagar- 457
Kargil- 2650
Leh- 2138
Bandipora- 260
Handwara- 476
Kupwara- 868
Anantnag- 61
Badgam- 18

Gursimran Singh, 101Reporters

10:51 (IST)

BJP's 60 candidates have won their seats unopposed giving them control of 7 ULBs

At least 60 candidates of the BJP have won their seats unopposed, and a majority of them fall in the volatile region of south Kashmir where, out of 20 municipalities in five districts, only are up for polls. The municipalities likely to be headed by BJP candidates are Devsar, Qazigund, Pahalgam, and Ashmuqam in south Kashmir, and Shopian and Sopore towns of north Kashmir.

10:46 (IST)

Heavy security deployment around polling booths in Baramulla

Heavy security has been deployed at polling booths in Baramulla as voting for local body elections is underway in the area.

#JammuAndKashmir: Heavy security deployed at a polling booth in Baramulla as voting for local body elections is underway pic.twitter.com/zKZgO819KK

— ANI (@ANI) October 8, 2018

10:44 (IST)

1,400 votes polled in Kupwara, 19 so far in Budgam's lone ward

Around 1,400 votes have been polled till 10 am in Kupwara. Meanwhile, in Budgam's ward 5, 19 votes had been polled till 10.20 am

Gursimran Singh/101Reporters

10:31 (IST)

Kupwara sees good voter turnout, officials ensure tight security

More than a 1,000 people turned up to cast the vote in the border district of Kupwara in the first three hours of voting during the local body polls in Jammu and Kashmir. Deputy Commissioner of Kupwara, Khalid Jehangir, said that the response of voters to the elections was good. Officials said adequate security has been put in place and no untoward incident was reported.

As many as 18 municipal wards are going for polls in the Kupwara district where 47 candidates are in the fray in the ULB elections.

Ishfaq Naseem/Firstpost

10:25 (IST)

Polling status till 9 am in Jammu and Kashmir ULB polls

Votes polled till 9 am in Kokernag municipal corporation in Anantnag: Ward 7- 49, Ward 9- 1, Ward 11- 1, Ward 13- 6

Sameer Yasir/Firstpost
Civic polls in Jammu and Kashmir LATEST updates: As per figures provided by Chief Election Officer, Jammu Municipal Corporation area recorded 61.92 percent polling, while MC Khour witnessed the highest polling (89 percent) in Jammu district.
According to figures released at 3 pm, there was a total voter turnout of 2.96 percent in the Bandipora municipal committee. Kupwara saw higher polling figures, with 33.6 percent voters casting their ballot.
Till 1 pm, Budgam recorded a meagre 6.1 percent turnout and still remained higher than Bandipore and Baramulla which recorded 2.5 percent and 3.7 percent respectively. Kargil witnessed a 73.6 percent with Poonch, Rajouri, Leh and Jammu recorded a decent 63.5 percent, 67.6 percent, 44.2 percent and 43.4 percent respectively.
An official said 4,000 votes out of 80,000 had been polled in the Kashmir Valley till 11 am. In the three Srinagar municipal corporation wards of Humhama, Bagh-e-Mehtab and Hamdania colony, 1,001 votes were polled till 11.30 am.
Brisk voting was seen in almost all the wards in Jammu region with Rajouri registering the highest votes on Monday while Srinagar in the Valley saw the lowest as a shutdown-call led to subdued polling in the municipal elections that are taking place after 13 years in Jammu and Kashmir.
According to official numbers, till 1 pm Kargil recorded 73 percent voter turnout, Rajouri was at 74.47 percent; Leh at 55 percent and Kupwara district at 26 percernt. Meanwhile, taking a dig at National Conference and PDP for boycotting the ongoing municipal elections in Jammu and Kashmir, the Peoples Conference chairman and Handwara MLA Sajad Gani lone, who is also a former minister, dared NC and PDP to boycott elections the way his party has been boycotting elections for twenty five years.
With polling in only 4 wards, Anantnag witnessed least voter turnout of 5 percent till 11 am. Bandipora, which has 23 polling stations and 16 wards going to polls, witnessed an abysmal 2 percent turnout followed by Baramulla and Budgam at 3 percent. Baramulla has 35 polling stations and 15 wards are going to polls.
According to official records, Rajouri witnessed highest voter turnout in 59 wards with 55% turnout till 11 am. Poonch, Jammu and Kargil followed with 47%, 34% and 33% respectively. With polling in only 4 wards, Anantnag witnessed least voter turnout of 5 percent till 11 am. Bandipora, which has 23 polling stations and 16 wards going to polls, witnessed an abysmal 2 percent turnout followed by Baramulla and Budgam at 3 percent.
Till 11 am, voter percentage in Jammu district was 33.2 percent. Meanwhile, Muzaffar Ahmed Sheikh, presiding Officer polling station 20 (Segment 13 -Kaloosa) has placed under suspension for allowing a woman to accompany another voter up to voting compartment.
Polling booth for Bemina district of Srinagar has been held in Budgam's Hamdania Colony. 344 out of 4,136 votes have been polled for Ward No. 17 of Bemina.
At least 60 candidates of the BJP have won their seats unopposed, and a majority of them fall in the volatile region of south Kashmir where, out of 20 municipalities in five districts, only are up for polls. The municipalities likely to be headed by BJP candidates are Devsar, Qazigund, Pahalgam, and Ashmuqam in south Kashmir, and Shopian and Sopore towns of north Kashmir.
More than a 1,000 people turned up to cast the vote in the border district of Kupwara in the first three hours of voting during the local body polls in Jammu and Kashmir. Deputy Commissioner of Kupwara, Khalid Jehangir, said that the response of voters to the elections was good. Officials said adequate security has been put in place and no untoward incident was reported.
Contrary to the Kashmir valley, where voters have shied away from coming to the polling booths, enthusiasm is being witnessed among the electorate in Jammu where long queues of voters are being witnessed since morning.
Due to security reasons, mobile internet services have been suspended by the local administration in the South Kashmir region and some areas of North Kashmir but there is no formal order yet. In other parts of the valley, the internet speed has been reduced to 2G.
There has been a delay in voting in four polling stations in Jammu due to technical issues. The EVM's are being replaced.
Voting has begun in the 11 districts of Jammu and Kashmir in the first of four-phase elections. As many as 584 polling stations will be set up in Jammu for the first phase of the four-phased local body elections which will start today, officials have said. A total of 4,42,159 electorate will vote to elect their representatives among 743 candidates at 584 polling stations including 505 polling stations for municipal corporation Jammu and 79 for municipal committees, district election officer, Ramesh Kumar told reporters in Jammu.
Shaleen Kabra, the Chief Electoral Officer (CEO) of the state, said voting will start at 7 am and end at 4.00 pm. Of the total, 150 polling stations have been designated in Kashmir division and 670 in Jammu division. "In Kashmir division, 138 polling stations have been categorized as hypersensitive while in Jammu division 52 polling stations have been categorized as hypersensitive. A total of 78 candidates have already been elected unopposed, Kabra said.
While 447 candidates are in the fray for the 75 wards of municipal corporation Jammu, 296 candidates are trying their luck in the 79 wards of seven municipal committees. A total of 422 wards spread over various districts of Jammu and Kashmir are going to polls in the first phase.
Kumar said the district administration Jammu has made foolproof security arrangements for the smooth conduct of the polls. Adequate security would be deployed at the identified hypersensitive and sensitive polling stations, he said, adding that micro observers have also been appointed to monitor 46 hyper-sensitive polling stations. The voting will be from 7 am to 4 pm, he said.
For the first time, electronic voting machines (EVMs) will be used in the polls, for which proper training has been imparted to the polling staff. Kumar, who is also the district development commissioner, said a joint control room of police and civil administration has been set up for the smooth flow of election related information.
He said the administration has declared October 8 as a holiday in the poll bound areas to ensure maximum voter turnout. Earlier, the DEO reviewed the arrangements by the district administration for the smooth conduct of the elections in a meeting.
A detailed discussion was held on various issues pertaining to enforcement of model code of conduct, functioning of zonal and sectoral magistrates and observers, deployment of manpower and election material for polling stations. Transport management, dispatch of polling parties, communication plans, collection centre, counting plan and poll day arrangements, communication plan and monitoring besides security arrangements and maintaining law order also came up for detailed discussion during the meeting, an official spokesman said.
Your guide to the latest election news, analysis, commentary, live updates and schedule for Lok Sabha Elections 2019 on firstpost.com/elections. Follow us on Twitter and Instagram or like our Facebook page for updates from all 543 constituencies for the upcoming general elections.
Updated Date: Oct 08, 2018 18:49:32 IST