Dragon's long shadow: What the debate over Kashmir has totally failed to notice
Pakistan, in this great game of China, is a partner, lackey and a useful tool to keep India occupied. Not just arming Islamabad with nuclear technology, missiles and conventional weapons, China wants to use its occupied territory to strengthen its strategic depth vis-à-vis India.
The dragon casts a long shadow.
Gerard Hendrik (Geert) Hofstede, Dutch researcher, analyst and professor of Organisational Anthropology and International Management at Netherlands' Maastricht University, has an interesting take on the Chinese in his pioneering 'cultural dimension' theory.
Professor Hofstede says one of the most important cultural dimension that marks China's strategic outlook is that the Chinese are intrinsically patient, persistent and rarely take eyes off the target. India's foreign policy wonks testify to the time-consuming nature of every negotiation with China. Their stress remains on long term results rather than short term goals. Hofstede also says that Chinese are highly collectivistic, likely to prioritise collective interest over the individual.
Why is this bit of perspective relevant?
As India and Pakistan trade charges over a bleeding Kashmir, the dragon watches with keen interest, making barely perceptible yet deeply significant moves that are likely to have a long-term impact over the Valley's future.
Well-publicised developments on the South China Sea are evidence of increasing Chinese assertiveness. Yet there is no reason to think that Beijing's vital interest is limited to that geopolitical sphere alone. Not blatantly obvious perhaps, but there are marked signs that China is slowly yet surely altering its South Asia strategy. In this game of Chinese checker, loose cannon Pakistan is a great weapon to be used against India.
Worryingly though, as the Parliament debate over Kashmir amply proved, Indian politicians and administration are too busy lacerating themselves over Kashmir or blaming Pakistan to notice the larger picture.
The almost eight-hour exhaustive debate spanning 29 members in Rajya Sabha on Wednesday focused on everything including usage of pellet guns, Prime Minister Narendra Modi's absence on the floor of the House and even on the need to further "integrate" Kashmiris, as if successive Indian governments have failed to do so and the current unrest is a result of governance failure.
On its part, the government — except the usual rhetoric — said it's willing to talk to all political parties including moderate elements (whatever that means) and acceded to the demand of sending an all-party delegation to the state, as if that would solve all problems.
Journalist and Rajya Sabha MP Swapan Dasgupta pointed out a curious coincidence. For an unrest that seems to be so intrinsic and adversarial towards the Indian State, it started only after Burhan Wani was killed and has since continued unabated. It is remarkable that so little stress has been put on the manufacturing of the violence.
The National Investigation Agency (NIA), for instance, revealed on Wednesday what we already knew — that terror outfit Lashkar-e-Taiba and the Pakistan army are fuelling large scale protests.
"LeT is being helped by Pakistan army in spreading unrest in the Kashmir valley," NIA IG Sanjeev Kumar said in a media conference in Delhi, according to a Times of India report. "Pakistan army officers in civilian clothes visit LeT facilities and are referred to as Major Saheb and Capt Saheb. Pakistani military and other forces were also running a command centre called Alpha-3 in PoK to run terrorist operations in India".
These are just some of the revelations made by Bahadur Ali, a LeT operative who was caught by security officers on 25 July. The NIA also released a video of Ali's confession.
As Firstpost has repeatedly argued here and here, the fire in Valley has been ignited and is being kept alive by Pakistan which wants to continue waging a proxy war against India, armed with a fresh strategic boost in its position on Kashmir by none other than China.
Consider the Kashmir narrative. For decades, Pakistan has been spouting the theory of 'Azad Kashmir' and how it "supports" Kashmir's right to liberty and self-determination. While acting as an occupying force in Kashmir, it nevertheless as a matter of state policy maintained this phony position.
That seems to have changed quite dramatically. In a public meeting last month in PoK where his party recently won an election, Pakistan Prime Minister Nawaz Sharif dropped all pretensions of ambiguity and called for accession of entire Jammu and Kashmir to Pakistan. Addressing a public gathering in Muzaffarabad, PoK capital, Sharif said: "We are waiting for the day Kashmir becomes (part of) Pakistan."
What prompted this change in Pakistan policy from vagueness to brazenness? Does Pakistan really believe that India will allow Kashmir to secede? Unlikely.
Pakistan's belligerence is a direct result of China's strategic investment in Kashmir, in the area illegally occupied by Islamabad. The rhetoric is not unlike China's oft-repeated game of inching forward, retreating and in doing so, minutely alter the ground reality.
Ashok Malik, in his piece for Observer Research Foundation pointed out that the call for accession of whole of Jammu and Kashmir to Pakistan creates an illusory situation where PoK "becomes not Indian territory occupied by Pakistan (as India contends), not disputed territory (as many in the rest of the world believe), but legitimate Pakistani territory; the rest of (Jammu and) Kashmir becomes bona fide Pakistani territory illegally occupied by Indians."
Once again, the question is why is this important?
On 21 July this year, the People's Liberation Army and Pakistan's border police force carried out a joint patrol along their shared border, the first time they have done so. The report, carried by Chinese newspaper People's Daily, consisted of images depicting Pakistan and Chinese soldiers posing for photographs at various locations along the shared border. Interestingly, People's Daily said the joint patrol was carried out "along the China-Pakistan border". This is actually the frontier region of PoK — an area claimed by India as an integral part of its territory.
This marks a remarkable shift in Chinese strategy which earlier always referred to PoK as "Pakistan-administered Kashmir". It is important for Beijing that PoK is considered in international forums as a legitimate Pakistan territory because that would make it easier for China to carry on doing what it is anyway doing of late — investing heavily on huge infrastructure projects.
Details of the China Pakistan Economic Corridor (CPEC) show that far from its stated purpose of facilitating trade and commerce, it seems to be designed to support military logistics and, in terms of the landscape of warfare, integrate China and Pakistan that much strongly. As Malik says: "In a sense, both countries are seeking a strategic depth in each other's territories, and there can be only one possible target."
So Pakistan in this great game of chess is China's partner, lackey and a useful tool to keep India occupied. Not just arming Islamabad with nuclear technology, missiles and conventional weapons, China wants to use its occupied territory to strengthen its strategic depth vis-à-vis India.
The dragon casts a long shadow.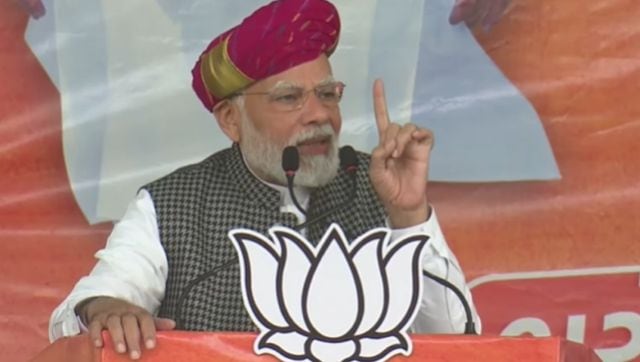 Opinion
In every way, Narendra Modi gains from this needless controversy before the nine state elections this year and the general election next year. And a master politician like him will not let this opportunity for his opponents to malign themselves go waste
Opinion
Kashmiri Pandits have been protesting and demanding relocation from the valley till the security situation improves. Hundreds of employees and their families have shifted to Jammu. This has seriously affected quality education in the Valley
Opinion
What makes the alliance better is that no other country works so resolutely and with a sense of purpose in the time of duress as Japan does; India needs such a partner in dealing with China