Chikungunya in Delhi, Arvind Kejriwal in Punjab: So what's the big deal, you Modi dalals?
The manner and vehemence of the personal attack, without substance and without any factual basis, may have stunned even those who are now quite used to his Kejriwal's over-the-top responses to critics.
It's not unusual for Delhi Chief Minister Arvind Kejriwal to explode on Twitter. Monday evening he did that again.
At the receiving end of his social media equivalent of a nuke attack was veteran journalist Shekhar Gupta, and, to some extent Rahul Kanwal of India Today TV.
"You want to do politics, do so openly. Earlier you were a wheeler-dealer for the Congress, now you're doing that on Modi's behalf. People like you have spoiled journalism," screamed Kejriwal.
Gupta had committed the cardinal sin of pointing out an inconvenient truth to Kejriwal. He tweeted earlier Monday morning reacting to a news item on the first death due to chikungunya in Delhi. "1st malaria death in 5 yrs, 1st chikungunya death now while Delhi govt safely out conquering Punjab, Goa & Gujarat."
Kejriwal took time to join issue with Gupta, perhaps because he was busy with campaigning in Punjab, but when he did join issue he did not go for the jugular. He chose to go below the belt instead:
Shekhar Gupta has never been a fan of either the Anna Hazare movement or the Arvind Kejriwal's style of politics. The Indian Express, of which he was the editor-in-chief, consistently disapproved of the movement as anarchist. Just recently, in a debate on NDTV 24x7 on the confrontation between the Delhi government and the Centre, Shekhar put down the Kejriwal government in a manner that it would make the latter squirm. "Now let me say something the Aam Aadmi Party will hate to hear," he said, "the fact is, Delhi has started missing Sheila Dikshit."
Apparently, Kejriwal more than squirmed. But the manner and vehemence of the personal attack, without substance and without any factual basis, may have stunned even those who are now quite used to his Kejriwal's over-the-top responses to critics. His junior colleagues in the party were more measured in their rebuttal of Shekhar Gupta than the chief minister.
Ankit Lal, the party's IT and social media head, relied on a fact to counter Gupta. He said that the chikungunya patient was from Ghaziabad who died in Delhi.
Another party member, Kapil Mishra, too, relied on logical combat, pointing out to the culpability of the municipal corporations of Delhi.
But Kejriwal himself was in no mood for niceties. He followed up his insult to Shekhar Gupta with another lowly dig, daring Gupta to say a few words about his "master" (Prime Minister Narendra Modi) who has "set out on a journey to conquer the world".
Later, on Tuesday, he was unsparing of Rahul Kanwal of India Today TV, too, suggesting that the latter was also on the BJP's take for questioning the presence of AAP ministers all over but Delhi. Once again, the tactic is simple: undermine the integrity of the journalists asking questions as stooges of AAP's opponents.
Without standing in unsolicited defence of Shekhar Gupta's existent or non-existent political leanings -- or Rahul Kanwal's benign rebuke of the AAP -- it is right to ask if a chief minister should be allowed to get away with such unfounded, intemperate and insulting damnation of journalists who raise legitimate questions about his government.
However the facts stack up for or against the Kejriwal government in its handling of the current crisis of vector-borne diseases in Delhi, there's one fact that Kejriwal has not cared to pay heed to. To call Shekhar Gupta a friend of the present administration is being extremely miserly with facts. A few weeks ago the Lal Bahadur Shastri Academy of National Administration, Mussoorie, hosted internationally acclaimed political scientist Francis Fukuyama for a five-day session on "private sector and public policy". Gupta joined the gathering after the session and interacted with the delegates, all top IAS officers, over dinner. Gupta apparently was scathing of the Modi administration and its style of governance. One of the participants later asked me: "Why is Shekhar Gupta so bitter about Prime Minister?"
You can't expect Kejriwal to know what Gupta says away from public glare. But, being quite the social media czar that he is, Kejriwal should know that Gupta is constantly trolled by right-wingers for his writings and tweets directed against the Modi government.
But that's beside the point. The concern Gupta raised had nothing to do with his like for one dispensation or his dislike for another, all of whom are transient. Mahatma Gandhi never made a fetish of consistency. History is hardly a linear project is always consistent with the past. Hence in the profession of journalism, too, consistency can hardly be a virtue or the only virtue. A critical comment of a journalist may not be consistent with his past writing. But that has never been held against journalists — who are supposed to chronicle the facts as they come — as Kejriwal is repeatedly seeking to do.
Perhaps nobody in Indian politics has contributed to the lumpenisation of politics more than Kejriwal. He called the Prime Minister a "psychopath" and got away with it. He called Union Finance Minister Arun Jaitley as "corrupt" and was not held accountable for his indiscretions. He is constantly at war with institutions that come in the way of his own anarchic politics. For instance, he called the lieutenant governor of Delhi an employee of the Union home ministry.
Contrast his current bellicosity with the timid image of man coming out of the North Block office of Finance Minister Pranab Mukherjee complaining how he was harangued and intimidated by the minister during the anti-corruption movement led by Anna Hazare. Then he looked like a harried common man whose daily life is under stress due to the anti-people approach of those in power. In less than two years, the common man has transformed into street-bully, and seamlessly, too.
But there is something more than a mere megalomaniac streak in Kejriwal's politics. Like North Korean's dictator Kim Jong-un, who is a unique and lethal blend of megalomania, authoritarianism and absolute sense of infallibility — and is hell bent on nuking the United States out of existence — Kejriwal, too, seems to have taken it upon himself to identify, label and destroy the "corrupt" with scant regard for the law. In that self-assigned role of the protector of India's morality, he will stop at nothing. Calling a journalist a "broker" is small change. He will take the discourse to such gutter levels that it will be impossible to communicate with him in civilised language.
Interestingly enough, many political stalwarts have taken on the media in the past. BSP supremo Kanshi Ram, for instance, was extremely critical of the media as an institution. Yet he never made it a personal issue with individual journalists. The love-hate relationship between politicians and journalists has often helped to enrich not debase the democratic debate. But Kejriwal's reactions are so personal and vituperative that he drags the discourse to the lowest levels.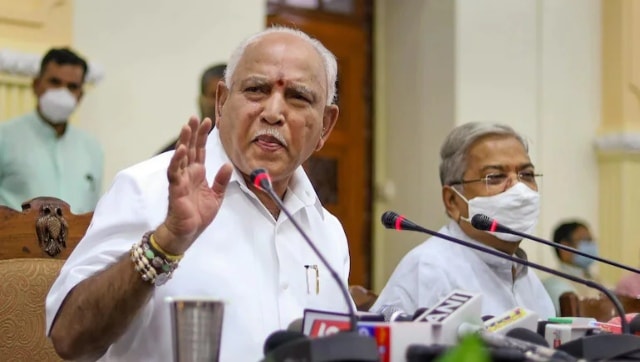 Politics
The BJP high command, with one eye on the upcoming 2023 Assembly polls in the state, has shortlisted a few notable names as possible replacements as chief minister
Politics
The disruption by Opposition members drew sharp criticism from Prime Minister Modi who accused them of being unable to digest the fact that a large number of new ministers are women, Dalits, tribals and those from other backward classes
India
The heart of the conflict is an unresolved border issue — a 164.6-kilometre long inter-state border, which separates Assam and Mizoram. This border is shared by three districts of South Assam — Cachar, Hailakandi and Karimganj — and three districts of Mizoram — Kolasib, Mamit and Aizawl