Now, Pranab meets Sonia after Chidambaram reportedly offers to quit
Home Minister P Chidambaram has so far maintained silence over the note and has abstained from interacting with media.
New Delhi:Home Minister P Chidambaram has reportedly offered to resign today in a 20-minute meeting he had with Congress president Sonia Gandhi at her 10 Janpath residence in New Delhi. He had earlier offered his resignation to Prime Minister Manmohan Singh over the 2G note controversy.
The Home Minister is in the news for a controversial 2G note from the Finance Ministry to the Prime Minister's Office. The note, which came out dramatically into public domain through a RTI application, is mostly believed to be cleared by Finance Minister Pranab Mukherjee.
The note apparently mentions that Chidambaram in his tenure as the country's Finance Minister could have stopped former Telecom Minister A Raja from deviating from rules that finally led to the massive 2G scam. A CAG report puts the loss to the exchequer at Rs 76,000 crore due to the scandal. The matter is sub-judice.
Meanwhile, just after Chidambaram's meeting with Sonia, Union Minister Pranab Mukherjee met Sonia Gandhi  to explain his version of the story in the wake of the controversy over Finance Ministry's note on 2G issue. The Congress party has so far backed Chidambaram and this is the first big meeting after Sonia Gandhi's return from the US.
Prime Minister Manmohan Singh and Finance Minister Pranab Mukherjee have already thrown their weight behind Chidambaram calling him trustworthy and a 'valued colleague'.
With the Opposition gunning for the Home Minister's head last week, all eyes are on the Prime Minister who would return from New York on Tuesday.
BJP's Yashwant Sinha recently said that the Home Minister should share the same cell with Raja in Tihar jail. Raja is already in jail for his alleged role in the mega scam. Meanwhile, Law Minister Salman Khursheed sought to play down the importance of the note saying it was prepared by a junior official.
The Supreme Court is taking up the matter on Tuesday and its opinion might give a new twist to this tale of spectrum sale.
India
Dr Suraj Yengde, noted scholar and author of Caste Matters, spoke to Firstpost about how the COVID-19 pandemic has exposed chasms in our social structure and why it is high time we as a nation acknowledged and addressed the discrimination towards India's marginalised.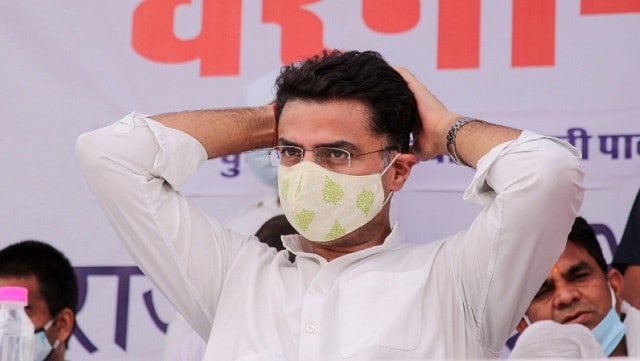 Politics
Sachin Pilot, refuting the claims of him joining the BJP, said that Ritu Bahuguna Joshi doesn't have the "courage to speak" to him
Politics
The BJP has always made a big production of its shtick about the Congress' dynastic politics, but now it is welcoming a motley crew of dynasts into its ranks with no apparent sense of irony