Chhattisgarh tribal population has fallen by 1%, claims TS Singh Deo; leader of Opposition blames Raman Singh for plight of Adivasis
Leader of the Opposition in Chhattisgarh Assembly, TS Singh Deo, in an interview discussed Congress' policy regarding tribals in the upcoming Assembly election. MLA from Ambikapur constituency since 2008, Deo is touted as one of the frontrunners to be the chief ministerial picks if Congress comes to power.
Leader of the Opposition in Chhattisgarh Assembly, TS Singh Deo, in an interview discussed Congress' policy regarding tribals in the upcoming Assembly election. MLA from Ambikapur constituency since 2008, Deo is touted as one of the frontrunners to be the chief ministerial picks if Congress comes to power. In a detailed conversation with Parth MN, Deo spoke about the need to improve the standard of living of tribals. He criticised the Raman Singh government for prioritising corporate interests over tribals, alleging that the BJP-led government has neglected their interests, which has resulted in an economic mismatch in Chhattisgarh. Popularly known as TS Baba, Deo, who belongs to the royal family, condemned the arrest of Sudha Bharadwaj, who has lived in Chhattisgarh almost all her life.
Edited excerpts from the interview
If the Congress comes to power in Chhattisgarh, what would be your policy regarding the tribals, who form a major population of the state?
Tribals form about 31 percent of the population in Chhattisgarh. Their population has reduced by 1 percent in the last census. They live mostly in jungle areas, which is less productive as far as the agriculture is concerned. So the main concern for their development is to provide them with means of livelihood other than agriculture.
Which would be?
Their natural habitat is the forest. So, one could be forest produce, two could be tourism, third could be handicrafts, fourth could be their rights in mining areas which they have been denied, and government jobs. The idea is to provide a better standard of living. If you make a road, it is of no consequence unless it improves your standard of living. If you make a school, it is of no use unless it improves the standard of living. It's important for them to make the best of the environment they live in. If you are bringing in industry and it is not providing jobs to them, if you are doing mining activity and they don't have any share of it, it is of no consequence.
For example, in Kondagaon, they told me there are around 70,000-80,000 people engaged in cottage industry where they make gun metal statues. I met the workers during the process of making the people's manifesto. And one could see very easily where they are falling behind. There are middlemen who help the tribal with the raw material, and for their profit margins to be higher, they sell the finished good at a price lower than the market price. The tribals complained regarding the handicraft corporation which has been formed. There, too, it is a matter of commission mongering. There is a large market for such products, which are of interest and value to the people within the country and even to export markets. Unfortunately, no government has thought of pushing them in a big way.
You said tribal population has decreased by one percent. What is the reason? 
The survey was not done in 100 villages, so it could mean that 500 people in a village on an average, which is 50,000. It is not a small number. Several groups are migrating because of pressure from the Naxals and lack of employment in the state, among other things. Other reason could also be the rise in the number of people coming from outside the state. Reasons behind falling percent in the number of tribals in the state are mostly migration out of tribal areas and migration into Chhattisgarh. There is no proof to conclude that drop in birth rate is the reason.
What are the policies of the Raman Singh government regarding the tribals which you particularly object to?
It is basically neglect. There is a sense of complacency in the current government — no matter what happens, we win. There is a lot of bureaucracy in the ruling government and Raman Singh is completely dependent on that. So long as they are delivering him a government, election after election, Raman Singh has left Chhattisgarh to be managed by the bureaucrats.
Has the tribal situation worsened in the past 15 years?
Chhattisgarh has the highest percentage of BPL families in the country. At least, 39.93 percent is the reserve bank figure for average BPL families – urban and rural combined – for Chhattisgarh. It is the highest in the country. For a state that is supposed to be developing, something is going wrong. If the per capita income has crossed 90,000 and your family is an average of 4.53. By that calculation a family in Chhattisgarh should earn 4.5 lakh rupees. Tribals aren't earning even close to it. It basically indicates that a few people are earning a lot and the tribals are marginalised. If you are able to project the per capita is increasing, where is the money going?
Tribals are angry with Raman Singh for opening up their forests to the private players. How do you plan to manage them if you come to power? 
Whether they are tribals or non-tribals, so long as they are residents of Chhattisgarh, you should target those reserves that displace the least. Secondly, if you are saying that in the next coming years, you are going to change the technology to non-traditional means of production of electricity, that is non-coal based electricity, you are not going to need coal. If you don't need all of this coal, where does it reside? If this coal resides in tribal areas only, then you don't have an option. But if there is coal in non-tribal areas, where the land could be more expensive, then the government is duty bound not to help the industry by getting cheaper land, which is forest and tribal land, in comparison to the land that may be more expensive but lie in non-tribal areas.
How do you plan to correct that?
Don't allot it to them.
Would it be as easy?
Yes, if you have the will. Lemru is an area between Surguja and Korba. It is a forest area of 450 square kilometers. This government had itself projected it as an elephant reserve. The UPA government had approved it. After the approval, Raman Singh government stalled it because they wanted to give it for mining. In our manifesto, we have included that areas like Lemru would be de-reserved for coal block allocation.
When I met the youth in tribal areas, they weren't exactly averse to industries. But they didn't trust the state and corporations coming in and working in their areas. They didn't trust them to provide adequate rehabilitation and compensation policies.
The section of society that is most opposed to land being taken over are the women. They are most opposed to being uprooted. Because, socially, they are the most affected and they are also the most exploited lot — their lifestyle changes completely. They feel alientated. Then you have the male members, who go by how much will they get and what will they get. Then there is the youth — after studying and switching over to wearing jeans, how many would like to till the land? They are looking for a different way of life. It is influenced by what they see on TV, or when they go to cities.
Social media has played a role in it?
Yes. The youth is not averse to land being taken. Yet, the rights of the landowners should have priority. The new land acquisition act requires 70-80 percent of the landowners.
But the biggest gripe of tribals is that the Forest Rights Act is not enforced and the consent is often ignored or forged.
We change that by governing better.
After having endured exploitation, there are several people who feel no matter who comes to power, the bureaucracy remains by and large the same.
We would like to believe that we are the kind of team that changes that.
There is an argument that the Adivasis are torn between Naxals and police. How do plan to combat it?

When people use force to get power, then people will be seen standing behind whoever is in power and dominant. Historically, entire population never rebels. Eventually, the tendency is to accept whoever is stronger. In the Naxal area, whoever is seen to be stronger, will be able to subdue the population. The question is do people want to be with the Naxals or do they stand with the State? They would just want to be free. They do not like any pressure from anybody in their day to day lives. Basic nature of a tribal is independence. Among the Adivasis, discontent begins when they are falsely accused of being Naxals, jailed for three-four years and then let off over lack of evidence.
Secondly, if Naxals or other organisations, that have the means to be dominant in that area, and are able to have their presence felt, why would people be listening to them? Either it is genuine support, where people feel the Constitution is a piece of paper worth nothing. I don't think that's what the people of Chhattisgarh think. Those villagers, who aren't fully educated, don't understand the matters of state or Constitution. It is a matter of making your dominance in an area through the ideology that you purport to believe in, using force to create dominance, and using people either as supporters – genuine or under pressure – or because you want to use them as shields. The informer is the target number one, not the exploiter. Had the exploiter been the target, we would have felt they are ideologically inclined.
You mentioned how the people are jailed and then let off for no proof. Sudha Bharadwaj has lived almost all her life in Chhattisgarh. She is in jail. What do you have to say about her arrest?
I have met her on a number of occasions. And she is a committed lady. Committed to the cause of those in need. She has given up better options in her career. The government does not have proof, and it is just trying to create pressure because somebody doesn't agree with what they are saying. No state organisation can make false charges against people to make their ends meet. She is an honest woman of high morale and ethical values. These are the people we need. If she has Maoist links, bring them out. What are you waiting for?
World
Only now, 20 years after the Iraq invasion in March 2003, is Congress seriously considering walking it back, with a Senate vote expected this week to repeal the 2002 and 1991 authorizations of force against Iraq
World
CEO Shou Zi Chew's testimony before Congress did little to assuage U.S. worries over TikTok's China-based parent company ByteDance and added fresh momentum to lawmakers' calls to ban the platform nationwide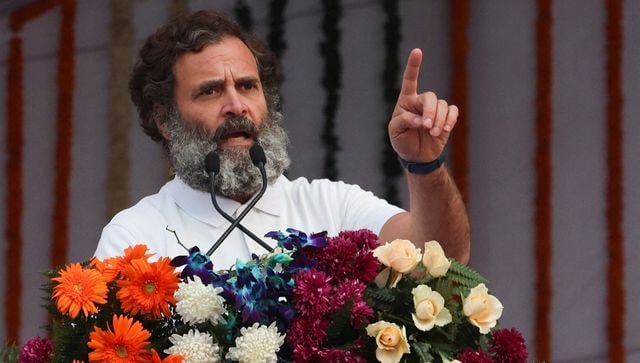 India
Congress leader Rahul Gandhi has been sentenced to two years in prison by a Surat court in a 2019 criminal defamation case over his alleged remarks about the 'Modi surname'. The Wayanad MP now faces the risk of disqualification from Parliament