Chhattisgarh polls: Miffed with lack of development, people queue up to attend Rahul Gandhi's rally in Jagdalpur
Chhattisgarh Assembly Election 2018: People chanted "chowkidar hi chor hai" as Congress chief Rahul Gandhi launched a scathing attack on Prime Minister Narendra Modi at the Lalbagh maidan of Jagdalpur in Maoist-infested Bastar region of Chhattisgarh Jagdalpur
Jagdalpur: The crowd chanted "chowkidar hi chor hai" as Congress chief Rahul Gandhi launched a scathing attack on Prime Minister Narendra Modi ahead of the first phase of Chhattisgarh Assembly elections on 12 November. The Gandhi scion's rally at the Lalbagh maidan of Jagdalpur in Bastar district of Chhattisgarh attracted a huge crowd on Saturday surprising even the Congress cadre.
Congress President @RahulGandhi addresses Booth Workers at Lal Bagh Ground, Jagdalpur #Gadhbo_Nava_Chhattisgarh pic.twitter.com/wvx2TvshwW

— Congress (@INCIndia) November 10, 2018
"Modi's rally did not have a good turnout yesterday (Friday) so I bought less milk today. But surprisingly, there are more people here than Friday. Even Congress cadre and senior leaders were surprised," claimed Mannu Pal, owner of a popular tea shop outside Jagdalpur's Lalbagh maidan.
Senior Jagdalpur-based journalist SK Hasan Raza believed that there was a pertinent reason why more people attended the Congress rally. "Bastar has always been Congress bastion. Plus, Congress' manifesto attracted farmers and youths of the state especially Bastar, where people want to get rid of the conflict and other issues," he said adding that the anti-incumbency factor against BJP, which has been in power for 15 years, also worked in Congress' favour.
Scores of people from the neighbouring villages like Biringpal, Karkapal, and Malgaon travelled to the venue in trucks to Lalbagh Maidan. Chintamani, 55, a female Congress supporter from Malgaon, which falls under the Jagdalpur Vidhan Sabha, said she attended the rally to see how Rahul Gandhi looks like in real life. "I had seen Indira Gandhi in my childhood and Rajiv Gandhi when I was young. I wanted to see Rahul Gandhi. Around 25 people from my village came here today to see and listen to him," she said.
Another Congress supporter Sanju Kawar, 27, even took out a motorcycle rally before Gandhi's arrival with nearly 40 bikers. "The rally is for change and the youth will do their best to bring Congress to power so that they create jobs for youngsters like me," said Sanju, who is currently unemployed.
The people of the Jagdalpur constituency are miffed with sitting BJP MLA Santosh Kumar Bafna and accuse him of negligence towards development projects. Areas like Aman Nagar and Biringpal in Jagadalpur have announced to boycott the elections over zero development work. Jagdalpur, which is the divisional and district headquarter of Bastar, also faces a severe health and education crisis.
Gandhi slammed Modi over his "urban Maoist" swipe made at Congress a day earlier. "Congress workers have sacrificed their lives for Bastar and the prime minister should stop insulting them," he said amid applause.
"We always gave them (the BJP and the prime minister) respect but they have insulted our party cadre who were killed in the Naxal attack.
"The prime minister and the BJP should stop teaching deshbhakti (patriotism) to the Congress and instead tell the country that why the Rafale contract was given to Anil Ambani who has no qualification or experience in making fighter aircraft," Gandhi said.
The Congress chief also promised that his party would waive farmers' loans within 10 days of forming a government if voted to power. "Bonus will be given to farmers for their produce and food processing plants will be set up in all districts where farmers' children will get employment," he said to the cheering crowd.
Congress has a very good hold in the 12 Vidhan Sabha seats of the Bastar division. During the 2013 state Assembly elections, the grand old party was able to win eight seats but it lost the Jagdalpur seat to BJP's Santosh Bafna by 17,000 votes.
As per the 2017 voter list, there are 1,86,898 electorates and 234 polling stations in this constituency. Voter turnout in the 2013 election was 73.61 percent whereas it was 69.74 percent in the 2014 Lok Sabha Elections.
The author is a member of 101Reporters, a pan-India network of grassroots reporters
Politics
Assembly Election 2021 LIVE Updates: At stake are nine assembly constituencies in Howrah, eleven in South 24 Parganas, five in Alipurduar, nine in Coochbehar and ten in Hooghly.
Politics
The BJP's announcement comes on the heels of criticism from Opposition parties like the TMC and Congress, who pointed to the rising COVID-19 cases in the state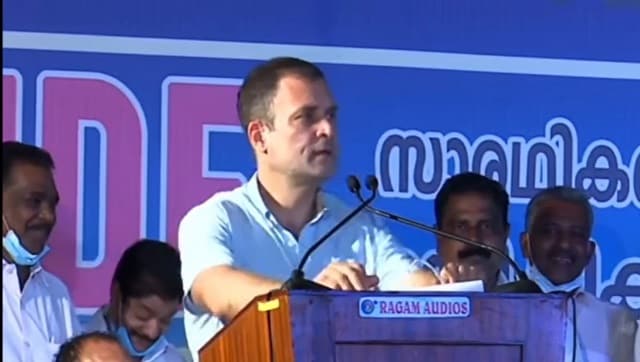 India
In his letter to the prime minister, the Congress leader also demanded an immediate moratorium on COVID-19 vaccine exports