Chalta hai: Look at who Narendra Modi wants for allies!
Just what happens to the party's stand on corruption, no one cares. That was, in any case, just a convenient ploy to attack the Congress.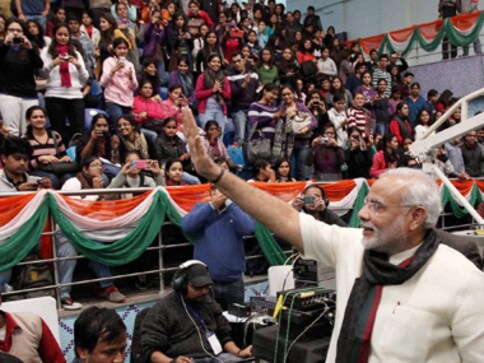 by Prashant Pandey
Narendra Modi is trying to attract allies. He's trying to prove that he is not such a shoo-away after all. Today's TOI reports of alliances that he is working on urgently. One is with Yeddy and his KJP; the other with Om Prakash Chautala and his INLD. Both provide interesting insights into the working and mind of the knight-in-shining-armour of the BJP.
Just as a refresher, here are a few statements made by the BJP when it finally sacked Yeddy.
On 28 July, 2011, "The BJP has unanimously decided that there will be a change of guard in Karnataka. The board has advised Yeddyurappa to step down immediately." – Ravi Shankar Prasad (IndiaToday.in). And when the BJP was forced to act, it also dispatched 30 of Yeddy's aides out of the party (TOI: BJP sacks 30 Yeddyurappa aides – 25 December, 2012).
And even as recently as 23 April this year (TOI): "The BJP live with principles. Any leader is involved with corrupt practices, he has to resign. Yeddyurappa was no different" – Rajnath Singh.
What changed after 23 April that the party is all set to make a u-turn on Yeddy? Several things.
One, the BJP lost Karnataka, and with that, its only spot of existence in the South.
Two, the departure of the JD(U) after 17 years of partnership, purely and solely because of Modi's nomination as the poll chief. With that, the NDA lost its raison d'etre.
Three, Modi's swearing in as the PM nominee of the party recently. Since then, like I have written earlier, Modi has become the one-single symbol of the party.
And four and perhaps most important, the fact that all polls are indicating that the BJP itself wont go much beyond 150, and the NDA a little more.
Clearly, Modi is an issue for the party. So what does the party do? "BJP seeks to lure exiles, old allies back into fold" as the TOI calls it!
Again, just as a refresher, Indiatoday.in reported the following: "The Lokayukta report on illegal mining, which was submitted to the Karnataka chief secretary, indicted Yeddyurappa, the Reddy brothers of Bellary, former chief minister and JD(S) leader H.D. Kumaraswamy and others and recommended prosecution under the Prevention of Corruption Act."
Just what happens to the party's stand on corruption, no one cares. That was, in any case, just a convenient ploy to attack the Congress.
With Yeddy almost in the bag, Modi's sharp mind turned towards Haryana. The TOI talks of a possible alliance with ex-NDA partner, Om Prakash Chautala's INLD, a party that has been out of power for the last two terms. The one common thing between Yeddy and Chautala? Both are accused of corruption!
Here's what Wiki writes about Chautala (must be a strange feeling when out of the three paras, one is devoted to this!):
"The New Delhi court had sentenced him and his elder son Ajay Singh Chautala for ten years imprisonment under various provisions of the IPC and the Prevention of Corruption Act on the 22nd of January 2013. CBI probe was ordered by Supreme Court during NDA regime led by Atal Bihari Vajpayee (so no Congress hand here!). The CBI had on June 6, 2008, chargesheeted him and 53 others in connection with the scam relating to appointment of 3,206 junior basic teachers in the state of Haryana during 1999-2000. On January 16, 2013 he was convicted by a Delhi court for illegal recruitment of over 3000 teachers. Soon after this he and his son Ajay Chautala were immediately taken into police custody. On September 12, 2013 the Supreme Court of India rejected his ailment plea and instructed him to surrender to Jail authorities immediately".
Is two enough to make a pattern?
Probably not. So here's the third: Babulal Marandi, of the JVM, Jharkhand.
There probably again is that as recently as a year back, Marandi had said in disgust "There was no difference between the UPA government at the Centre and the BJP-led coalition in the state as both have failed to deliver people-friendly policies. Besides, corruption has been rampant both at the state and central level with public funds being looted through various scams".
But this is bare-knuckled politics! Since JMM parted company with the BJP and tied up with the Congress, the BJP is left to deal with the loser – Marandi. So what if he thinks of BJP as being as corrupt as the Congress!
All of this is enough to tell us just how committed the BJP is to the issue of corruption. The fact that Modi hasn't had a Lok Ayukta in Gujarat for ten years is already well known and must count for something. My point is not the BJP is any more corrupt than the Congress or any other party for that matter. It's just that the party pretends to be cleaner. It's words contrast with its deeds unfortunately.
The real truth is that Modi's grand alliance-plan is already making him make compromises. He's having to settle with the proven-corrupt and the left-overs. In contrast, he's had to party company with the proven-efficient, the JD(U). The alliance that is coming up is already looking like an eyesore!
This article has been reproduced with permission from Prashant Pandey
Find latest and upcoming tech gadgets online on Tech2 Gadgets. Get technology news, gadgets reviews & ratings. Popular gadgets including laptop, tablet and mobile specifications, features, prices, comparison.
Politics
The Nitish Kumar-led party sought to know where the additional Rs five crore required to fulfill the RJD's promise of approving 10 lakh jobs would come from
Politics
BJP's manifesto also included the appointment of three lakh teachers within the next year in schools and higher education institutions and one lakh jobs in the health sector
Politics
Bihar will vote for the 243-member Assembly in three phases — 28 October, 3 November and 7 November. Counting will be held on 10 November