'Chaiwala' politics boils over again: BJP to set up 50,000 tea stalls in Gujarat following Congress' jibe at Modi
In reaction to Congress' 'chaiwalla' jibe at Prime Minister Narendra Modi, BJP on Thursday has planned to set up 50,000 tea stalls in poll-bound Gujarat.
In reaction to the Congress' 'chaiwala' jibe at Prime Minister Narendra Modi, the BJP on Thursday has planned to set up 50,000 tea stalls in poll-bound Gujarat, CNN-News 18 reported. The prime minister's 'mann ki baat' programme will be aired while tea is served at the stalls and the exercise is supposed to start from 26 November.
#ChaiPePolitics Part 2: BJP converts Youth Cong's jibe into political opportunity; 50,000 tea booths being set up in poll-bound Gujarat pic.twitter.com/MLmCxAvYF9

— News18 (@CNNnews18) November 23, 2017
Congress' online magazine tweets derogatory meme attacking PM Modi, deletes later Read @ANI story | https://t.co/4uBvxWHfBM pic.twitter.com/JhH82acg5S — ANI Digital (@ani_digital) November 21, 2017
Ahead of Modi's visit, BJP workers would connect with people by listening to his monthly radio programme 'Mann Ki Baat' over tea, Gujarat BJP in-charge Bhupender Yadav said. "On the morning of 26 November, we have organised 'Mann ki Baat, Chai ke Saath', wherein our workers would listen to the prime minister's radio programme at all the 50,000 (polling) booths while having tea with them. This exercise is aimed at establishing a direct dialogue with the people," Yadav told reporters.
Referring to the Youth Congress' tweet mocking Modi two days back, the BJP leader said the Opposition party always undermines the strength of the common man.
"Our prime minister has earned respect not just in India, but across the globe. Congress leaders do not understand the strength of the common man and make fun of him. Since they are desperate, the Congress leaders are misusing social media," Yadav said.
On Wednesday, the Congress party's youth wing's online magazine Yuva Desh tweeted out a meme mocking Narendra Modi, targetting the prime minister over his tea-selling days. The meme, which was subsequently deleted after a social media backlash, showed Modi with Donald Trump and Theresa May, whereby he mispronounces the word 'meme', leading to Trump correcting his pronunciation and May suggesting Modi stick to selling tea.
The tweet, which shows Modi in poor light over his command over the English language and his humble beginnings as a tea-seller, has kicked up a storm in Gujarat. BJP leaders have heavily criticised the personal attack on the prime minister. Gujarat Chief Minister Vijay Rupani had dubbed the tweet as "blatantly classist and anti-poor".
Later, the Youth Congress apologised, stating that the Twitter page was mostly run by volunteers.
The insult came a few days after Congress vice-president Rahul Gandhi told party workers not to resort to personal attacks on the prime minister.
The BJP on a number of occasions has used Modi's past as a tea-seller as a political opportunity. Perhaps most prominently, in 2014, the BJP had launched the chai pe charcha campaign to project Modi as its prime ministerial face ahead of the Lok Sabha election.
Earlier, senior Congress leader Mani Shankar Aiyar had ahead of the 2014 Lok Sabha elections said Modi would never become the prime minister, and that if he wanted, the party can give him a place at its convention to sell tea.
The BJP had leveraged the remark to launch its then prime ministerial candidate Modi's famous 'chai pe charcha' sessions, to connect with voters around the country.
With inputs from PTI
Politics
The UP CM's visit to Delhi comes close on the heels of the BJP holding a series of review meetings in Lucknow, which had fuelled speculation of a ministerial reshuffle in the state
Politics
Amid the ongoing tussle with the central government, West Bengal Chief Minister Mamata Banerjee announced that Alapan Bandyopadhyay has retired as the Bengal chief secretary. He will be appointed as chief advisor to chief minister from today, Mamata further added.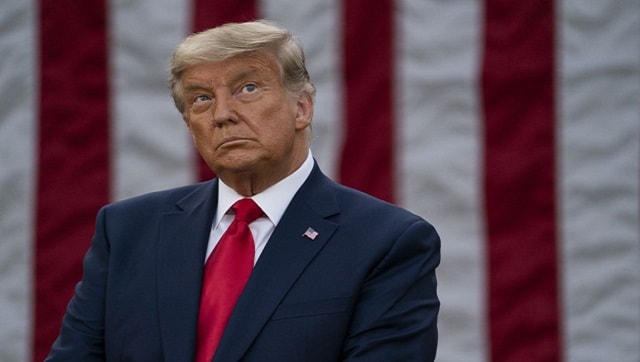 World
Addressing a sold-out crowd of about 1,250 for his first major speech since February, Trump, 74, appeared to lack much of the raw energy and enthusiasm that he often brought to his raucous, larger campaign rallies