Following the debacle with army deployment in her state earlier this month, West Bengal chief minister Mamata Banerjee has written a stern letter to the Minister of Home Affairs Rajnath Singh over the presence of 15 CRPF personnel to provide security to income tax officers during raids in the state. Mamata, in the letter, said, "It has come to the notice of the state government that the Ministry of Home Affairs and the central government are making available 15 personnel of the CRPF, for apparently, providing 'security' to Income Tax officials and staff deputed for operations in West Bengal." Here is the copy of the letter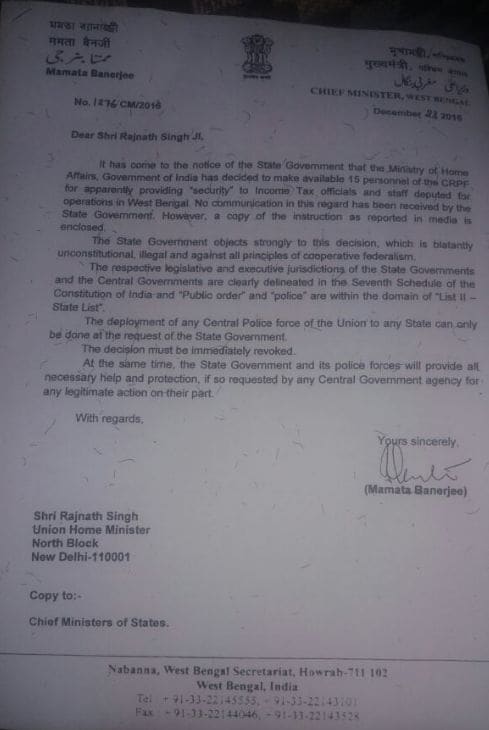 Mamata said this was never conveyed to the state government, even though the alleged MHA instructions were reported by the media. However, an advisory by the Ministry of Home Affairs dated 20 December to the Central Board of Direct Taxes (CBDT), mentioned that 15 CRPF personnel would be deployed in the state.
"The matter has been considered in this ministry and it has been decided that CRPF shall make available 15 personnel to Income Tax Department, Kolkata, for providing security to officers and staff deputed for search and seizure operations to be carried out by the Income Tax Directorate," the advisory said.
The letter, addressed to "Dear Rajnath Singhji", said that the Banerjee government strongly objects to "this decision which is blatantly unconstitutional, illegal and against all principle of constitutional federalism. Stating that the deployment of any central police force of the Union to any state can only be done at the request of the state government, her letter said, "The decision must immediately be revoked. The state government and its police forces will provide all necessary help and protection."
Mamata had earlier this month accused the BJP government of "deploying the army" along a highway toll plaza at the second Hooghly Bridge, about 500 metres from the secretariat 'Nabanna' in neighbouring Howrah district, and said she would not leave till the army was withdrawn. "The state government has not been informed about this deployment by the Centre. This is clearly a violation of the rules and understanding (between the Centre and the state), when the army is deployed without informing a democratically elected government," Mamata had said a day later at a press conference.
With inputs from agencies
Updated Date: Dec 23, 2016 18:03:36 IST