Caste politics is behind BJP's decision to name Prem Kumar Dhumal as Himachal Pradesh CM candidate
It is safe to say that caste politics is behind BJP's declaration of Dhumal as chief ministerial candidate.
BJP naming former Himachal Pradesh chief minister Prem Kumar Dhumal as the party's chief ministerial candidate for the upcoming state Assembly elections was unexpected for two reasons.
First off, Dhumal is just two years away from BJP's disqualifying age limit of 75 years. Secondly, BJP had refrained from declaring a chief ministerial candidate in previous elections in Uttar Pradesh, Uttarakhand, Maharashtra and Haryana. Even this year, the party waited for the last minute to declare the chief ministerial candidate.
Caste politics, reports have said, is the reason behind this "last-minute" announcement.
An article in News18 points out, BJP's dependence on the Thakur vote and Congress' decision to name the 83-year-old current Himachal Pradesh chief minister Virbhadra Singh as its campaign committee chief were, in all likelihood, the primary reasons why Dhumal was named BJP's chief ministerial candidate.
Caste still plays a major role in Himachal Pradesh politics. The socially-dominant Brahmins and Rajputs are vying for power in the state.
The News18 article also said that because of politics within parties in Himachal Pradesh, Congress and BJP have been projecting one Brahmin and one Raput face. For BJP, it was supposed to be Shanta Kumar and Prem Kumar Dhumal.
However, as Health Minister JP Nadda has emerged as a strong leader and has served as a minister in the Dhumal government, he was emerged as a strong contender to replace Shanta Kumar.
A BJP leader also told Hindustan Times that political calculations and feedback taken over the last 10 days made BJP realise that Dhumal was the best person for chief ministerial candidate.
BJP leaders Satpal Satti and Ajay Jamwal were also ousted from the race for chief ministerial candidate because of their poor ratings. Moreover, Jamwal needed a three-year break from his responsibility as an RSS volunteer.
Another report in The Pioneer said that Rajputs make up 35 percent of the electorate in the state.
Both BJP and Congress are also focusing on the Dalit population in the state, which makes up 25 percent of the electorate. BJP has appointed Union minister Thawarchand Gehlot as the election-in-charge.
"The BJP central leadership had earlier decided to contest the elections without a chief ministerial face. That it has had to change its strategy with polling a mere nine days away has much to do with the Congress putting up a tough challenge, as to curb the rebellion within the BJP ranks," said this article in Business Standard.
Click here to follow LIVE updates of the Himachal Pradesh Assembly Election result.
Politics
The clashes come in the backdrop of a sweeping win for the ruling Trinamool Congress after a bitter and acrimonious fight with the Opposition BJP
Politics
In the recently-held West Bengal assembly polls, Byapari's remarkable story took another twist.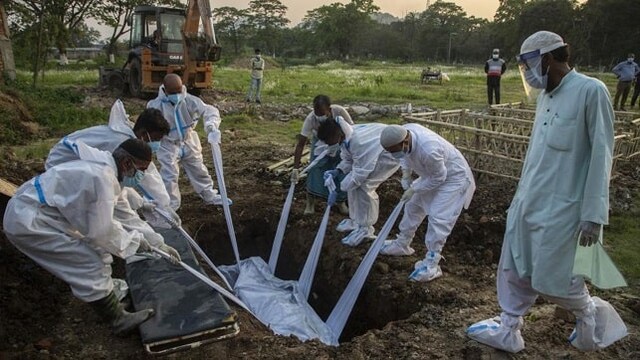 Politics
The lack of infrastructure and space to cremate or bury the dead and the sight of numerous bodies floating down the Ganges in Bihar and Uttar Pradesh are bringing home to us new horrors.