Cambridge Analytica row: Ravi Shankar Prasad's finger-wagging aimed at Mark Zuckerberg is empty rage
Ravi Shankar Prasad's finger-wagging aimed at Mark Zuckerberg makes absolutely no sense. It just gives voice to empty rage articulated prematurely.
I see your mouth moving,
But there's a circus coming out,
Always busy proving,
What the world is all about,
It's no use looking you in the eye,
I don't believe a word you say
…Ben Harper singing 'I Don't Believe a Word You Say'
Ravi Shankar Prasad should know the perils of finger-wagging. When not backed by courage and honesty of intent, the act just ends up as a joke, often on the one wagging the finger.
On Wednesday, the Union minister for information technology warned Mark Zuckerberg of "stringent action" if any attempt was made by Facebook to interfere in Indian elections through illegal sharing of data.
"Mr Mark Zuckerberg, you better note the observation of the IT Minister of India. We welcome the FB profile in India, but if any data theft of Indians is done through the collusion of Facebook's system, it shall not be tolerated. We have got stringent powers in the IT Act, and we shall use it, including to summon you in India," Prasad warned.
We saw the mouth move, the circus come out and perhaps Zuckerberg quake with terror in some corner of the world. Don Quixote, Mungeri Lal, Sheikh Chilli and all the mouths whose pronouncements trigger volcanoes and earthquakes would have been proud.
Yes, Mr Prasad will indeed strike down upon thee, Zuckerberg, with great vengeance and furious anger. He will indeed "summon Zuckerberg" and unleash the wrath of the government for any breach of data. Just like Nirav Modi, Vijay Mallya, Lalit Modi, Dawood Ibrahim, Hafiz Saeed and many others who have been brought to justice dragged by their coat tails by Prasad and his colleagues. Really?
Prasad's finger-wagging makes absolutely no sense. It just gives voice to empty rage articulated prematurely. In practice, it means nothing because there is no way Zuckerberg, assuming his company is accused of breach of privacy in the future, can be summoned to India. And this is not just because he is a foreigner and is protected by various laws and treaties. It is because India doesn't have any law for data protection. There is nothing in the Indian law that currently stops intermediaries from selling profiles of their clients to whoever is willing to pay. It is an open secret that data available with banks, phone operators and several other agencies is routinely misused in India with impunity. Obviously, what India needs is laws and fool-proof systems to protect private data, not empty threats.
Prasad's rage over privacy is ironical also because he had once argued in the Supreme Court that there is nothing called absolute right to privacy. Speaking on behalf of the government, Prasad had argued that privacy "should be subject to reasonable restrictions." He had suggested that the state's concerns should override privacy rights of individuals.
This government — and its predecessor — have been arguing that Indians be profiled through a unique identification number. In spite of protests and legal challenges, it has stored data related to Indians under a single agency. The current controversy around Data Analytics illegally using Facebook data to manipulate United States elections underlines the perils of putting so much in the hands of so few.
A few weeks ago, when it was proven by The Tribune that this sensitive information can be leaked and misused, instead of looking at the breach, it booked the newspaper staff for the expose. Obviously, it stands to reason that if tomorrow, Facebook data is leaked and misused, it would limit its wrath to those who point out the breach, instead of acting against the real culprits.
For the Indian government, this is an opportune moment to look at the rights to privacy, to bring laws that make it impossible for service providers to misuse date and outlines strict punishment and penalties for culprits.
To begin with, it can come clean on why the BJP, Congress and JD(U) were listed as clients of the Indian partner of the parent firm of Data Analytics. One of its directors has gone on record to say the firm worked with the BJP in four elections.
World
Trump spent the first months of his campaign mostly confined to his Mar-a-Lago club in Florida, but has begun to make visits to early-voting states. On Monday, he took his first trip to Iowa, which will hold the Republican Party's first nominating contest.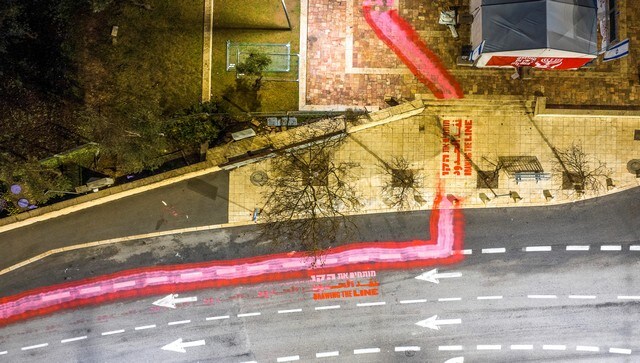 World
Drone footage showed a small group of people in protective suits spraying a wide red stripe along mostly deserted roads leading from a police and magistrate's compound up to the Supreme Court in central Jerusalem
World
Ukrainian authorities allege that the corrupt government of pro-Russian Ukrainian President Viktor Yanukovych borrowed the money from Moscow under pressure before he was ousted in protests in February 2014, shortly before Russia illegally annexed Ukraine's Crimea peninsula